"The next day the great crowd that had come for the festival heard that Jesus was on his way to Jerusalem. They took palm branches and went out to meet him, shouting,
'Hosanna!'
'Blessed is he who comes in the name of the Lord!'
'Blessed is the king of Israel!'"
~ John 12.12-13

---
This Sunday we celebrate what seems like Jesus' triumphal entry into Jerusalem as Israel's King. We also know, in a way the crowds along the roads leading into Jerusalem didn't, that Palm Sunday also marks the beginning of the week of the Kings' suffering, betrayal, crucifixion. Palm Sunday does offer us an opportunity to celebrate the coming of the world's King, but it also challenges us to remember what kind of King Jesus is, specifically how he came into his reign, and what that means for his subjects, for those who seek to follow him in his path. I encourage you to read
John 12.12-19
prior to our time together tomorrow morning.
---
Upcoming Events and Opportunities
:
No Sunday School on Palm Sunday
or Easter Sunday
:
There will be no Sunday School on either Palm Sunday (March 20) or Easter Sunday (March 27).

Council Meeting
:
The council will meet on Tuesday, March 22 at 7:00 p.m
Maundy Thursday Service of Worship
:
We will gather for a contemplative service of worship to remember and give thanks for the events of Maundy Thursday and Good Friday on Thursday, March 24 at 7:00 p.m.
Easter Sunrise Service and Potluck Breakfast
:
On Easter Sunday we will once again gather with our brothers and sisters in Christ from the First Church of Christ for an early service to celebrate Jesus' resurrection. The sunrise service will begin at 8:00 a.m. Following the service we will join the First Church of Christ for a potluck breakfast. This year's service and breakfast will be at Valley's building.

Life Choices Center - Change for Life
:
If you took a bottle for the Life Choices Center's Change for Life campaign, please return it as soon as possible. There is a box in the room behind the sanctuary in which you can put your bottles.

---
Update from World Renew in Uganda:
For the latest newsletter giving updates from our brothers and sisters in Christ with World World Renew in Uganda, please see
here
.
---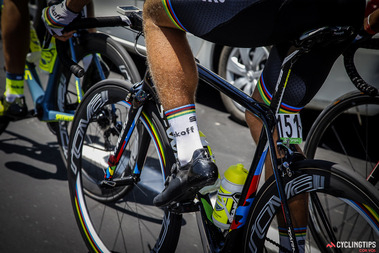 Sermon Correction
:
Last Sunday during the sermon I said with some confidence, "You will not see a hairy leg in the professional peloton." I was wrong. Little did I know it, but this spring the current road cycling world champion (and peloton funny man) Peter Sagan scandalously began the season riding with hairy legs. Interestingly, given the point I was making comparing that tradition with ceremonial hand washing in Jesus' day, one headline in an
online cycling article
read "Peter Sagan 'kicking in some holy houses' by not shaving his legs."
Stephen Roche, former Tour de France winner, world champion, and an elder statesmen of cycling spoke out against Sagan's behavior and in favor of the tradition of the elders: "I don't think it is a good example. He's wearing the world champion's jersey, and he owes it to be respectful and to be clean and presentable. Okay, you might say, 'well, there is no law that says you have to shave your legs.' But why then have we been doing it for the past 100 years? It is because it doesn't look good."

Mr. Sagan's timely deviation from the century-old tradition only goes to strengthen the point I was trying to make. If folks get their britches in a bunch over grown men riding bicycles not shaving their legs, you can imagine the pressure Jesus (who was claiming the analogical equivalent of the world champion's jersey as he said God's kingdom had come in him) was under to conform to the centuries old tradition of the elders when God's favor and Israel's very freedom from Rome was thought to be on the line. Jesus and his disciples were certainly "kicking in some holy houses!"
(In case you were wondering, Mr. Sagan has now shaved his legs. That's probably just as well as new wind tunnel studies have shown that shaved legs contribute significantly to improved aerodynamics).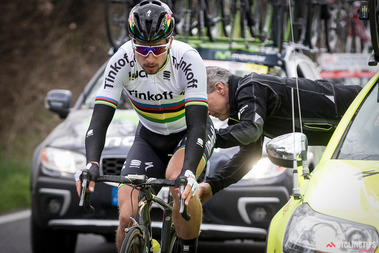 ---

~ Valley Church ~
Gathered as God's family, we are sent into the world as agents of God's mission of renewal.

---
Sunday Mornings:
Coffee: 9:15 a.m.
Worship Service:
10:00 a.m.
---
That we might better pray for one another:


We pray for healing for Holly Nelson and for peace and encouragement for the Nelson family as they await Holly's surgery (scheduled for March 28). We give thanks again for good meetings with doctors in New York this past week, and we pray for continued guidance and wisdom for Holly's doctors.
We give thanks for the healing both Roby Vernon and Betsy Byma have experienced following their surgeries, and pray for continued strength and recovery for both.
We pray for continued healing and freedom from pain for Cindy Krempel.


We give thanks for another successful Kids' Night Out and for the commitment of all the leaders and volunteers. We pray for strength and perseverance for the leadership as they prepare for the final KNO of the season in April.
We pray for continued guidance and energy for the various teams planning and implementing the community garden, and that God would guide our neighbors to join us as we seek to honor and steward his reign over all things as we garden together.
We pray for the shalom of the greater Binghamton area, and for guidance as to specific ways we as individuals and as a church might partner with God as stewards of his reign to cultivate that shalom in the city of our exile.
We pray for God's world: for ongoing restoration, renewal, and justice for the people of Haiti; for refugees fleeing violence around the world; for those who are persecuted for their faith around the world; for God's miraculous intervention in the Middle East. We pray for friends and family: we pray for strength for Janet Crawford's grandmother following her surgery; we continue to pray for healing for Adam Derzanovich; for Mike Corgan's nephew who is battling heroin addiction; for healing and rehabilitation for Marcus Doller's mother; for energy and strength for Alistair Krempel; for Claire Krempel's friend Kim's family as they grieve; we pray for those battling cancer: for Jim and Marsha Conrad's friend Judy, for Marcus Doller's friend Scott, for the DeYoungs' niece/cousin Terri; for the Petersons' friends Pat and Amy.
---
Sunday Morning Ministries for
March 20, 2016
Greeter: Frank & Barb Lockwood


Ushers: Herleen DeYoung and Joe Patak

Intercessory Prayer: Doug Aukema

Scripture Reader: Terry Woodnorth

Nursery: Herleen DeYoung & Elizabeth Bennett

---