"Love the LORD your God with all your heart and with all your soul and with all your strength. These commandments that I give you today are to be on your hearts."
~ Deuteronomy 6.5-6
---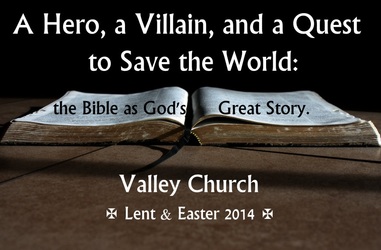 This Sunday we will conclude our journey through God's grand story in the Bible with a review of the story, a look at the way God's story can and should shape our loves and our lives, and a discussion of some habits that can help us best hear and live within God's story. I encourage you to read
Deuteronomy 6.4-9
prior to our time of worship.
We will also celebrate the Lord's Supper together, so I encourage you to prepare in mind and heart to come to the communion table of the joyous thanksgiving feast set for us by King Jesus.
The photographic work at the top of the email was produced by Paul Boekell, who likes to combine good quotes with his images and then pass them along through the folks at
StoryWarren
, a collective of online allies in imagination.
---
A Few Books Recommendations:
This past Sunday I quoted from a number of books that I have found both informing and transforming. I recommend them without reservation. The first is James K. A. Smith's
Letters to a Young Calvinist: An Invitation to the Reformed Tradition
. As I said on Sunday, Jamie Smith is at the leading edge of an exciting movement within Calvinism that seeks to take the Calvinist heritage seriously but does so in a way that is compelling in the 21st century. In this book, Smith remains faithful to my wife's great-grandparents' Calvinism, but he gives a fresh introduction to Calvinism that is warm, inviting, hospitable, and exciting. (And that's something my wife's great-grandparents were never able to achieve).
creation, fall, redemption pattern. In the language we've been using for this sermon series their outline is chapter 1, chapter 2, and then a combination of chapters 3 through 6. If you have ever wanted a foundational introduction to theology, wanted help making sense of the whole of scripture, or wanted help beginning to think about some of the implications of the good news of Jesus for the whole of your life, I highly recommend either (or both) of these books. (Plantinga's is a bit more accessible and also gives a nice account of the importance of all vocations in God's kingdom, so if I was forced to recommend one, it would be Engaging God's World).
The other book I quoted in the sermon was Randy Alcorn's
Heaven
. I haven't read this book in its entirety, so I cannot give a full endorsement. However, from my skimming, it appears to be faithful to the large scope of the Biblical hope for a creation restored and redeemed. If anything, Alcorn might tend toward the speculative, saying more about the specifics of new creation than scripture does.
I provided links to Amazon. If you would like to support a small, independent bookstore run by some amazing folks who are committed to excellent personal customer service, I highly recommend working with the folks at
Hearts and Minds Books
. (Or, if you get to me first, you can borrow my copy of any of these).
---
A Message from Your Deacons about this Year's
Bread for the World Offering of Letters:
The theme for this year's Bread for the World's Offering of Letters (scheduled for May 18) is "Reforming U.S. Food Aid." Critical reforms to the US food-aid program can benefit an additional 17 million people while ensuring that US tax dollars are used wisely. One reform would allow more food purchases in or near the country where it is needed, allowing food aid to arrive faster and supporting local farmers' efforts to improve their lives. Sample letters will be available on May 18 for you to write to your members of Congress. By using your influence with your elected officials, you participate in God's creative work in the world.
---

Sunday Service Times:
Worship Service:
10:30 a.m.
Coffee for Adults and Sunday School for Children and Youth:
---
That we might better pray for one another:
We continue to pray for Joyce and Al Vos and their family as they mourn the loss of Joyce's mother, Wilma van Zee.
We give thanks for healing for Barb Hover, and we ask God to continue to free her body from cancer.
We give thanks for healing for Jenni DeYoung and pray for energy and strength for her return to work.
We pray for Rusty Nelson, who received the results of an MRI that revealed that he still has bone bruises and micro fractures that will result in the end of his 2014 spring and summer baseball season and will require physical therapy. We pray for both healing and encouragement for Rusty.
We continue to ask for God's presence in Ukraine, for God's people - the Church - in Ukraine and Russia to have a prophetic witness for peace, and for the leaders who make decisions on the global stage, that peace might prevail in Ukraine.
We pray for reform to United States food aid, that food would be distributed efficiently and justly to those who need it, and that farmers across the globe would be treated with justice as a result of our nations policies.
We pray that God would open our eyes to the places and relationships that await the presence of his shalom in our places of work, schools, neighborhoods, families, and in the greater Binghamton area. And we ask God for creativity and compassion to motivate us as we think about embodying God's kingdom in all of those places.
We pray for family and friends: for continued healing for Jim Conrad's mother; for Beth Cunningham's friend Christine Cirucci and Adam DeVoe's Aunt Janet, who are both undergoing treatment to battle breast cancer; for the Bucci family; for the Peterson's nephew; for Elizabeth Bennett's friend Terry, who is facing brain surgery and needs healing from an infection; for a successful surgery for the DeYoung's 3 year old relative Kaylin's heart surgery; for healing for Jim and Dorris Pitcher's son-in-law Lee Allard who is undergoing cancer treatments.
---
Upcoming Events and Opportunities:

Spring Clean-Up:
Spring clean-up is this Saturday! Come on out for cleaning, pruning, painting, fellowship, and food.
2nd Offering on May 11:
We will have an opportunity to give a second offering on May 11 to support the ministry of the Indonesian Christian Reformed Church in Dover, New Hampshire.
Deacon Suggestions:
Please remember to prayerfully fill out the deacon suggestion forms that were handed out this past Sunday. Return them to Pastor Kurt by May 18.
Sunday School Breakfast:
On Sunday, June 1, we will mark and celebrate another year of learning God's story in Sunday School with our annual Sunday School breakfast. Mark your calendars and watch for sign-ups for attendance and what you would like to bring!
---
Sunday Morning Ministries for
May 11, 2014:
Greeter:
Ushers:
Greg Huck and George DeJager
Intercessory Prayer:
Doug Aukema
Scripture Reader:
Nursery:
Children's Church: