"In the last days, God says, I will pour out my Spirit on all people. Your sons and daughters will prophesy, your young men will see visions, your old men will dream dreams. Even on my servants, both men and women, I will pour out my Spirit in those days, and they will prophesy."
~ Acts 2:17-18
(quoting Joel 2:28-29)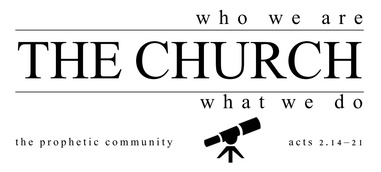 The Church: Who We Are

This Sunday we will journey back to Acts 2 - where we started a few weeks ago on Pentecost Sunday - to hear some of what Peter had to say to the crowd assembled in Jerusalem on that first Pentecost Sunday.
In this passage, Peter quotes the prophet Joel regarding the days when God would pour out his Spirit on all people, and they would prophesy.
The photograph at the top of the page is of the Very Large Array (VLA), a part of the National Radio Astronomy Observatory. The VLA, located in the high deserts of New Mexico, has one job: to sit and listen. By listening, it sees; it sees into the depths of the cosmos. The VLA is an observation and perception machine. While we often think of prophets as those who speak, the passage in Acts (and Joel) confirms that much of the job of the prophet is to see. The prophet looks out, listens for the voice of God, sees what God has to show. The prophetic community, like the VLA, is a community dedicated to perception and observation, seeing, having visions, and dreaming dreams.
In preparation for our service of worship, I invite you to read Acts 2:1-21. I encourage you to make the time to read Peter's whole "sermon" in Acts 2:1-41 if possible.
---
Congregational Meeting, Wednesday, 7:00PM:

This Wednesday, June 19, at 7:00 p.m. we will have our summer congregational meeting. I encourage you to come and be updated on the life of the church as well as be part of the selection of new members of the church council as we think ahead to the fall and the new "class" of elders and deacons. Remember that you are an important and valuable member of this body, and coming to this meeting is one small way you can be a part of what God is doing at Valley, so come and join us! (Please note that the time is 7:00PM, in agreement with the bulletin. Some verbal announcements might have suggested otherwise, but we'll stick with 7:00 so as to not create confusion between this and the bulletin).

---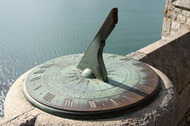 Summer Service Time Begins this Sunday!
Don't forget to reset your sundial alarm. This Sunday, June 23, we will begin our summer schedule and services will begin at 10:00 a.m.

Sunday Service Time:
Worship: 10:00 a.m.
---
In the Life of Valley Church:
We continue to pray that paperwork and logistics would go smoothly for Wilner and Marila Nicolas, and that their time with family and friends in Haiti would be blessed with good health and safety.
We also pray that Etienne Germain's time in Haiti would be fruitful and safe, and that Etienne might shine Christ's light in that place.
We continue to pray for Paul and Marian Hamlin. Marian continues to recover from her hip surgery. Paul is still struggling, and it seems is failing quickly. Please pray for both Paul and Marian in this time, and the rest of their family, who have been supporting them over the past few weeks.
We give thanks for Charlie Huizinga's successful surgery.
We give thanks for Esther Hamlin's successful surgery and pray that she will be free of pain as she continues to recover.
We give thanks for Lor Recker-Woodnorth's mother's continued recovery.
We pray for Charlotte Cumming's son, Tom, as he goes in for surgery on Tuesday afternoon.
And we pray for Paul Peterson's mother as she has been diagnosed with skin cancer.

---
Upcoming Events
and Opportunities:
Pies for Pops:

Thanks to everyone who made those delicious pies for the pops. What an scrumptious feast!
Graduation Sunday:

We are excited to share and celebrate the accomplishments of two recent graduates this Sunday, June 23.
The Monroes on Vacation:

I will be on vacation (and out of town) from June 25 to July 10. If you have any pastoral care needs during this time, please contact your elder or deacon.
In my absence, Barth and Janine Chapman will be bringing the message on June 30, and Charlie Kuperus on July 7.
Barth and Janine Visiting from Taiwan:

Barth and Janine Chapman, missionaries to the people of Taiwan, will be visiting Valley Church on June 30. They will be giving a brief presentation of their ministry and also bringing a message on how the Christian understanding of justice helps Chinese women understand their value as human beings.
Youth Mission Trip:

Following a lot of hard work and fundraising, the youth are nearing the departure date for their week of service and ministry in York, PA. We all now have the great privilege of continuing to uphold them in prayer, asking God to keep them safe, to enable them to shine Christ's light brightly in York, and to grow in their relationship with their Lord and Savior as they serve others.