"How long, LORD? Will you forget me forever?
How long will you hide your face from me?"
---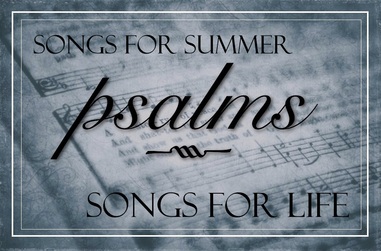 "How long, LORD . . . How long?" Approximately one third of the psalms are songs of lament, the songs of hearts crying out to God, asking how long they will have to wait for the God who has made covenant promises to act on their behalf. The psalms, as I have argued, are the songbooks that help shape our own songs. They give words to our prayers. In many ways, these songs of lament might be some of the best gifts to us within the psalms. It is a scary thing to think of coming before the throne of the world's one true creator and King and raising a complaint, yet that is precisely what these psalms empower us and give us the words to do. They give us the words and the courage to come before our God and say, "How long, O Lord? You made promises. Why aren't you keeping them?" These psalms of lament also give us the wisdom necessary to bring our laments before our God in ways that are healthy and true. Before our time together on Sunday I encourage you to read and reflect on
Psalm 13
.
---
Wisdom in the Facebook, Twitter, and Google Age:
In his recent encyclical,
Laudato Si [Praise Be To You]: On Care For Our Common Home
, Pope Francis invited humanity to steward and protect
all
areas of creation. Within that "all," he even invites us to steward and care for our hearts and minds in a cluttered and polluted information age. In the following passage, the pope joins the psalmist in encouraging us to reclaim true wisdom from the clutches of the glut of information we face.
"Furthermore, when media and the digital world become omnipresent, their influence can stop people from learning how to live wisely, to think deeply and to love generously. In this context, the great sages of the past run the risk of going unheard amid the noise and distractions of an information overload. Efforts need to be made to help these media become sources of new cultural progress for humanity and not a threat to our deepest riches. True wisdom, as the fruit of self-examination, dialogue, and generous encounter between persons, is not acquired by a mere accumulation of data which eventually leads to overload and confusion, a sort of mental pollution. Real relationships with others, with all the challenges they entail, now tend to be replaced by a type of internet communication which enables us to choose or eliminate relationships at whim, thus giving rise to a new type of contrived emotion which has more to do with devices and displays than with other people and with nature. Today's media do enable us to communicate and to share our knowledge and affections. Yet at times they also shield us from direct contact with the pain, the fears and the joys of others and the complexity of their personal experiences. For this reason, we should be concerned that, alongside the exciting possibilities offered by these media, a deep and melancholic dissatisfaction with interpersonal relations, or a harmful sense of isolation, can also arise."
I encourage you to take Pope Francis' words to heart and reflect on your use of information technology and media. I invite you to ask pointed questions about whether or not your use of those technologies and social media are actually helping you "to live wisely, to think deeply, and to love generously." Are they deepening real, embodied relationships with all their disappointments and pains and joys and blessings? Or are information technologies and social media making your relationships more shallow and easy to abandon or ignore with a click of the mouse on a thumbs up or thumbs down icon?
Also, there was a lot of very instantaneous response to the pope's letter. We do live in the Twitter and Facebook age, after all. However, I fear that many people who immediately praised the letter or wanted to hop on the very popular Pope Francis bandwagon didn't really read the letter. Laudato Si, from what I've read, is certainly worthy of our attention, but, in an attempt to live wisely, think deeply, and love generously, I want to read it in its entirety before I draw any more attention to it. A fuller interaction with it will be forthcoming!
---

Sunday Mornings:
Coffee: 9:15 a.m.
Worship Service:
10:00 a.m.
---
That we might better pray for one another:
With thanksgiving for the healing she has experienced, we pray for continued recovery for Luci Huizinga.
We pray for continued healing for Claire Krempel following her surgery.
We pray for continued healing and patience for Holly Nelson, and for energy and perseverance for the Nelson family as they help Holly through this time.
We pray that God would move in the hearts and minds of those who would grow in their faith and discipleship through Faith & Finances, that they might hear about the course and register.
We pray for God's world: for those who are persecuted for their faith around the world, and for those who are being called to witness to Jesus Christ with their blood; for restoration, renewal, and justice for the people of Haiti; for God's miraculous intervention in the Middle East, that the hearts and minds of the people living there, and that whole cultures, would begin to bend toward peace, and that God's church would continue to proclaim and embody the good news of God's reign boldly there.
---
Sunday Morning Ministries for
July 19, 2015:
Greeter:

Frank & Barb Lockwood


Ushers:

Doug Aukema and George De Jager
Intercessory Prayer:
Doug Aukema
Scripture Reader:
Paul Peterson


Nursery:
Crystal Aukema