"Jesus called them together and said, 'You know that those who are regarded as rulers of the Gentiles lord it over them, and their high officials exercise authority over them. Not so with you. Instead, whoever wants to become great among you must be your servant, and whoever wants to be first must be slave of all. For even the Son of Man did not come to be served, but to serve, and to give his life as a ransom for many."
~ Mark 10.42-45

---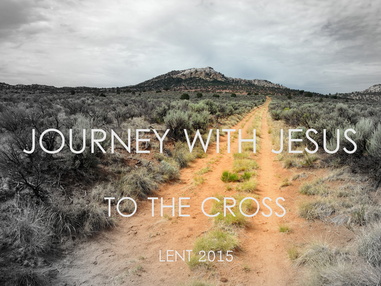 "For even the Son of Man did not come to be served but to serve, and to give his life as a ransom for many." This Sunday we will hear Jesus build on the foundation that he laid in the passage we heard last Sunday. Jesus' teaching regarding greatness and taking up the role of servant - even slave! - doesn't come from an uppity prince seated comfortably in a palace. It comes from a fellow servant, a fellow slave, who is travelling in the way that leads to a cross - a ransom that will cost him his life.
This Sunday we will hear the third and final prediction of Jesus' passion, along with more evidence of the disciples' blindness and more teaching on the true nature of discipleship. I encourage you to ask God for courageous clarity of sight as you read
Mark 10.32-45
and
Isaiah 50.4-9
prior to our time together on Sunday.
---
Christ in the Passover:
Tonight (Wednesday, March 18) at 7:00 p.m. at Valley Church, Stewart Weinisch, a representative from Jews for Jesus, will present a visual demonstration of the Jewish Passover feast called "Christ in the Passover." As we've traveled in "the way" with Jesus over the past few weeks, on numerous occasions you've heard me speak of the new Exodus God was doing in and through Jesus Christ. Mr. Weinisch is going to highlight the ways the ancient Jewish Passover feast, the feast that celebrated the exodus of God's people out of slavery in Egypt, already anticipated a greater Exodus - God's new Exodus in Jesus Christ. I encourage you to join us for this presentation (which will last roughly 45 minutes) as we continue to grow in our understanding of the way God's Word weaves together from the Old Testament to the New Testament into this rich, life-giving tapestry that points always to the world's King, Jesus Christ.
---
Being Followers of Christ in a Digital World:
The March issue of the
Banner
included an article entitled "
Doing Church in a Digital World
." The article correctly identifies the pervasive presence of digital and social media in the lives of young followers of Jesus, and increasingly in older ones, too. The article also offered a helpful reminder that disciples of Jesus need to have a redemptive presence in these digital "places."
However, because of the author's uncritical acceptance and glowing endorsement of digital technologies and social media, she does not leave room for members of the church to question the role and effects of social media in our individual and corporate lives. She says, for instance, "You need to stop saying, 'You use Twitter/SnapChat/Kik/Facebook too much.' Nope, you don't get it. Being a digital native means these are our hangouts. These are the spaces we live in." That hardly leaves room for us to imagine what redemptive absences from those "spaces" might look like.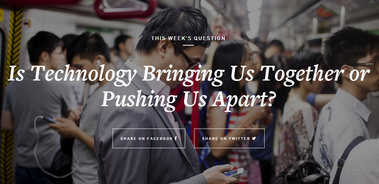 For a more balanced approach that asks how we might both use
and abstain
from using digital and social technologies in redemptive ways and encourage the younger members of the church to navigate the digital world in healthy, redemptive ways, I recommend some resources that our brothers and sisters in Christ at
Q Ideas
have tracked down and made available this week. (None of the following videos or articles argue for complete abstinence from digital technologies or social media, but they do ask thoughtful, critical questions about how Christians should navigate the digital world.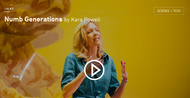 In a TED format lecture entitled "
Numb Generations
," Dr. Kara Powell of the Fuller Youth Institute argues that "we are in danger of losing a new generation to the numbing agents of electronics." She offers some very practical and doable ideas for reigning in the influence of technology and social media in the home.
Psychologist and M.I.T. professor Sherry Turkle wrote an opinion piece in the
New York Times
entitled "
The Flight from Conversation
." She argues that we have too often unwittingly traded true, deep, meaningful conversation for virtual connectedness. She writes, "Human relationships are rich; they're messy and demanding. We have learned the habit of cleaning them up with technology. And the move from conversation to connection is part of this."
In a brief article, author Nancy Sleeth asks if regularly fasting from technology might not help us love God and our neighbors better. You can read her article
here
.
And, finally, Zeynep Tufekci offers an article (that shares the optimism of the
Banner
article) in
The Atlantic
which you can read
here
.
I pray that we will be a people who take Jesus' reign over all things seriously, and that the Spirit of Jesus will guide us as we carefully and critically embody the reign of Jesus in this world (both the real, embodied world and the virtual one).
---

Sunday Mornings:
Coffee: 9:15 a.m.
Worship Service:
10:00 a.m.
---
That we might better pray for one another:

We pray for healing and for God's presence and peace to be with Barb Hover, and with Barbie and Jim Aukema, and the rest of Barb's family as they care for her.
We pray for healing for Holly Nelson as she continues to recover from a concussion.
We give thanks for the healing that they have experienced, and we continue to pray for strength for both Jerry Krempel and Jim Pitcher.
We give thanks for the adult and the teen volunteers, and pray for continued strength and energy for the final Kids' Night Out on April 11.
We pray for that those in the greater Binghamton area who would benefit from Faith & Finances would hear about the course and that God would guide the Faith & Finances advisory team as we think about a launch at a later time.
We pray for God's world: for those who are persecuted for their faith around the world, and for those who are being called to witness to Jesus Christ with their blood; for restoration, renewal, and justice for the people of Haiti; for those committed to peace in Ukraine and Russia; for God's miraculous intervention in the Middle East, that the hearts and minds of the people living there, and that whole cultures, would begin to bend toward peace, and that God's church would continue to proclaim and embody the good news of God's reign there.

We pray for friends and family: for the Watsons as the mourn the loss of their son; for Beth Cunningham-Blake's great-niece MacKenzie; for Justin Byma's uncle Ed, who is battling cancer; for Jim and Dorris Pitcher and their daughter as they mourn the death of Lee Allard; for healing and encouragement for Adam Derzanovich as he continues his recovery following surgery; for David Derzanovich's two brothers-in-law, Tim and Bill; and for strength and energy for Alistair Krempel.
---
Sunday Morning Ministries for
March 22, 2015:
Greeter:

Ruth Giese


Ushers:
David Derzanovich and Joe Patak
Intercessory Prayer:
Kurt Monroe
Scripture Reader:
Leslie Vermaat


Nursery:
Herleen DeYoung and Liz Bennett