"She will give birth to a son, and you are to give him the name Jesus, because he will save his people from their sins."
---
The climax of God's rescue mission in the world. God's own answer to the problem of human sin and rebellion. The coming of the Israel's and the world's King. The beginning of the end of history as we know it. And it all starts off like this: a young, poor, insignificant, unmarried Jewish girl gets pregnant. Not, by our standards, a promising start. Indeed, on the surface it is nothing but scandalous. Joseph knows its scandal. He knows his neighbors will know it soon enough. God's reality confronts our human expectations once again.
We have been called to keep watch for the coming King. Keeping watch means, among other things, keeping our eyes wide open to what God has done and is doing, being open to the way he chooses to do things, the way he chooses to enter into his world. And keeping watch ultimately means, like Joseph and Mary, relying on the Holy Spirit for the strength to say "yes" to his advent (whether it's a a big courageous yes or a humble, frightened yes) and then to join in God's rescue mission.
I encourage you to read and reflect on
Matthew 1.18-25
prior to our time together on Sunday morning.
---
Announcements, Events, and Opportunities:
From the Deacons - Aid for Aleppo:
The deacons and would like to share this plea for help from the folks at Q Ideas and World Vision:
The Q team, alongside World Vision, is calling on you to respond to the horrific battle in Aleppo. With an on-again, off-again ceasefire, children are continuing to be killed and face horrors of war we can't even imagine. Up to 100,000 civilians are still trapped with little access to emergency supplies and aid. These innocent children are caught in the middle and suffering a terrible toll.
World Vision President Rich Stearns shares this message, "As we go about our holiday preparations, the families and children of Aleppo are literally being massacred. We must never lose our capacity to feel outrage when human beings are so callously slaughtered, and then we must turn that outrage into action. Pray, give, and raise your voices in support of these Syrian families."
World Vision is already working in Aleppo Province and is calling for safe evacuation of children and families. Our staff are responding to displaced children and families and are preparing to respond with emergency supplies such as food, hygiene kits, jerry cans, tarpaulins, and solar lights. But we cannot do this without your church's help.
Please consider
a gift right now
or include this as part of your Christmas offering for the children of Aleppo.
Grateful for your partnership,
The Q Team
Custodial Services Needed at Valley Church:
Paul Peterson (along with his family) has faithfully donated his time and energy to cleaning our building over the past three years. We are exceedingly grateful for his years of service and sacrifice. Changes in Paul's work schedule mean that he is no longer able to continue taking care of the church's custodial needs. The facilities team and council is currently seeking a person or family who would like some extra income to take on the task. If you or someone you know might be interested and would like more information, please contact Jim Conrad or Kurt Monroe.

Live Nativity:
Valley's annual live nativity is this Saturday, December 17, with shows at 5:45 and 7:00 p.m. Mark your calendars and invite friends and neighbors! Also, don't forget to bake and bring those cookies!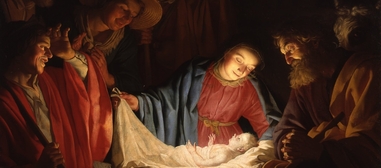 Christmas Eve Candlelight Service:
We will gather to celebrate the advent of the world's savior and King at our Christmas Eve candlelight service at 7:00 p.m. on Christmas Eve. I encourage you to invite neighbors and friends to join us as we hear God's story and celebrate God's loyal love for us and his world.
We will also have an opportunity at the end of the service to give a special offering that will support Valley Church's youth ministry.
Women's Bible Study:
The women will not be meeting for Bible study on December 21 or December 28. Bible study will resume on January 4, 2017.
Can Collection for Boy Scout Troop 152:
A group of Boy Scouts from Troop 152 (Valley Church is the troop's charter organization) who are going to the National Jamboree in West Virginia in 2017 are collecting cans in a box at the east end of Valley's parking lot to raise funds for the trip.
---

~ Valley Church ~
Gathered as God's family, we are sent into the world as agents of God's mission of renewal.

---
This Sunday:
Worship Service
at 10:00 a.m.
---
That we might better pray for one another and God's world:


We pray for healing, strength, and courage for Ann de Jager as she has been diagnosed with breast cancer again. We also pray for peace and strength for George and the family as well as wisdom and discernment for Ann's doctors.
We give thanks for a successful surgery for Charlie Huizinga earlier this week and for the speedy healing and recovery he has already experienced.
We continue to pray for safety, strength, wisdom, and courage for Etienne Germain as he helps family and friends in Haiti following hurricane Matthew.
We pray for healing for Elizabeth Bennett, Judy Zwierzinski, and Jan Vermaat.
We give thanks for the birth of Wilson Germain's grandson and for a reunion within Wilson and Maggie's immediate family.
We pray for the leadership team as they continue conversations regarding the congregational cohort for strengthening faith formation culture.
We pray for God's world: for the people of Syria and especially for those of Aleppo (for an account of what's happening in Aleppo and for a prayer for Aleppo please see
here
, and also see to the left for a way to help); for ongoing restoration, renewal, and justice for the people of Haiti, especially following hurricane Matthew; for refugees fleeing violence around the world; for those who are persecuted for their faith around the world; for God's miraculous intervention in the Middle East; for organizations fighting to protect religious liberty in our changing world.
We pray for friends and family: for the family and friends of pastor Bill Fowler as they mourn his death; we give thanks for the healing that David Derzanovich's brothers-in-law Tim and Bill have experienced and pray for continued healing and recovery; we pray for healing for friends and family who are sick: for Adam Derzanovich; for Beth Cunningham's cousin Karen; for Garry Wickham's father; for Lynda Huizinga's niece Alexis; for Alistair Krempel; for Mike Corgan's nephew who is battling heroin addiction; we pray for those battling cancer: for Jim and Marsha Conrad's friend Judy, for Marcus Doller's friend Scott, for the DeYoungs' niece/cousin Terri; for the Petersons' friends Pat and Amy.
---
Sunday Morning Ministries for
December 18, 2016
Greeter: Terry Woodnorth


Ushers: Doug Aukema and Herleen DeYoung

Intercessory Prayer: Kurt Monroe

Scripture Reader: Trent Nelson

Nursery: Marsha Conrad