"Now when Jesus saw the crowds, he went up on a mountainside and sat down. His disciples came to him, and he began to teach them.
He said: 'Blessed are the poor in spirit, for theirs is the kingdom of heaven.' "
~ Matthew 5.1-3
---
As you will see from the picture above, we are going to approach the sermon on the mount as one part of Jesus' instructions on living as citizens in the kingdom of heaven - living in
his
kingdom. It is an introduction to life in this world's heavenly future that has broken into the present in King Jesus, another realm, another reality, a reality more true and more real than the one that might first meet our eyes.
We will discover this week that Jesus, in this sermon he preached in the hills, didn't ease his disciples into things in their training. He didn't let them dip their toes into the waters of this new reality and slowly get used to the temperature of the water before taking the final plunge. The Beatitudes, if we're honest, are like a shove into the cold waters of the deep end. For these short statements to make any sense at all, the world must not be as it seems, because surely everything Jesus says here is a bit upside down and inside out according to the world's values and wisdom. Yet, for those who are indeed poor in spirit, for those who have bent the knee to the King of kings, for those who have been ushered into Jesus' kingdom of heaven, these statements are perfectly right side up and right side out. They describe the way things really are. It turns out the cold waters of the deep end are refreshingly life-giving.
Tomorrow morning we will hear Jesus' teaching in
Matthew 5.1-12
. I encourage you to read and reflect on the passage prior to our time together tomorrow morning. We will also celebrate the feast of the Lord's Supper, so I encourage you to prepare in heart and mind to commune with our Savior and King and with your brothers and sisters in Christ.
---
Upcoming Events and Opportunities:
Special Offering This Sunday:
Tomorrow morning you will have an opportunity to give a special offering for Cody and Jessica Zuiderveen, missionaries serving with Resonate Global Mission (formerly Christian Reformed Home and World Missions). To find out more about the Zuiderveens and to keep up with them, you can follow their blog
here
.
Congregational Meeting:
We will hold our winter congregational meeting on Sunday, January 28 following the service. There will be a potluck lunch upstairs following the meeting. Please mark your calendars!
---
As you pray for Chuck Huizinga (and Henry and Lynda), here are some pictures of Chuck's Army induction ceremony earlier this week in Syracuse.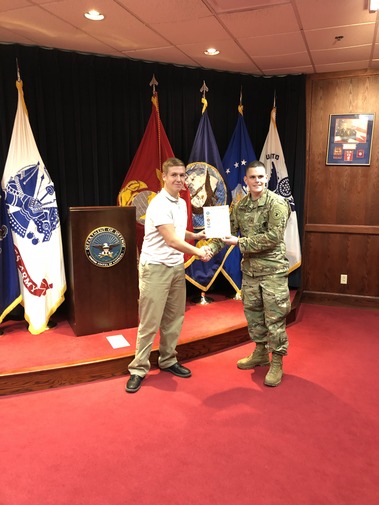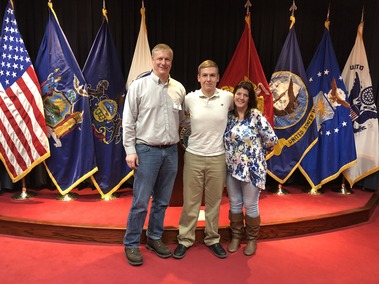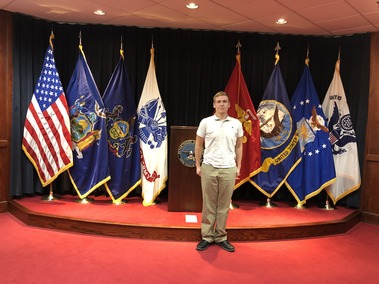 ---
Thank You!:
The Monroes want to thank the members of the Valley congregation for your generous Christmas gift to our family. We are deeply grateful for the gift and for your ongoing love and support. We thank you and wish you every blessing in the new year!
~ Kurt, Jennifer, and Iain, Ana, Calum, and Ellie
---

~ Valley Church ~
Gathered as God's family, we are sent into the world as agents of God's mission of renewal.

---
This Sunday:
Prayer gathering upstairs at 9:00 a.m.
Worship Service
at 10:00 a.m. (preschool through 4th grade children will go to children's church part way through the service).
---
That we might better pray for one another and God's world:

We pray for the those who embarking on new adventures:
for Harry and Marilyn Myers as they prepare for their move to Michigan;
for Becky Stocum as she begins a long-term substitute elementary music job in Johnson City;
for Chuck Huizinga and his family as he finishes high school and prepares for basic training in the Army and then ROTC (see pictures of Chuck's induction ceremony to the left).
We pray for ongoing healing and recovery for Beth Blake, Brian Aukema, Mike Flynn, Peter DeYoung, and Claire Krempel.
We pray for the ongoing needs of friends and family of Valley members: for continued healing for Pat Aukema's brother, Bill; for peace for the Monroes' extended family in Colorado; for continued healing for David Derzanovich's brother-in-law, Tim; for the de Jager's friend, Bill, who was diagnosed with kidney cancer; for Lor's neighbor who continues her cancer treatments; for Becky's friend Joe who is battling colon cancer; for Adam Derzanovich; for Lynda Huizinga's niece Alexis; for Alistair Krempel; for Mike Corgan's nephew who is battling heroin addiction.

---
Sunday Morning Ministries for
January 14, 2018
Greeter: Frank & Barb Lockwood


Ushers: Doug Aukema and Herleen DeYoung
Intercessory Prayer: Kurt Monroe
Scripture Reader (Matthew 5.1-12): Lor Recker-Woodnorth
Nursery: Florence Doller