"Remember the Sabbath day by keeping it holy. Six days you shall labor and do all your work, but the seventh day is a Sabbath to the LORD your God. On it you shall not do any work, neither you, nor your son or daughter, nor your male or female servant, nor your animals, nor any foreigner residing in your towns. For in six days the LORD made the heavens and the earth, the sea, and all that is in them, but he rested on the seventh day. Therefore the LORD blessed the seventh day and made it holy.
~ Exodus 20.8-11
---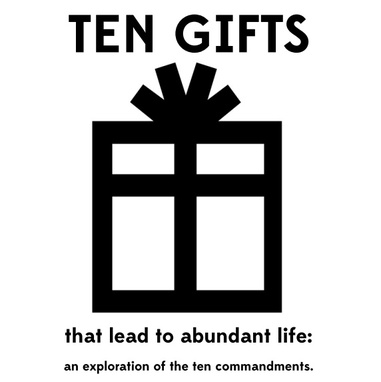 This Sunday we continue our journey through the ten gifts that God gave the Israelites that they might live abundantly in the freedom that God gave brought them into through their Exodus from captivity to the Egyptians. This week we will explore the fourth word, or commandment: an invitation to experience the creator's rest through keeping Sabbath. I invite you to read Exodus 20.1-11 prior to our time together.
---
Thanks to all of you for making the potluck and congregational assembly a success. I really enjoyed the sense of fellowship and joy that we experienced around the bountiful and delicious food this past Sunday, and around our Lord's table.
It was also wonderful to hear the stories of God's work in Valley Church over the past year, and it is exciting to imagine the way God is going to work in the days, months, and years that lie ahead. Even as we plan to celebrate God's faithfulness over the past 50 years, the council is seeking God's direction for Valley Church for the next stage of Valley's journey through God's ongoing story of rescue and redemption in this world. I invite you all to join us as we pray for wisdom, guidance, and direction, that we might faithfully serve God and shine Christ's light ever more brilliantly in our valley for years to come!
---

Sunday Service Times:
Children's Sunday School:
9:30 a.m.
Coffee available for adults:
9:30 - 10:30 a.m.
Worship Service:
10:30 a.m.
---
That we might better pray for one another:
We continue to pray for God's blessing and healing for Jenny DeYoung as she continues her chemo treatments.
We ask for healing and strength for Barbie Aukema's mother, Barb, in her battle with lung cancer.
We pray that God would continue to heal Jim Pitcher as he recovers from pneumonia at home.
We pray for God's healing for Edele Thompson, and for guidance for her doctors.
We pray for health and peace for Harriet Dimidio.
We continue to pray for Jim Conrad's mother, Ruth, as she undergoes her chemo treatments.
We give thanks for the work God is doing in bringing the rest of Etienne's siblings through the immigration process and to the United States, and we lift up all the people of Haiti before our God as they continue to grieve the loss of loved ones in the earthquake four years ago.
---
Upcoming Events and Opportunities:
Special Offering for World Renew:
We will have an opportunity to give a special offering for World Renew on January 26. World Renew is one of the few ministries of the Christian Reformed Church that does not receive ministry shares; its ministry depends on the giving of churches and individuals. The deacons are also currently prayerfully considering beginning a church partnership with World Renew staff in Uganda. For more information on World Renew in Uganda you can read their newsletter here.
Jenni DeYoung Fundraiser:
The Afton Teacher's Association is holding a fundraiser through Moe's and Hoopla! on Upper Front Street on Sunday, January 26, from 11:00 a.m. to 9:00 p.m. Moe's will give 15% of the pre tax sales and Hoopla will give 20% of the pre tax sales to the DeYoung family to help offset Jenni's medical expenses if you show a flier that you will receive in your bulletin on Sunday. You can also download the flier
here
if you want to show it on your smart phone or tablet. (Additional fliers for neighbors will be available in the foyer).
Volunteer to help out with CHOW:
Our Chow Pantry is looking for 1 or 2 volunteers that would like to help fill in for the regular volunteers when they are unable to make it. The following times are when the pantry is open: Monday from 12:30 till 2:00 and Wendesday from 4:30 till 6:30. If you are interested in helping as a substitute CHOW volunteer please contact Rod Whitacre at 296-4593.
---
Sunday Morning Ministries for January 19, 2014:
Greeter:
Cindy Krempel
Ushers:
Greg Huck & Jim Conrad
Intercessory Prayer:
Florence Doller
Scripture Reader:
Luci Huizinga
Nursery:
Jim & Marsha Conrad
Children's Church:
Erin and Jacob Peterson