"Now you are the body of Christ, and each one of you is a part of it."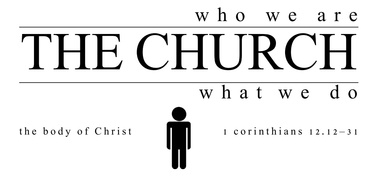 The Church: Who We Are

This Sunday Paul's metaphor of the body of Christ will guide our continued discussion of who we are as God's people, the church. To prepare for our time of worship together
, I encourage you to read 1 Corinthians 12.
---

Synod 2013 - still going strong!
As I type, synod has just finished discussing and voting on the studies and recommendations of the Office of the Deacon task force, of which Terry Woodnorth was a part (he was just officially released from his duties). We continue to pray for the delegates present at synod, that they would be attentive and obedient to the guidance of the Holy Spirit.
You can follow all of the events of Synod 2013
here
. On the synod website you can watch live and archived webcasts, see news updates, and view pictures. I invite you to tune in, and stay up to date with the decisions that this assembly is making, and the way God is working at the denominational level.

Sunday Service Times:
Sunday School: No Sunday School for the remainder of the summer
Worship: 10:30 a.m.
---
In the Life of Valley Church:
We give thanks that Lor Recker-Woodnorth's mother has been moved out of the ICU and into rehabilitation, and we pray that her recovery will continue.
We rejoice with Wilner and Marila Nicolas as they have been given an interview date with United States immigration. We pray for them as they travel to Haiti today to be reunited with their children and begin updating passports. We also pray that the rest of the paperwork goes smoothly, and that they will be on their way back to Binghamton quickly with their whole family.
We continue to pray for Paul and Marian Hamlin. Paul is being treated for double pneumonia and heart issues, and Marian is recovering from hip replacement surgery.
We also pray for Esther Hamlin as she will be having surgery on Friday.

---
Upcoming Events
and Opportunities:

Youth Mission Trip Bottle and Can Drive:

The youth will be having a bottle and can drive to raise money for their "new" mission trip on Father's Day, June 16th. They can also collect them from your house if you have a lot!
Pies for Pops:

If you signed up to bring a pie, the pops are grateful, and we want to remind you to not forget to bring your pie on Sunday!
Graduation Sunday:

We will celebrate Graduation Sunday on June 23. If you are graduating (from high school, college, or graduate school), please sign up on the sheet on the back of the front doors so that we can honor your graduation on the 23rd.
Summer Schedule Coming Soon:

On June 23 we will be moving to our summer schedule. The Sunday service of worship will start at 10:00 a.m.