"You shall not covet your neighbor's house. You shall not covet your neighbor's wife, or his male or female servant, his ox or donkey, or anything that belongs to your neighbor."
~ Exodus 20.17
---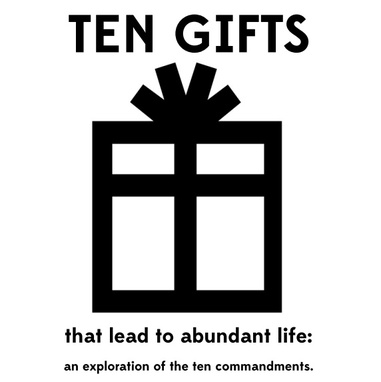 This Sunday we arrive at the last of these ten covenant words from God to the Israelites, the tenth commandment. While the previous commandments have addressed sins that everyone can see, this commandment moves into the heart and mind, into realms invisible to our neighbors, but very much involving our neighbors as it forbids coveting the gifts that God has given to them. In this word from God we are invited to live as people marked out by contentment; we are asked to be grateful for the gifts that we've been given. Over the next couple of days I encourage you to take special time to think of all that God has given you and to give thanks. I invite you to read
Exodus 20.1-21
prior to the service of worship on Sunday.
The painting at the top of this email, titled Rustic Contentment, was painted by the British painter Samuel Parker somewhere around 1837 in Italy. While Parker perhaps idealizes the pastoral scene, the painting does invite the viewer into the contentment that this rustic family is experiencing. If you want to see a larger image or more details about the painting from the Yale Center for British Art, click on the picture.
---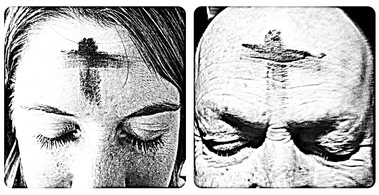 Ash Wednesday Service:
On Wednesday, March 5, at 7:00 p.m. we will gather for a service of worship in which we will begin our Lenten journey of repentance and renewal that will lead us to the cross of Good Friday and to Christ's resurrection on Easter Sunday. At this Ash Wednesday service we will be given an opportunity to contemplate our sinfulness, mortality, and need for rescue; to repent and renew our commitment to our God; and to look ahead to Jesus' victory over death in the resurrection. I encourage you to join us as we begin our journey with Jesus to the cross.
---

Sunday Service Times:
Children's Sunday School:
9:30 a.m.
Coffee available for adults:
9:30 - 10:30 a.m.
Worship Service:
10:30 a.m.
---
That we might better pray for one another:
We give thanks for God's care for Jenni DeYoung and we pray for ongoing healing and strength for her.
We pray for continued healing and strength for Barbie Aukema's mother, Barb, as she undergoes more chemotherapy treatments.
We continue to pray for improved health for Harriet Dimidio.
We pray for Jim Pitcher's continued recovery from pneumonia.
We pray for Florence Doller and her extended family as the mourn the death of Florence's great aunt.
We continue to ask for God's presence and mighty deeds in Haiti; we pray for peace in Syria, and especially for our brothers and sisters in Christ in Syria who are experiencing heightened persecution; and we pray for peace for the people of Ukraine.
We pray for family and friends: we pray for healing for Jim and Dorris Pitcher's son-in-law, Lee Allard; we continue to pray for Florence Doller's friend Melissa - we give thanks that Melissa's son's brain surgery was a success and pray now for her father who had a stroke.
---
Upcoming Events and Opportunities:
Life Choices Center
Change for Life:
Please remember to return your baby bottles filled with coins to the box in the foyer this Sunday!
2nd Offering on March 9:
On March 9 we will have an opportunity to give toward a second offering that will support the ministry of Howard and Ruth Van Dam and family, who are serving the people of Haiti with Christian Reformed World Missions.
---
Sunday Morning Ministries for
March 2, 2014:
Greeter:
Ushers:
Dave Derzanovich & Jerry Krempel
Intercessory Prayer:
Scripture Reader:
Nursery:
Children's Church: