"He was supreme in the beginning and - leading the resurrection parade - he is supreme at the end. From beginning to end he's there, towering far above everything, everyone."
~ Colossians 1.18 (The Message)
---
In these days with news of more bloodshed in Syria, with racial and ethnic divisions fracturing communities and countries around the globe, with an American election season defined by anger, unrest, and distrust, with increasing political and cultural polarization and animosity in the United States, with an almost unimaginable number of people displaced from their homes and countries by violence, it is easy to feel like the earth is shifting beneath our very feet. It often feels like things are out of control, like no one is in control. If you're like me, you need an almost constant reminder that God is, indeed, sitting upon his throne working all things to his glory and to his peoples' and his creation's good.
This Sunday we begin a new sermon series in which we will hear from Paul's letter to the Colossians, a young church that needed to hear just such a message, too, so that they might grow into the fullness of maturity as disciples of Jesus Christ, who is not only supreme over all things but in whom, as Paul says, "all the broken and dislocated pieces of the universe - people and things, animals and atoms - get properly fixed and fit together in vibrant harmonies, all because of his death, his blood that poured down from the Cross." (Col. 1.20, The Message).
This Sunday we are going to do something a bit different; we are going to hear
Paul's whole letter to the Colossians
just as the church in Colossae would have originally heard it. It only takes roughly fifteen minutes to read, and I encourage you to read it prior to our time together in order to allow the ideas and themes to be present already in your minds and hearts when we hear it together again on Sunday.
---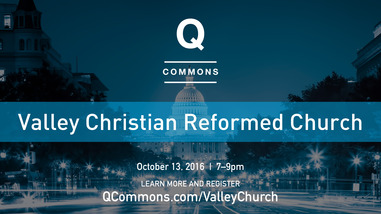 Q Commons: "Engaging Our Divided Nation"
at Valley Church:
On Thursday, October 13, from 7 to 9 p.m., Valley will be a streaming host site for this year's Q Commons. Q Commons is a two-hour live event that seeks to educate Christians on how they can bring hope and leadership to their communities in this critical moment for America. Q Commons, brought to us by the folks at
Q Ideas
, is a live learning experience that challenges attendees to stay curious, think well, and advance good in their communities. For more information and to register for the event, please visit Valley's personalized Q Commons site
here
.
---

Hospitality Over Fear:
Life After Prison - Reentry Program:
Valley's council recently supported and encouraged the development of a three-person team to participate in the County Council of Church's reentry program for men and women released from the Broome County jail. Even if you don't feel God's call to join the team, I encourage you to read Jonathan Nicolai-deKoning's recent article from
The Banner
, "
Hospitality Over Fear
." Jonathan is an ordained CRC pastor and prison chaplain in Canada who encourages us to contemplate the need we all have for second chances and hospitality, especially our fellow citizens as they make that anxious transition from prison to life in the broader community, and to contemplate the second chance and hospitality we have received in Christ.
If you would like more information on the reentry program team or would like to be part of the team, please talk to Pastor Kurt or a deacon.
---
Announcements, Events, and Opportunities:
Sunday School Teachers and Nursery Volunteers:
If you would be willing to help with nursery or assist with Sunday School, please talk to pastor Kurt.

2016 Valley Church Fall Festival:
Valley Church's annual Fall Fest is this Sunday, September 18, from 1:00 to 5:00 p.m.! The forecast is for a beautiful autumn day this Sunday, and we will celebrate the annual festivities plus a few more: games, prizes, ice cream and cotton candy, bounce houses, the dunk tank, and this year hot dogs, hamburgers, grilled chicken and even some veggies from the garden (for the health nuts out there). Please be prepared to volunteer and and also make sure you invite neighbors, family, co-workers, and friends!
Mental Health Unity Event
at Tabernacle United Methodist Church:
On Saturday, October 1 from 1:00 to 3:30 p.m. Tabernacle United Methodist Church (83 Main Street, Binghamton) is hosting the
Mental Health Unity Event
at which Joel Vermaat will be the keynote speaker. The purpose of the event is to educate the public to speak out against stigma and discrimination toward mental illness. The event is open to the public and free of charge.
Can Collection for Boy Scout Troop 152:
A group of Boy Scouts from Troop 152 (Valley Church is the troop's charter organization) who are going to the National Jamboree in West Virginia in 2017 are collecting cans in a box at the east end of Valley's parking lot to raise funds for the trip.
Operation Christmas Child:
We are collecting items for boxes for Operation Christmas Child: school supplies, hygiene items, small toys, hard individually wrapped candy, socks, hats, mittens, hair accessories for girls, etc.
---

~ Valley Church ~
Gathered as God's family, we are sent into the world as agents of God's mission of renewal.

---
This Sunday:
Worship Service
at 10:00 a.m.
Fall Festival from 1:00 to 5:00 p.m.
---
That we might better pray for one another:


We pray for God's blessings for all students and teachers who are returning to school.
We pray for
We pray for continued healing for Jacob Byma, who is still struggling to swallow, and for continued wisdom for the doctors assessing the situation.
We continue to pray for the family of Wilson and Maggie Germain during a difficult time.
We pray for Doris Pitcher as she ministers to her sister Nancy while Nancy is under hospice care, nearing the end of her long battle with cancer.
We pray for members of our congregation struggling with ongoing medical issues.
We give thanks for the City Reach church plant in Endicott, and pray for God's blessings on that family of God as they announce and embody the good news of Jesus in Endicott.
We pray for God's world: for the unrest in Charlotte; for the people of Syria; for the people of south and east Africa impacted by severe droughts there; for ongoing restoration, renewal, and justice for the people of Haiti; for refugees fleeing violence around the world; for those who are persecuted for their faith around the world; for God's miraculous intervention in the Middle East; for the people and leadership of the United States during this election season; for organizations fighting to protect religious liberty in our changing world.
We pray for friends and family: for the Myers' daughter Karen during and after her hip surgery (and for Harry and Marilyn as they travel to Michigan to help care for Karen following the surgery); for healing for David Derzanovich's brother-in-law Tim following surgery to treat a blood clot in his leg, that he might retain full use of the leg; for the health of marriages of friends and neighbors; for healing for Adam Derzanovich; for Mike Corgan's nephew who is battling heroin addiction; for energy and strength for Alistair Krempel; we pray for those battling cancer: for Jim and Marsha Conrad's friend Judy, for Marcus Doller's friend Scott, for the DeYoungs' niece/cousin Terri; for the Petersons' friends Pat and Amy.

---
Sunday Morning Ministries for
September 25, 2016
Greeter: Cindy Krempel


Ushers: Doug Aukema and George de Jager

Intercessory Prayer: Florence Doller

Scripture Reader: Kurt Monroe

Nursery: Lor Recker-Woodnorth