". . . Jesus came and stood among them and said, 'Peace be with you!' After he said this, he showed them his hands and side. The disciples were overjoyed when they saw the Lord."

Surprised by Hope!
This week in our education hour (at 9:15) and during the service we will explore how Jesus' resurrection relates to our Christian hope. The sermon text for this Sunday will be John 20:19-23. I encourage you to read this passage. If possible, you might want to read all the numerous appearances to the disciples by the resurrected Jesus in John chapters 20 and 21.
---
Surprised by Hope: Reflect, Act, Engage
As I said last week, there isn't really homework, but there are opportunities for reflection, action, and engagement as we interact with the biblical passages and Tom Wright's teaching.
Last week, Wright mentioned John 7:38 in his talk on the DVD: "Whoever believes in me, as Scripture has said, rivers of living water will flow from within them." The next verse, which Wright didn't comment on says, "By this he meant the Spirit, whom those who believed in him were later to receive. . ." In this week's sermon text from John 20, Jesus "breathed on them and said 'Receive the Holy Spirit.'" The invitation to personal reflection from the study says this: "In a moment when you are feeling thirsty, even parched, get a cold glass of water and drink it slowly. Allow yourself to feel the refreshment that comes from this simple gift. Then, remember that Jesus calls you to be his living water in this world [empowered by his Holy Spirit!]. Think about how the risen Jesus quenches your thirst and satisfies your soul. Then, reflect on places you will be in the coming days . . . places that can be dry, arid, and desolate. While you are drinking your water, ask God to give you creative ideas for how he might bring his refreshment to these places through your words, actions, and presence."
---
New Projector Screen Installed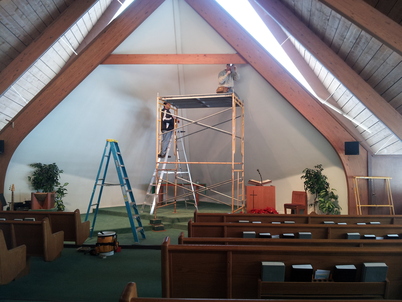 Have you noticed that the powerpoint slides are full of vibrant colors these days? Well, that's because there's a new screen up there, shining all that light and color back at us. That 75 pound behemoth is up there, and properly wired, thanks to the hard work of Paul Peterson, Ron Crawford, Jeff DeYoung, and Marcus Doller. (Miraculously, they all lived to tell the tale). So, next time your eyes appreciate the way those pictures and words seem to pop off the screen, thank those gentlemen for making that happen.
Sunday Service Times:
Sunday School: 9:15 a.m.
---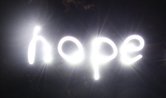 In the Life of Valley Church:
We continue to pray with the Nelsons for wisdom for the doctors who are treating Holly's father.
We continue to pray for Cindy Krempel as she recovers from her knee surgery. We give thanks that an infection seems to be healing and that she is able to continue doing her rehabilitation exercises.
---
Upcoming events and opportunities:
Children's Church starts up again this week, so the kids will be going upstairs for more worship and learning following the Children's Time in the service.
Adult education will continue its DVD study based on N.T. (Tom) Wright's book called Surprised by Hope: Rethinking Heaven, the Resurrection, and the Mission of the Church at 9:15 on Sunday morning. We would love to see you there! (For more information on the book, see below).
If you have a baby bottle that you've been filling with coins, bills, or checks, this is the Sunday to return it! The people from the Life Choices Center will be stopping by to pick them up sometime next week. You can learn more about the ministry of Life Choices Center
here
.
---
Recommended Reading:
N.T. (Tom) Wright's Surprised by Hope: Rethinking Heaven, the Resurrection, and the Mission of the Church does just that; it looks at what our Christian hope is, what it is based on, and what it means for the life of the Church and for individual Christians. Wright helps us think clearly about what the Bible really says about heaven and earth, Jesus' resurrection, our resurrections, and how carefully listening to biblical teachings on these issues will impact the way we live for Christ and his kingdom here and now.