"Now to him who is able to do immeasurably more than all we ask or imagine, according to his power that is at work within us, to him be glory in the church and in Christ Jesus throughout all generations, for ever and ever! Amen."
~ Ephesians 3.20-21
---
We arrive at the end of the five solas of the Reformation this Sunday, which happens to also be Reformation Sunday. (We will continue with my suggestions for new 500-years-after-the-Reformation solas over the next few weeks, but this ends the original 5 solas). And as we come to the end of the solas, we also arrive at the goal of the solas. As it turns out, scripture showed the Reformers that the ultimate goal of the solas was not primarily the hope or joy or peace of human beings put right with God and one another (as important as those things are). Rather, the Reformers discovered (through scripture alone) that our justification and reconciliation with God and one another in Christ alone, by grace alone, through faith alone point always back to the one ultimate goal or end of all things: the glory of God - soli Deo gloria. God's saving actions and God's saved people and creation, even as they experience God's glory, always give glory to God alone!
I encourage you to read and reflect on
Ephesians 3.14-21
prior to our time together on this Reformation Sunday.
---

An Opportunity to Help Families in Puerto Rico:
Trent Nelson works with several people who have family members in Puerto Rico. Trent's co-workers have requested help for their family members who are still struggling with basic supplies following Hurricane Maria. The deacons would like to encourage Valley Church to help meet their needs as soon as possible, so we will begin collecting items this Sunday, October 22. Here are the things that are needed:
flashlights with batteries
candles
toothpaste and toothbrushes
toilet paper
plastic utensils
ramen noodles
instant coffee
canned soup
canned tuna
spam
There will be boxes in the entryway of the church this Sunday in which you can place your donations.
Shipping has been arranged (and can reach the recipients), but money for shipping will be needed.
---
Upcoming Events and Opportunities:
Praying Together:
You are invited to join together with your brothers and sisters in Christ for prayer prior to the service each week upstairs. Luci Huizinga and Becky Stocum are helping to organize this time of prayer for our congregation, our neighborhood, and our world. You are encouraged to join them near the upstairs kitchen at 9:00 on Sundays.
Faith Formation/Education Opportunity:
This Sunday, our faith formation class will be canceled so that everyone can gather for the special coffee hour following the service. However, on November 5, 12, and 19 we will continue our faith formation opportunity for teens and adults: "The 'R' in CRC: What Does It Mean to Be Reformed?"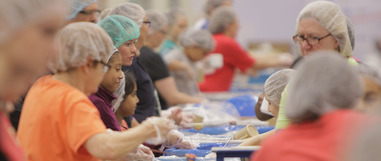 An Opportunity to Help Southern Tier MobilePack Feed God's Hungry Children:
You are invited to join Southern Tier MobilePack (STMP) as they pack 100,000 meals for chronically malnourished children around the world. The meal-packing event will take place at Endwell United Methodist Church on Watson Blvd. in Endwell on November 3rd and 4th. STMP is working with a Christian non-profit organization called Feed My Starving Children (FMSC) for the event.

FMSC believes that hope begins with food, and they exist to provide hope in the name of Jesus. The MannaPack meals that STMP will be packing contain vitamins, dehydrated vegetables, soy, and rice. MannaPack is specially formulated for chronically malnourished children and is culturally acceptable worldwide.
For this event, STMP needs about 520 volunteers and they still have 220 slots to fill. You can register individuals or families at give.fmsc.org/endwell by clicking on the blue "volunteer" button. STMP hope that you and your family (anyone over the age of 5 can participate) may be interested in volunteering for a 2 hour packing slot in this important service for God's hungry children.
---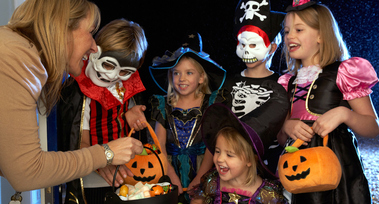 Redeeming Halloween?
:
I'll be honest: I hate Halloween. I also think that if we, as Christians, are going to participate in Halloween, we need to do so intentionally and thoughtfully as agents of God's mission to renew and redeem all things. We need to intentionally and thoughtfully shine the light of Christ into a rather dark evening. But how do we do that? How do we even think about that? I encourage you to listen to the podcast
here
to get some ideas about how you can be Christ's presence in your neighborhood this Tuesday evening.
---

~ Valley Church ~
Gathered as God's family, we are sent into the world as agents of God's mission of renewal.

---
This Sunday:
Prayer gathering upstairs at 9:00 a.m.
Worship Service
at 10:00 a.m.
Special coffee hour following the service for pastor appreciation month (faith formation classes are canceled for the week).
---
That we might better pray for one another and God's world:


We pray for peace for Rod and Daryl Whitacre as they have learned that Rod will need triple bypass surgery, and for wisdom for Rod's doctors as they prepare for the surgery.
We also pray for peace for Marylin and Harry Myers as Marylin prepares for her hip replacement surgery this coming Wednesday.
We give thanks, with the Huizingas, for the huge birthday celebration week in their family: for for Chuck, Wyatt, and Brianna!
We pray for continued healing for Claire Krempel, Ron Crawford, and Sue Brown.
We continue to pray for our world: for those who have been impacted by recent man-made and natural disasters, specifically for the people of Las Vegas, Houston, Florida, the Caribbean, Mexico City, East Africa, and South Asia.
We pray for ongoing needs: we continue to pray for: the family of the Germain's friends who were killed in a car accident in Haiti; for Lor's neighbor who continues her cancer treatments; for Becky's niece who has fluid on her brain; for Becky's friend Joe who is battling colon cancer; for Adam Derzanovich; for Beth Cunningham's cousin Karen; for Lynda Huizinga's niece Alexis; for Alistair Krempel; for Mike Corgan's nephew who is battling heroin addiction.

---
Sunday Morning Ministries for
October 29, 2017
Greeter: Frank & Barb Lockwood


Ushers: Joe Patak and George de Jager
Intercessory Prayer: George de Jager
Scripture Reader (Ephesians 3.14-21): Luci Huizinga
Nursery: Herleen DeYoung