"They came to Capernaum. When Jesus was in the house, he asked them, 'What were you arguing about on the road?' But they kept quiet because on the way they had argued about who was the greatest. Sitting down, Jesus called the Twelve and said, 'Anyone who wants to be first must be the very last, and the servant of all.'"
~ Mark 9.33-35

---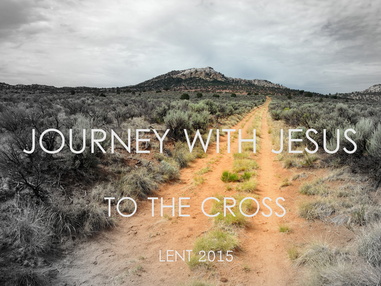 Our culture is infatuated with greatness, like most cultures through history have been. We look for greatness in our leaders, in CEOs, in athletes and coaches, in the products we buy. We desire greatness in ourselves. As we continue our journey with Jesus in "the way" to the cross this Sunday, we will hear an invitation from Jesus - a command, really - to rethink what greatness is. Jesus asks us to reflect on what greatness is in God's kingdom, the kingdom in which the King is at his greatest when he endures suffering, rejection, and death. I encourage you to read and reflect on
Mark 9.30-37
and
Isaiah 53.1-12
prior to our time together on Sunday.
---
Christ in the Passover:
On Wednesday, March 18 at 7:00 p.m. at Valley Church, Stewart Weinisch, a representative from Jews for Jesus, will present a visual demonstration of the Jewish Passover feast called "Christ in the Passover." As we've traveled in "the way" with Jesus over the past few weeks, on numerous occasions you've heard me speak of the new Exodus God was doing in and through Jesus Christ. Mr. Weinisch is going to highlight the ways the ancient Jewish Passover feast, the feast that celebrated the exodus of God's people out of slavery in Egypt, already anticipated a greater Exodus - God's new Exodus in Jesus Christ. I encourage you to join us for this presentation (which will last roughly 45 minutes) as we continue to grow in our understanding of the way God's Word weaves together from the Old Testament to the New Testament into this rich, life-giving tapestry that points always to the world's King, Jesus Christ.
---

Sunday Mornings:
Coffee: 9:15 a.m.
Worship Service:
10:00 a.m.
---
That we might better pray for one another:

We pray for healing and for God's presence and peace to be with Barb Hover, and with Barbie and Jim Aukema, and the rest of Barb's family as they care for her.
We pray for healing for Holly Nelson as she continues to recover from a concussion.
We pray for continued healing and strength for both Jerry Krempel and Jim Pitcher.
We continue to give thanks for the adult and the teen volunteers, and pray for continued strength and energy for the remainder of the Kids' Night Out season.
We pray for that those in the greater Binghamton area who would benefit from Faith & Finances would hear about the course and that God would guide the Faith & Finances advisory team as we think about a launch at a later time.
We pray for God's world: for those who are persecuted for their faith around the world, and for those who are being called to witness to Jesus Christ with their blood; for reconciliation and peace in Ferguson, MO and throughout the United States; for restoration, renewal, and justice for the people of Haiti; for those committed to peace in Ukraine and Russia, that they would be given energy and strength and safety to continue advocating for a non-violent resolution there; for the people of western Africa as they continue to battle Ebola; for God's miraculous intervention in the Middle East, that the hearts and minds of the people living there, and that whole cultures, would begin to bend toward peace, and that God's church would continue to proclaim and embody the good news of God's reign there.

We pray for friends and family: for Justin Byma's uncle Ed, who is battling cancer; for Jim and Dorris Pitcher's son-in-law Lee Allard, who is on hospice care; for healing and encouragement for Adam Derzanovich as he continues his recovery following surgery; for David Derzanovich's two brothers-in-law, Tim and Bill who are still battling health issues; and for strength and energy for Alistair Krempel.
---
Sunday Morning Ministries for
March 15, 2015:
Greeter:

Terry Woodnorth


Ushers:
Herleen DeYoung and Jim Conrad
Intercessory Prayer:
Leslie Vermaat
Scripture Reader:
Lor Recker-Woodnorth


Nursery:
Luci Huizinga