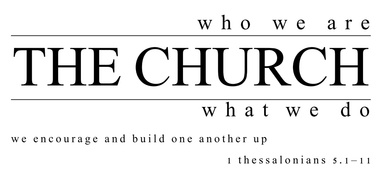 The Church: What We Do
Paul tells us that we are children of the light. The darkness that surrounds us often seems to overwhelm us and hem us in, though. It's easy to forget that we are of the light. It's at those moments that we need the encouragement and edification of our brothers and sisters in Christ.
This Sunday, we continue our sermon series on the Church, exploring who we are and what we do as God's people. We will be looking at Paul's first letter to the Thessalonians, chapter 5, verses 1 through 11. I invite you to read this passage prior to our time together on Sunday morning.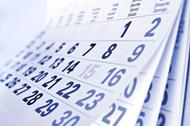 Valley Church's Calendar is Online!
The days, months, and years fly by, and somehow we're thirteen years into 21st century. Valley Church is catching up with the times though! You can now see Valley's calendar online
here
. This calendar is updated on the go, so any time you open it up, it should be current! You can jump ahead to future months by clicking on the arrow in the upper left corner of the page. (You can go backwards, too, but I highly recommend not living in the past). Some events might have more details that can be found by clicking on the event. I encourage you to bookmark the page. In addition, I have put a link at the bottom of this email that will appear in all future emails.
Follow Up and Follow Through:

Serve One Another
and Carry One Another's Burdens

In his 1961 inaugural address President Kennedy said: "And so, my fellow Americans: ask not what your country can do for you - ask what you can do for your country." He was calling the people of the United States to give up their assumption that the government and their fellow citizens existed to serve them, and to begin assuming that it was their responsibility
and privilege
to serve their country and their fellow citizens.
It's a great quote, but what if we changed a few words? "And so my fellow followers of Jesus: ask not what God's church can do for you - ask what you can do for God's church." We often assume that we go to church in order to
get
something, that the church is there to provide us with certain goods and services, and that we have a right to it. But this is completely backwards and all wrong. We gather with the community of God's people (i.e. go to church) in order to
give
and to
serve
others. Church is
not
a place or a service where we take things. Church is a gathering of people among whom we give and serve.
Here are a few questions that might help you assess whether you have a serving attitude or a consuming attitude about God's church:
Do you often find yourself thinking, "Boy, I didn't
get
much out of the service today"? Or do you think, "to whom was I able to
give
this morning"? Do you think, "I'm not getting fed," or is your common desire to feed others? Do you find yourself looking to be comfortable, or do you find yourself seeking to comfort others? When you see a problem, do you look around for someone else to fix it for you, or do you seek to fix it yourself? Or, even better, do you see the things that at first look like problems are actually opportunities to enter into relationship with other people and serve them?
My fellow followers of Jesus: ask not what God's church can do for you - ask what you can do for God's church. Or, as Paul says: Serve one another humbly in love. Carry one another's burdens.