"Jesus said to the man with the shriveled hand, 'Stand up in front of everyone'.* Then Jesus asked them, 'Which is lawful on the Sabbath: to do good or to do evil, to save life or to kill?' But they remained silent. He looked around at them in anger and, deeply distressed at their stubborn hearts, said to the man, 'Stretch out your hand.' He stretched it out, and his hand was completely restored."
~ Mark 3.3-5
* What the TNIV translates "Stand up in front of everyone" is more literally "Rise into the middle."
---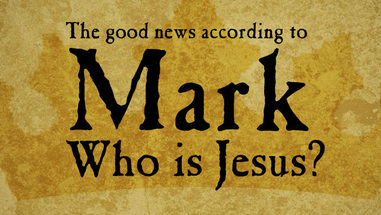 This week, we continue our journey in Mark's gospel, hearing an account of Jesus being confronted by the Pharisees as they discover him once again "working" on the Sabbath as he invites a disfigured man into the middle of the synagogue and restores him to health. I encourage you to read and reflect on
Mark 3.1-6
prior to our time together this Sunday.
We will also celebrate the feast of the Lord's Supper this Sunday, so I encourage you to prepare in heart and mind for our church family's communion around the Lord's table.
---
More on the Gift of Sabbath Rest:
If the idea of Sabbath rest as a life-giving, joy-inducing, gift of grace is new to you, or if you want to think about this gift more and grow more in your celebration of Sabbath rest, there are a few resources that have come along just in the nick of time.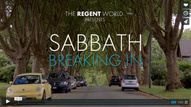 A brief, helpful video called "
Sabbath Breaking In
" explores one couple's journey into a life-giving celebration of Sabbath rest.
Also, Christianity Today and Regent College are teaming up for another Redux online discussion, this time about Sabbath rest, on November 6, from 3:00 p.m. to 4:00 p.m. (Eastern Time). The title of this event is: Freedom in the Busy, Celebrating Sabbath in a World that Never Stops.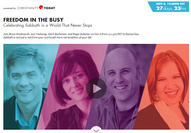 The subject of conversation is how Sabbath can be more than just rest from your workweek work; it can be a reorientation of your whole life. The video we watched during this past Sunday's sermon was part of
the trailer for this event
. To join the event go to
this web address
on November 6. (It's on the church's online calendar, too!)
If you would rather read than watch a video (or read in addition to watching), here are a few book recommendations:
A short, but powerfully insightful and prophetic book by renown Old Testament scholar Walter Brueggemann called
Sabbath as Resistance: Saying No to the Culture of Now
traces the manner in which Sabbath celebration prophetically resists the stories of our non-stop culture and its Pharaohs.
The book mentioned by the Gutackers in the "Sabbath Breaking In" video is Marva Dawn's
Keeping the Sabbath Wholly: Ceasing, Resting, Embracing, Feasting
.
I have mentioned this one by Matthew Sleeth previously:
24/6: A Prescription for a Healthier, Happier Life
.
---
Operation Christmas Child Reminders:
We will collect the following items from October 5 - November 9: school supplies, hygiene items, shoe boxes (plastic or cardboard); hard candy, small toys, socks, hats, mittens, etc. No liquids please. We will be packing the boxes for shipment on November 16th. There will also be envelopes available by the Operation Christmas Child display to make contributions by check or cash for the shipping of the shoe boxes. Last year we sent 107 boxes, and we hope to do the same or more this year!
Please look to the right-hand column for announcements about the Operation Christmas Child Applesauce fundraiser.
---
Help with Childcare for MOPS Needed at
First Church of Christ:
As we seek to continue and develop our cooperation (rather than competition) with our brothers and sisters in Christ, we have an opportunity to come alongside them as they minister to mothers of preschoolers in the Chenango area. They have asked for help covering childcare for MOPS meetings on the first Tuesday of each month from 9:00 a.m. to noon. MOPS is a Christian (interdenominational) organization that creates support networks of women who share the common bond of preschool age children. For more information about MOPS, please visit their website
here
.
If you would like to help with their childcare needs, please contact Pastor Kurt.
---

Sunday Mornings:
Coffee: 9:15 a.m.
Worship Service:
10:00 a.m.
---
That we might better pray for one another:
We continue to pray for healing and strength for Jerry Krempel, and for continued guidance for his doctors as they make decisions about his upcoming surgery.
We pray for continued healing for Barb Hover.
We continue to pray for Frank and Barb Lockwood as they mourn the loss of their daughter Cheryl.
We continue to pray for God's world: for the people of western Africa as they continue to battle Ebola; for God's miraculous intervention in the Middle East, that the hearts and minds of the people living there, and that whole cultures, would begin to bend toward peace, and that God's church would continue to proclaim and embody the good news of God's reign there.
We pray for friends and family: we pray for the Nelson's neighbors, the Kruzers, following the death of husband and father; we give thanks for a successful surgery for Charlotte Cummings' daughter-in-law Davette following her surgery, and we pray that her therapy and recovery would go well; we give thanks for a recovery of health for Dorris Pitcher's sister; we pray for Adam and Cheryl DeVoe's friend Joe Sanderson who is battling colon cancer; for healing for Ann DeJager's sister, Tonia, as she battle breast cancer; for Adam Derzanovich as he recovers from surgery; for David Derzanovich's two brothers-in-law, Tim and Bill.
---
Upcoming Events and Opportunities:
Operation Christmas Child Homemade Applesauce Fundraiser (for shipping costs):
Do you love homemade applesauce? Then this is for you. The youth group will be making quarts of homemade applesauce. You may purchase them in quart size freezer containers for $3 or purchase the sauce in quart size canning jars for $3.50. Order blanks are available on the table in the foyer with a sample jar on display. Orders will be taken until October 26th. The applesauce will be available for pick up on or before November 2nd after church.
Any proceeds above and beyond shipping costs will be designated to the youth group.
Apple Picking for Applesauce Fundraiser:
On Saturday, October 25th the youth will meet at the Valley building at 8:00 a.m. For those who can stay, we will have pizza brought in and start making applesauce that day. Please let Tilly Huizinga know if you will be coming.
2nd Offering:
In two Sundays (October 19) we will have an opportunity to give a special offering to support the Broome County Council of Churches CHOW ministry.
CHOW Walk to Trample Hunger:
On October 19, we hav an opportunity to join other Broome County residents for the 32nd annual CHOW Walk to Tramnple Hunger. The walk will be held on the campus of Binghamton University (follow the signs once you get to the campus). Registration begins at 1:00 p.m. The walk begins at 2:00. Bring along non-perishable food! For information please see
here
.
---
Sunday Morning Ministries for
October 12, 2014:
Greeter:
Ruth Giese
Ushers:
Joe Patak and Greg Huck
Intercessory Prayer:
Scripture Reader:
Nursery:
Herlene DeYoung and Liz Bennett