"And he is the head of the body, the church; he is the beginning and the firstborn from among the dead, so that in everything he might have the supremacy. For God was pleased to have all his fullness dwell in him, and through him to reconcile to himself all things, whether things on earth or things in heaven, by making peace through his blood, shed on the cross."
~ Colossians 1.18-20
---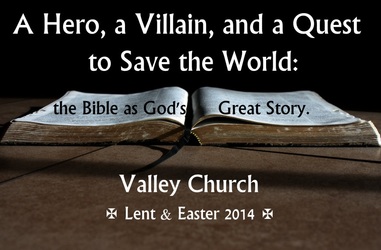 This Sunday we come to the sixth and final chapter in God's grand story in the Bible. This final chapter tells the story of creation redeemed, restored, reconciled, and renewed - God's great rescue of his creation and image-bearing stewards is finally completed. It is the story of an event yet to come, but an event that is shown and foretold at various points during the course of the Bible. This Sunday our starting point will be
Colossians 1.15-20
, and I encourage you to read and meditate on that passage prior to our service of worship.
---
God's Great Story and the Shocking Nature of the Old Testament:
It's fine for me to wax eloquent week after week about this wonderful story of God's rescue in the world from the view of an Apollo astronaut, but sometimes when you get the microscope out on the Old Testament, things look a lot messier, shocking, and sometimes even downright offensive to our sensibilities. Part of the emphasis on this sermon series has been to take the whole story seriously (not just the New Testament or the words of Jesus). That means wrestling with the Old Testament and with what God was doing with the Israelites and their neighboring nations and cultures. But that can present some questions and problems. If you've ever had questions about some of the shocking and offensive things in the Old Testament, Amanda Benckhuysen has written a helpful article entitled "The Scandal of the Old Testament God" in the most recent edition of
The Banner
that you can read online
here
, or on page 18 or the hard copy.
---
A Message from Your Deacons about this Year's
Bread for the World Offering of Letters:
The theme for this year's Bread for the World's Offering of Letters is "Reforming U.S. Food Aid." Critical reforms to the US food-aid program can benefit an additional 17 million people while ensuring that US tax dollars are used wisely. One reform would allow more food purchases in or near the country where it is needed, allowing food aid to arrive faster and supporting local farmers' efforts to improve their lives. Sample letters will be available on May 18 for you to write to your members of Congress. By using your influence with your elected officials, you participate in God's creative work in the world.
---
Pastor Kurt's Day Off - Now Fridays:
During a peer group meeting with other pastors this past Tuesday I asked my elder and more experienced colleagues about their days off. After some discussion, I came to the conclusion that I've probably been taking the wrong day off, so I'm going to switch things up. Starting this coming week I'll be taking Fridays off. My open office mornings will now be Monday through Thursday.
---

Sunday Service Times:
Worship Service:
10:30 a.m.
Coffee for Adults and Sunday School for Children and Youth:
---
That we might better pray for one another:
We pray for Joyce and Al Vos and their family as they mourn the loss of Joyce's mother, Wilma van Zee, and for safety as their extended family travels to and from Iowa for the funeral.
We give thanks for healing for Barb Hover, and we ask God to continue to free her body from cancer.
We give thanks for healing for Jenni DeYoung and pray for her continued recovery.
We give thanks for healing for Ettiene's sister Margaret.
We continue to ask for God's presence in Ukraine, for God's people - the Church - in Ukraine and Russia to have a prophetic witness for peace, and for the leaders who make decisions on the global stage, that peace might prevail in Ukraine.
We pray that God would open our eyes to the need for his shalom to break into our neighborhoods and the greater Binghamton area, and for creativity and compassion to motivate us as we think about embodying God's kingdom here.
We pray for family and friends: for continued healing for Jim Conrad's mother; for Beth Cunningham's friend Christine Cirucci and Adam DeVoe's Aunt Janet, who are both undergoing treatment to battle breast cancer; for the Bucci family; for the Peterson's nephew; for healing for Jim and Dorris Pitcher's son-in-law Lee Allard who is undergoing cancer treatments.
---
Upcoming Events and Opportunities:
Deacon Suggestions:
Please remember to prayerfully fill out the deacon suggestion forms that were handed out this past Sunday. Return them to Pastor Kurt by May 18.

Spring Clean-Up:
Our spring clean-up is scheduled for Saturday, May 10. The facilities team and I encourage you to mark your calendars and come join us as we steward our building and grounds and enjoy fellowship and food together.
2nd Offering on May 11:
We will have an opportunity to give a second offering on May 11 to support the ministry of the Indonesian Christian Reformed Church in Dover, New Hampshire.
World Renew Responds to U.S. Storms:
As a congregation we give second offerings in order to support the work of World Renew. You can see how they've been using those gifts following the violent storms in the United States here.
---
Sunday Morning Ministries for
May 4, 2014:
Greeter:
Claire Krempel
Ushers:
Charlie Huizinga and Jerry Krempel
Intercessory Prayer:
Doug Aukema
Scripture Reader:
Paul Peterson
Nursery:
Lor Recker-Woodnorth
Children's Church:
Ann DeJager and Jacob Peterson