"It was now about noon, and darkness came over the whole land until three in the afternoon, for the sun stopped shining. And the curtain of the temple was torn in two. Jesus called out with a loud voice, 'Father, into your hands I commit my spirit.' When he had said this, he breathed his last."
~ Luke 23.44-46
"'Don't be alarmed,' he said. 'You are looking for Jesus the Nazarene, who was crucified. He has risen! He is not here. See the place where they laid him. But go, tell his disciples and Peter, "He is going ahead of you into Galilee. There you will see him, just as he told you."' Trembling and bewildered, the women went out and fled from the tomb. They said nothing to anyone, because they were afraid."
~ Mark 16.6-8

---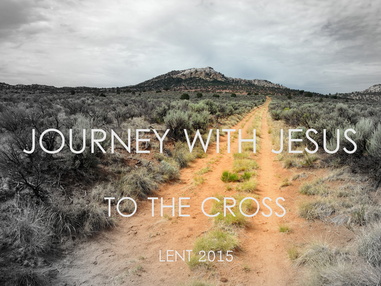 This week we mark our arrival at our destination in our journey with Jesus to the cross. On Easter morning we will journey with the three women to the empty tomb. As we gaze into the tomb, we will celebrate Jesus' resurrection, and we will contemplate all that the emptiness of Jesus' tomb means for us as we continue to follow Jesus in "the way." I encourage you to read
Mark 16.1-8
prior to our time together on Sunday morning.
We will also celebrate the baptism of Ellie Monroe. You, the congregation, will be invited to make covenant promises to help care for Ellie and train her up in her faith as you welcome her into the covenant family of God. Prior to our celebration of the sacrament of baptism, I encourage you to remember your own baptism, and the promises you've made to the other children and believers we've welcomed into God's family at Valley Church.
The artwork at the top of the email is a detail from Gerard van Honthors'ts 1617 painting "The Mocking of Christ."
---
This is Holy Week, and we will have a few special services this week. We will gather for worship tomorrow (April 2) for a Maundy Thursday service to remember
and meditate on the sacrifice of the triune God on behalf of humanity and his creation, and to celebrate Lord's Supper together, just as Jesus shared a supper with his disciples on that day. We will be led in our meditations by scripture readings, artwork, poetry, and music. The Maundy Thursday service will be at 7:00 p.m. (Thursday, April 2).
This Sunday (April 5) is Easter Sunday. We will gather with our brothers and sisters in Christ from the First Church of Christ at 8:00 a.m. for a joint
Easter sunrise service
. We will meet in their sanctuary for a short service to celebrate the resurrection of our Lord. (Their building is just down the street from ours, on the corner of River Road and 12).
Following the service we will share a potluck breakfast with the folks from First Church of Christ in their fellowship hall.
Please bring a breakfast casserole, some fruit, bread, or other breakfast goodies to share! (They will take care of coffee, tea, and drinks). I encourage you to rise early and join us in this celebration and fellowship with our brothers and sisters from our neighbor congregation.
Following the potluck breakfast, we will gather again back at the Valley Church building at 10:00 a.m. for our morning worship service, in which we will celebrate the resurrection of our Lord.
---

Easter Service Times:
Sunrise Service at First Church of Christ - 8 AM.
Potluck Breakfast at First Church of Christ following Sunrise Service.
Easter Service at Valley - 10 AM. (Coffee will be served before the service).
---
That we might better pray for one another:

We pray for healing and for God's presence and peace to be with Barb Hover, and with Barbie and Jim Aukema, and the rest of Barb's family as they care for her.
We continue to pray for Doris Pitcher and her family as the grieve Jim's passing.
We pray for healing for Holly Nelson as she continues to recover from a concussion.
We pray for safety on the roads as our snowbirds begin their northward migration.
We give thanks for the adult and the teen volunteers, and pray for continued strength and energy for the final Kids' Night Out on April 11.
We pray for that those in the greater Binghamton area who would benefit from Faith & Finances would hear about the course and that God would guide the Faith & Finances advisory team as we think about a launch at a later time.
We pray for God's world: for those who are persecuted for their faith around the world, and for those who are being called to witness to Jesus Christ with their blood; for restoration, renewal, and justice for the people of Haiti; for God's miraculous intervention in the Middle East, that the hearts and minds of the people living there, and that whole cultures, would begin to bend toward peace, and that God's church would continue to proclaim and embody the good news of God's reign there.

We pray for friends and family: for Beth Cunningham-Blake's great-niece MacKenzie; for Justin Byma's uncle Ed, who is battling cancer; for healing and encouragement for Adam Derzanovich as he continues his recovery following surgery; and for strength and energy for Alistair Krempel.
---
Upcoming Events and Opportunities:
No Children's Church
on Easter Sunday:
There will not be children's church this Sunday. Children's Church will resume on April 12.
Children's Church Volunteers Needed
in April:
We still need a children's church volunteer (or volunteers) for April 11, 18, and 25. Please contact Erin Peterson if you are able to help out.
---
Sunday Morning Ministries for
April 5, 2015:
Greeter:

Dot Simonds


Ushers:
David Derzanovich and Jim Conrad
Intercessory Prayer:
Kurt Monroe
Scripture Reader:
Luci Huizinga


Nursery:
Lor Recker-Woodnorth