"We were therefore buried with him through baptism into death in order that, just as Christ was raised from the dead through the glory of the Father, we too may live a new life. If we have been united with him in a death like his, we will certainly also be united with him in a resurrection like his."
~ Romans 6.4-5

---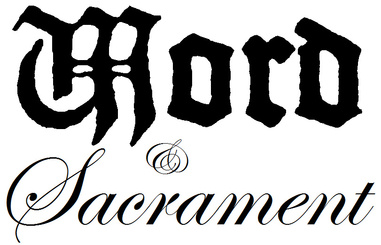 "Who am I?" We might not ask ourselves that question in so many words very often, but many people struggle quite a bit with questions of identity, even if they don't realize that's the source of their struggles. Tomorrow we'll be exploring even more dimensions of God's gift to us in baptism, focusing particularly on the manner in which baptism points to our identity in Jesus Christ and our incorporation by God into the body of Jesus Christ, the Church.

We will again hear from the Heidelberg Catechism and Belgic Confession, and we will also hear from God's Word in Paul's letter to the Romans. I encourage you to read and reflect on
Romans 6.1-11
(and the surrounding passages, if possible) prior to our time together on Sunday.
---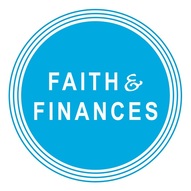 Faith and Finances:
To follow up from the presentation this past Sunday, here are some of the details about Faith & Finances in written form:
Classes will begin on March 3, meeting each Tuesday until May 26 from 5:30 until 7:30 p.m.
We need volunteers to help with the preparation of meals, to help with childcare, and to be allies for the participants (similar to mentors). Please talk to the appropriate area coordinator if you would be willing to help out with one of those things. Area coordinators are: Charlyn Corgan - childcare; Jennifer Monroe - food; Pat Aukema - allies.
The advisory team also encourages you to think about friends, family members, co-workers, and anyone else who might benefit from Faith & Finances, and tell them about the course. You can forward them a link to the page on our website at
http://www.valleychurchny.org/faith-and-finances.html
.
You can also download and print a flyer
here
.
---
Some Great Lectures Available Online:
Here are some resources that will help you avoid wasting another hour watching cat videos:
Every January, Calvin College hosts a number of great speakers who talk about a wide variety of topics, honoring our Reformed understanding that Christ's reign extends to "every square inch" of the cosmos and human experience. Calvin has created an archive of past talks that you can stream online. Some of the notable talks this year were:
For those of you who might have questions about scripture that weren't answered over the last few weeks, particularly about the reliability of the final form of scripture (how the books were chosen, whether the scribes were reliable copyists, etc.), Professor Craig Blomberg of Denver Theological Seminary delivered a lecture at the
Chesterton House
at Cornell last night entitled "Politics, Oppression, or Providence: Where Did the Canon of Scripture Come From?" You can see it
here
. It's a video!
And finally, for those of you who know people who have given up on the idea of church or might be tempted to give up on it yourself, Regent College is hosting another Redux that might speak to this trend. It is called
Making Peace With Church - Finding Grace and Authenticity in an Age of Skepticism
. New Testament scholar Scot McKnight, theologian Hans Boersma, pastor Darrell Johnson, and author Erin Lane will discuss why church matters on this coming Tuesday, February 3 at 3:00 p.m. (If you missed the Redux on the discipline and celebration of Sabbath, you can see it
here
).
---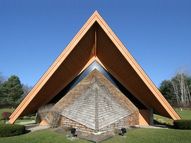 It's always important to remember that the church is not the building; the church is the people of God. It's also good to be grateful for a beautiful building in which the gathered church can worship and fellowship together. Monday's edition of the Press and Sun-Bulletin contained an article that reminds us to be grateful for the unique architecture and beauty of Valley's building. You can see a pdf of the article here. There are also more pictures at the Press and Sun-Bulletin website here, where the building is called a "mid-century marvel."
---

Sunday Mornings:
Coffee: 9:15 a.m.
Worship Service:
10:00 a.m.
---
That we might better pray for one another:

We pray for healing for Holly Nelson as she continues to recover from a concussion.
We pray for continued healing and strength for both Jerry Krempel and Jim Pitcher.
We pray for healing, for peace, and for a sense of God's presence for Barb Hover, who remains in the hospital awaiting the results of tests.
We pray for safety for our Valley friends who are heading south for the winter.
We pray that God would lead those who need Faith & Finances to register, and we pray for allies for participants and for volunteers for meals and childcare.
We pray for energy and strength for the leaders and volunteers of Kids' Night Out along with the parents who regularly benefit from it, and for the kids who come.
We continue to pray for God's world: for the people of Europe as they work for peace; for the people of western Africa as they continue to battle Ebola; for God's miraculous intervention in the Middle East, that the hearts and minds of the people living there, and that whole cultures, would begin to bend toward peace, and that God's church would continue to proclaim and embody the good news of God's reign there; for those who are persecuted for their faith in Jesus Christ around the globe.
We pray for friends and family: for Terry and Lor's daughter Kara, her family, her small group, and her church, as they continue to mourn the tragic loss of her good friend; for Beth Cunningham-Blake's great-niece MacKenzie who continues to struggle with health issues, and for wisdom and clarity for her doctors; for healing and encouragement for Adam Derzanovich as he continues his recovery following surgery; for David Derzanovich's two brothers-in-law, Tim and Bill who are still battling health issues.
---
Upcoming Events and Opportunities:
Craft Night:
Craft night is taking a temporary break and will resume later this spring.
Kids' Night Out:
The next Kids' Night Out is on this coming Saturday, February 7. More information is
here
, and online registration is
here
. I encourage you to invite friends and families to take advantage of this gift to the parents of our community, and I encourage you to consider volunteering to help our with the next KNO.
Valley Church Supported Ministry Pledges:
If you have not already done so, please remember to prayerfully consider what you are feeling led to pledge for Valley's supported ministry organizations and return the forms this Sunday (without your name) by putting it in the offering plate or giving it to one of the deacons (Pat Aukema, Joel Huizinga, Trent Nelson, Terry Woodnorth). If you cannot locate your form, you can download and print one from
here
. If you have any questions about the new pledge system, please talk to one of the deacons.
Ash Wednesday Service:
Ash Wednesday is February 18. We will be gathering at 7:00 on Ahs Wednesday for a contemplative service of worship as we enter the season of Lent and begin our journey with Jesus to the cross and to Easter Sunday. Please mark you calendars.
---
Sunday Morning Ministries for
February 1, 2015:
Greeter:
Ruth Giese
Ushers:
George DeJager and Doug Aukema
Intercessory Prayer:
Kurt Monroe
Scripture Reader:
Florence Doller


Nursery:
Herleen DeYoung and Liz Bennett