"As the rain and the snow come down from heaven, and do not return to it without watering the earth and making it bud and flourish, so that it yields seed for the sower and bread for the eater, so is my word that goes out from my mouth: It will not return empty, but will accomplish what I desire and achieve the purpose for which I sent it."
~ Isaiah 55.10-11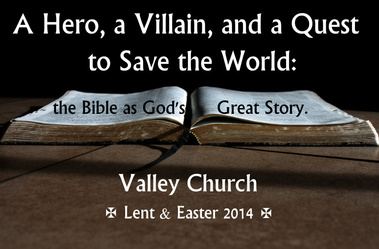 New Sermon Series:
This Sunday, the first Sunday of Lent, we will begin a new sermon series. We will explore the way the Bible is, at heart, one continuous story of God's loving rescue of humanity and creation. The one story of the Bible is made up of smaller stories, poems, songs, records of history, letters, biographies, and other odds and ends, but all of those little pieces contribute to the one grand story that God (the hero) is telling about his quest to save the world.
While the world offers many competing stories that fight to be the stories that order our lives - stories that compete for our attention and seek to exercise authority over us - for Christians the Biblical story must be the story that holds us in its grip and power. The story of God's creation, humanity's rebellion, and God's loving rescue of all things must be the story that orders and shapes our lives.
This Sunday will be an introduction that will address questions about the Bible and its authority. Starting a week from Sunday we will begin looking at the six "chapters" of the story:
March 16: Chapter One - Creation: Genesis 1 & 2.
March 23: Chapter Two - the Fall: Genesis 3.
March 30: Chapter Three - the Rescue - Israel: Isaiah 42.5-7.
April 6: Chapter Four - the Rescue - Jesus: Luke 4.14-21.
April 13: Chapter Five - the Rescue - the Church: Matthew 28.16-20.
April 20: Chapter Six - New Creation: Colossians 1.15-20.
I invite you to read this Sunday's text,
Isaiah 55.1-13
, with a focus on verses 10-13, prior to our time together on Sunday.
This Sunday we will also celebrate the feast of the Lord's Supper. I encourage you to prepare in heart and mind to come to the table our Lord sets for us.
Classis Atlantic Northeast Meeting:
This coming Wednesday, Paul Peterson (elder), Joel Huizinga (deacon), and I will make our way to Pittsfield, Massachusetts for the spring meeting of classis. I encourage you to pray for our meeting (Wednesday and Thursday), for all the congregations represented there, particularly for those congregations who need the special guidance and assistance of classis, and for safety as all the representatives travel there and back home. It is my prayer that we would be guided by the Holy Spirit to encourage, equip, and hold one another accountable as congregations as we participate in God's mission in and for the world.