"And let us consider how we may spur one another on toward
love and good deeds . . ."
~ Hebrews 10.24


The Church: What We Do
This is going to be an exciting Sunday! We will celebrate the official welcome of Gabriel Canary into God's family through baptism, and later in the service we will gather around our family table in the Lord's Supper. If that wasn't enough to get us stirred up and spurred on, we get to hear from Hebrews 10.19-25, which, using images of both baptism and Lord's Supper, encourages us to think about how we can stir one another up to love and good works. I encourage you to prepare in heart and mind for the celebration of baptism and Lord's Supper, and I encourage you to read Hebrews 10.19-25 prior to our time together on Sunday morning.
---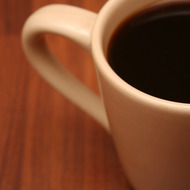 Coffee and Conversation:
On behalf of the education and growth and renewal teams, I want to remind you that beginning this Sunday, September 8, all of the adults are invited to share coffee and conversation prior to the service. Parents, drop off your kids at Sunday School and then take a moment to grab some coffee and enjoy some adult conversation. Everyone else, we invite you to join us when you can and catch up with friends and enjoy fellowship with the family of God. Coffee and tea will be served from 9:30 until just prior to the service. We look forward to seeing you Sunday morning!
---
Opportunities to Serve One Another:
Many of you have stepped up to serve your brothers and sisters in Christ by volunteering in the nursery and in Children's Church. On behalf of everyone, I want to say thank you. If you are interested in helping with Children's Church or nursery and haven't volunteered yet, please contact Pastor Kurt (you can reply to this email or speak with him on Sunday). The more volunteers we have, the lighter the load on everyone! As of this moment, our needs are greatest for Children's Church.
We will be conducting very brief instructional classes for volunteers soon. We want you to feel equipped and empowered to do the job with confidence and joy! Stay tuned for information.
---
This is one final reminder that links to the online folder containing sermon recordings and powerpoints and the Valley Church calendar are at the bottom of these emails and will continue to be posted there. (The sermon recordings and powerpoint presentations can both be streamed within the box.com folder without downloading them to your computer).


Sunday Service Times:
Children's Sunday School: 9:30a.m.
Coffee and Conversation for Adults:
9:30 - 10:30a.m.

Worship Service:
10:30 a.m.
---
That we might better pray for one another:
We ask God's blessing for Wilner and Marila Nicolas as they go through their immigration interview.
We pray for healing, courage, and peace for Daryl Whitacre, for continued guidance for her doctors, and for peace and strength for Rod as he supports her during this time.
We ask for continued healing for both Dorris and Jim Pitcher.
We pray for healing for Edele Thompson.
We continue to pray for perseverance, peace, and hope for Lucky and Harriet Dimidio as they adjust to Lucky's loss of sight.
We pray for the friends and family of members: Pat and her daughter Karen, the Gelders and their family as they mourn the passing of Al's brother-in-law, Debbie (friend of Holly Nelson's family), the family and friends of Sue as they mourn her death, and Jim Stocum's mother, Esther.

---
Upcoming Events and Opportunities:

Service Time Change:
We will be resuming our 10:30a.m. service time on September 8, so mark your calendars.

Sunday School for Kids:

Sunday School will be resuming for kids this Sunday, September 8. We will be starting at 9:30a.m.
Children's Church:
This week also marks the beginning of Children's Church for the academic year. Children up to and including grade 2 will be dismissed following Children's Time in the service. They will rejoin the the service during the sharing of opportunities for fellowship and ministry.
Coffee and Conversation
:
See the article in the column to the left.
2nd Offering:
This Sunday (September 8) we will be collecting a second offering for the Chenango Forks School Nurses Discretionary Fund. We invite you to give generously.

School Supplies for CF Schools:

We are collecting school supplies for the Chenango Forks schools. There is a box in the foyer to collect any supplies you wish to donate.
Hope for a Hundred Hearts - Operation Christmas Child:

It's time to shift gears from collecting boxes to collecting things to put in the boxes, so we encourage you to keep your eyes open for those bargains. More information on specific needs will be coming.
Fall Festival
:
Remember to keep inviting neighbors and friends to Fall Festival, which is September 22!

---
Recommended Reading: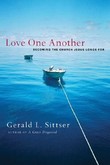 The format of the second half of this sermon series was inspired by Gerald Sittser's book
Love One Another: Becoming the Church Jesus Longs For
. This is a book that is easy to read but is also full of sound, substantive, and challenging thoughts about what we, as the church, are called and empowered to do.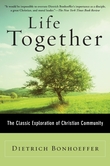 One of the classics on the life and actions of the church is Dietrich Bonhoeffer's Life Together. While it might be a bit more difficult to read than Sittser's book, any effort put into reading it is amply rewarded. I have heard some say that, after the Bible, Life Together should be on the top of the required reading list of any Christian. I wouldn't argue with that!