"Then I heard what sounded like a great multitude, like the roar of rushing waters and like loud peals of thunder shouting: 'Hallelujah! For our Lord God Almighty reigns. Let us rejoice and be glad and give him glory! For the wedding of the Lamb has come, and his bride has made herself ready. Fine linen, bright and clean, was given her to wear.' Then the angel said to me, 'Write: "Blessed are those who are invited to the wedding supper of the Lamb!"' And he added, 'These are the true words of God.'"
~ Revelation 19.6-9

---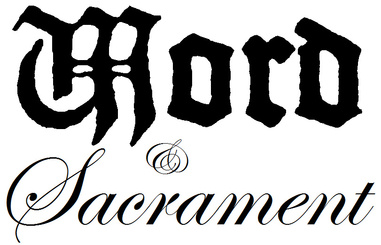 What is the Lord's Supper more like, a funeral or a wedding reception? What
should
it be more like? Is it possible to appropriately honor and remember Jesus' death while celebrating a joyous, festive feast? Would it be possible to honor Jesus' death as a church in any other way? In the Lord's Supper are we only looking backward in remembrance, or are we also looking forward in anticipation? Are we only looking upward to God, or are we also looking out to our brothers and sisters in Christ? Those are some of the questions we'll be wrestling with this Sunday as we hear from God's Word and as we approach the table of the Lord's Supper, the wedding feast of the Lamb. We'll hear from
Isaiah 25.6-9
,
Matthew 25.1-13
and
Revelation 19.6-9
. I encourage you to read and reflect on those passages prior to our time together on Sunday. I also encourage you to continue joyfully preparing for the family meal of the Lord's Supper, reflecting on the reconciliation God has wrought on our behalf and which we are called to live into in this meal.
The image at the top of the page is a detail of the marriage feast of the Lamb from Revelation 19 from Jan Van Eyck's altarpiece in Ghent, Belgium.
---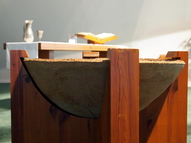 I am Baptized!
Two members of the congregation have alerted me to two great blog posts about our baptismal identity that they found over the past week. The first, called "Remembering . . . and Thankful" is by Ken Gehrels on the the Christian Reformed Church Network, and can be read
here
. The second, called "Lived Memory," is from Evan Koons, one of the guys responsible for the video series
For the Life of the World: Letters to the Exiles
, which you can read
here
. It draws the link between baptismal identity and the Lord's Supper, too! I highly encourage you to take a look at both. You will be reminded once again, in creative and encouraging ways, of who you are, and to whom you belong!
---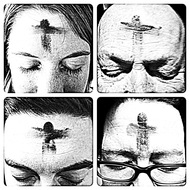 Ash Wednesday Service:
On Wednesday, February 18, at 7:00 p.m. we will gather for a service of worship in which we will begin our Lenten journey of repentance and renewal that will lead us to the cross of Good Friday and to Christ's resurrection on Easter Sunday. At this Ash Wednesday service we will be given an opportunity to contemplate our sinfulness, mortality, and need for rescue; to repent and renew our commitment to our God; and to look ahead to Jesus' victory over death in his death and resurrection. I encourage you to join us as we begin our journey with Jesus to the cross together.
---

Sunday Mornings:
Coffee: 9:15 a.m.
Worship Service:
10:00 a.m.
---
That we might better pray for one another:

We pray for healing for Holly Nelson as she continues to recover from a concussion.
We pray for continued healing and strength for both Jerry Krempel and Jim Pitcher.
We pray for healing, for peace, and for a sense of God's presence for Barb Hover.
We pray that God would lead those who need Faith & Finances to register, and we pray for allies for participants and for volunteers for meals and childcare.
We praise God for the evening of refreshment for parents and the evening of fun and learning for the kids at this past Kids' Night Out. We continue to give thanks for the adult and the teen volunteers, and pray for continued strength and energy for the remainder of the Kids' Night Out season.
We continue to pray for God's world: for the people of Europe as they work for peace; for the people of western Africa as they continue to battle Ebola; for God's miraculous intervention in the Middle East, that the hearts and minds of the people living there, and that whole cultures, would begin to bend toward peace, and that God's church would continue to proclaim and embody the good news of God's reign there; for those who are persecuted for their faith in Jesus Christ around the globe.
We pray for friends and family: we give thanks for the birth of Mike and Charlyn Corgan's grandson, and for health for mother and baby; we give thanks for Jenni DeYoung's niece's successful surgery and for continued healing; for healing for Lynda Huizinga's brother George following a heart attack; for healing for Janice Krempel's friend Shana following a heart attack, and for Shana's husband and 8 children; for healing and recovery for Beth Cunningham-Blake's great-niece MacKenzie following her foot surgery; for healing and encouragement for Adam Derzanovich as he continues his recovery following surgery; for David Derzanovich's two brothers-in-law, Tim and Bill who are still battling health issues; and for the Krempels' friend Theresa who is mourning the death of her sister.
---
Upcoming Events and Opportunities:
Council Meeting:
Council will meet on Tuesday, February 18 at 7:15 p.m.
Ash Wednesday Service:
For more information, please see to the left.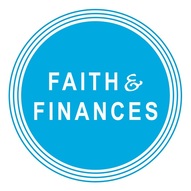 Faith and Finances:
Faith and Finances
begins March 3. Please continue spreading the word about the course to anyone you know who might benefit. Also, if you can help as an ally, with food, or with childcare please talk to the area coordinators: allies - Pat Aukema; food - Jennifer Monroe; childcare - Charlyn Corgan. You can download a flyer to print out
here
.
---
Sunday Morning Ministries for
February 15, 2015:
Greeter:

Terry Woodnorth
Ushers:

Joe Patak and Doug Aukema
Intercessory Prayer:
Kurt Monroe
Scripture Reader:
Al Vos


Nursery:
Florence Doller