"The Sovereign LORD has opened my ears;
I have not been rebellious,
I have not turned away.
I offered my back to those who beat me,
my cheeks to those who pulled out my beard;
I did not hide my face
from mocking and spitting.
Because the Sovereign LORD helps me,
I will not be disgraced."
"The crowds that went ahead of him and those that followed shouted,
'Hosanna to the Son of David!'
Blessed is he who comes in the name of the Lord'
'Hosanna in the highest heaven!' "
---
While all of Lent is a season of preparation for Good Friday and Easter Sunday, we turn a significant corner this Sunday. As the Servant says in the passage from Isaiah that we will hear, "I have set my face like flint." As Luke puts it in his gospel: "Now it happened that when the days were approaching for him to be taken up, Jesus set his face to go to Jerusalem." Jesus is resolute. With this final entry into Jerusalem, he takes the steps that usher him beyond the point of no return. He burns his bridges of retreat. As he rides the donkey up to the gates of Jerusalem, he very publicly unveils his true identity: the King has come at last to claim his crown and his throne.
This is appropriately a time of jubilant rejoicing. We shout "Hosanna!" We wave palm branches. But we also know what is coming in the following week. We know that the exalted throne is a cross; we know that the crown is made of thorns. Jesus has indeed turned a corner. We are now invited to follow Jesus and journey down this road with God's faithful, obedient suffering Servant - to cross and the crown.
The artwork at the top of the email is a detail from an anonymous 11th century illuminated manuscript that depicts Jesus' entry into Jerusalem.
---
Announcements, Events, and Opportunities:
No Children's Church Palm Sunday
or Easter Sunday:
Children will remain in the service of worship for its entirety this Sunday and next Sunday.
Q & A Regarding Children at the Lord's Supper:
Tomorrow morning, following the service of worship, we will have a Q & A session regarding children at the Lord's Supper.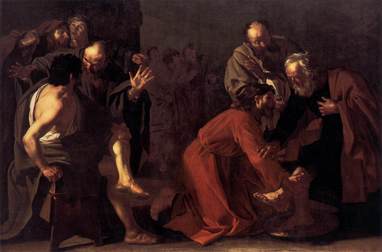 Holy Week Worship Services and Fellowship:
Maundy Thursday dinner and celebration of Lord's Supper at 6:30 p.m. on Thursday, April 13. We will have fellowship around a soup-and-salad meal, sing and pray together, and celebrate the feast of the Lord's Supper. We need to have a good idea of how many will be attending, so please sign up either in the foyer tomorrow morning or online here.
Good Friday service of worship on Friday, April 14 at 7:00 p.m. A contemplative service of worship focusing on the sacrifice of our God on the cross.
A celebratory Easter sunrise service at the First Church of Christ at 8:00 a.m. on Easter Sunday, April 16.
Breakfast at the First Church of Christ directly following the sunrise service.
Easter Sunday worship at Valley Church at 10:00 a.m. (including celebration of the Lord's Supper).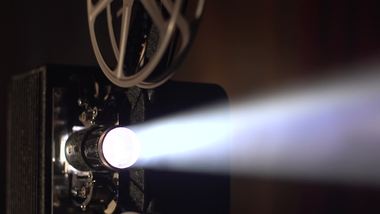 Movie Night at Valley
:
We will continue Movie Night at Valley this Sunday evening at 6:00 p.m. This Sunday we will watch the eighth episode of the miniseries The Bible on the big screen in the sanctuary. I hope you can join us for the fellowship, popcorn, and film!
Suggestions for Nomination of Deacons and Elders:
With the arrival of spring comes a call from the council for your suggestions for nominees for the offices of deacon and elder. Hard copies of the suggestion forms have been placed in your folders. If you would like to nominate online, please fill out the form you will find
here
. The council requests that you return the forms no later than April 23. On behalf of the council, thank you in advance for your prayerful suggestions.

Gardening Time Is Coming!
:
In spite of the snow falling all day yesterday, the gardening season is fast approaching. Valley's community garden has plots available, so if you hear friends or neighbors comment on wanting to garden, feel free to tell them about the garden. Flyers are available in the foyer.
Also, this year, we will offer an introductory class on gardening called Seed to Supper. Here are some details:
A free, six-session introductory gardening class developed by Cornell Cooperative Extension
Classes begin in May, facilitated by Terry Woodnorth, held at Valley Church
Contact Terry Woodnorth or Carol DeYoung if you are interested in attending. For those in the congregation, let us know some days/times that would work best for you.
Topics include: Getting started with healthy soil; Planning your garden; Planting your garden; Caring for your growing garden; Harvesting and using your bounty.
---

~ Valley Church ~
Gathered as God's family, we are sent into the world as agents of God's mission of renewal.

---
This Sunday:
Worship Service
at 10:00 a.m.
There will not be children's church this Sunday or Easter Sunday.
Q & A regarding children at the Lord's Supper following the service of worship.
Movie Night
at 6:00 p.m.
---
That we might better pray for one another and God's world:


We give thanks for good news from the Zuiderveens in Haiti: Jessica is showing signs of healing and recovery. We pray for continued healing for the whole family.
We pray for continued healing and strength for: Rusty Neslon, who is recovering from a concussion; Sarah Peterson; Chuck Huizinga; Peter DeYoung; and all those struggling with colds and the flu.
We pray for God's world: for peace for the people of Syria; for the people of South Sudan, Somalia, Nigeria, and Yemen who are facing food shortages and starvation; for unity and civility among the citizens of the United States and for guidance and wisdom for government leaders at all levels; for ongoing restoration, renewal, and justice for the people of Haiti; for those who are persecuted for their faith around the world and the organizations and people fighting to protect them.
We pray for friends and family: we pray for healing, strength, and peace for Edele Thompson as she battles cancer; for Lor's family, particularly for her uncle John who is grieving the death of his wife and was hospitalized himself this past week; for Becky's friend Joe who is battling colon cancer, and for peace and strength for his family; for Adam Derzanovich; we give thanks for healing for David Derzanovich's brother-in-law Tim, and pray for continued healing and recovery; for Beth Cunningham's cousin Karen; for Lynda Huizinga's niece Alexis; for Alistair Krempel; for Mike Corgan's nephew who is battling heroin addiction.

---
Sunday Morning Ministries for
April 9, 2017
Greeter: Cindy Krempel


Ushers: Doug Aukema and Herleen DeYoung
Intercessory Prayer: Doug Aukema

Old Testament Scripture Reader: Florence Doller

Gospel Scripture Reader: Kurt Monroe
Nursery: Jim and Sue Comfort