Sacred Site Mapping
Pioneering landscape architect Randy Hester uses an unconventional technique
called Sacred Site Mapping. His participatory process assists a community with identifying its "sacred structure"—the buildings, places, and landscapes that are central to its function and character. Check out Randy's path-breaking work on the Planning Tool Exchange.
LEARN MORE >

Successful Communities Contest
Does your community know what it takes to be more successful? Or even how to begin? Set the wheels in motion by entering CM's Successful Communities Contest. You could win one of four $500 awards to benefit your town!


LEARN MORE >

PPS and Placemaking
Project for Public Spaces (PPS), a CommunityMatters partner, has been helping people create and sustain public spaces that strengthen their communities for 38 years. PPS has
completed projects in over 2500 communities in 40 countries and all 50 US states. See what they're doing in your part of the world.
LEARN MORE >

"Storytelling & Social Change" Hot Off the Press!
Paul VanDeCarr, NYC-based author and managing director of Working Narratives, has just published the wisdom of over 75 storytellers, media-makers, community activists, and foundation staffers into the first comprehensive overview of its kind. Check out his blog post and sign up for a free download.
READ BLOG POST >


Is Your City All-American?
The National Civic League's All-America City Award recognizes 10 communities
annually for outstanding civic impact and action planning. The theme for 2014 is "healthy communities." Monthly conference calls will take place from September of this year through February 2014. A letter of intent to apply is due November 15, and the final application deadline is March 18, 2014.
LEARN MORE >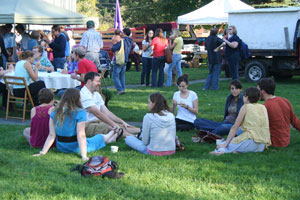 The Riches of Third Places
The Heart & Soul of a town can often be found in unexpected places.
August 29, 2013
Think of your town. Now think of your favorite places —the places, aside from your home and workplace, where you spend quality time. What types of places are they and why are they meaningful to you?

In Orton's Heart & Soul communities, these places include diners, sandwich shops, an Airstream trailer-turned-café, skate parks, riverside walks, town centers and barber shops. When asked why these places are special, residents from Gardiner, Maine, to Cortez, Colorado, often respond with similar reasons:

"Best coffee in town."
"Part of my routine."
"It's welcoming, comfortable."
"I see my friends there."
"They know me by name."
"It's a magnet for people, culture, town news, you
name it."
"It makes me feel like I'm part of something."

Ray Oldenburg, in his book The Great Good Place, characterizes these "third places" as critical compo- nents of democracy, civic engagement, and civil society. When people ask us about where we live, we mention these places with pride and affection. They foster spontaneous, creative conversation and connection. They are idea incubators, good-vibe sinks, and sources of local gossip and news. People meet in these places to hold hands, hatch plans, sort out differences, play with the kids, get caught up, break bread, raise glasses, and spin yarns. They are the physical features that invite people into a com- munity—that "enter-here" door.

A third place in Essex, Vermont started as no place at all. The railroad tracks running behind the clustered buildings of a busy intersection known to locals as the "Five Corners" used to be an unsafe and generally avoided area parents warned their kids about. Many residents had given it up for lost, until a group of moms had a brilliant idea to turn this rundown zone on its head and make the avoided into an attraction.

"The more traditional response, which was to crack down on the crime or ticket, was just not getting the result that [the] Central Avenue neighborhood was really looking for," resident Gabrielle Smith said. "So they came together and had this conversation, and one of the things that came out of it was a strategy that would really help to get more people downtown, especially in the evening hours."

This is how the Five Corners Farmers' Market was born. Held each Friday afternoon during the warm season, the Market offers local produce, perennials, herbs, fresh baked goods, wines, wood-fired pizza, BBQ, eggs, meats and maple products, plus a dizzying array of vegan and gluten-free foods. Market festivities such as music, art and kid-friendly fun also draw residents of all ages. The increased activity in the Five Corners has brought with it improvements in lighting, walkways and a new partnership with the Essex Police Department to keep the area safe.

What once was lost has been reclaimed: Railroad Junction and the Farmers' Market is now a third place in Essex not to miss, thanks to some visionary women who weren't content to watch a part of their community remain static. In doing this, Essex became a model for other communities, proving that it is possible to create new spaces for people to gather, connect, and ultimately strengthen the bonds between each other and the place they call home.