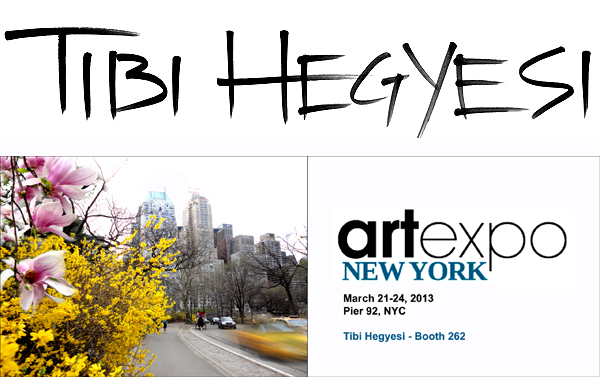 Hi Everyone,
I am cordially inviting you to see my latest art at Artexpo New York 2013, the paramount art fair for independent artists in the United States. Each spring, for 35 years, the most relevant artists from around the world are converging at Artexpo NYC to showcase their art to thousands of affluent art collectors, publishers, gallery owners, art dealers, designers, architects and art lovers alike.
Artexpo NYC takes place at Pier 92 in New York City on March 21-24, 2013 and it runs concurrently with the Architectural Digest Home Design Show at Pier 94.
It is my pleasure to offer you free VIP passes for the opening night and for regular admission (valid for both fairs). Please confirm your attendance at the fair by March 15th by joining my facebook event and/or by contacting me directly at tibi@tibi.ca to obtain your free passes link. Otherwise, tickets can be purchased online or at the door during regular show hours.
Also, I would highly appreciate if could spread the word about my participation at Artexpo NYC to your family, friends and colleagues by inviting them to attend as well.
During the fair I can be reached at 917-930-5446.
Thank you and I am looking forward to seeing you there,
Tibi
Artexpo New York 2013
March 21 - 24, 2013
Trade day:
Thursday, March 21st: 10 AM – 7 PM / Artexpo After Dark, 4 PM-7 PM.
GE Capital's "Artexpo After Dark" sponsored by Bombay Sapphire and Barefoot Wines.
Trade & General Admission:
Friday, March 22: 10 AM – 7 PM
Saturday, March 23: 10 AM – 7 PM
Sunday, March 24: 10 AM – 6 PM
Address:
Artexpo New York 2013
Pier 92, 12 Ave. at 55 Street, New York, NY, USA
(map)
Tibi Hegyesi
NYC mobile: 917-930-5446 (March 18-28, 2013)
studio: 416-243-2520
mobile: 416-569-6958
ca.linkedin.com/in/tibihegyesi