Wallowa Valley Festival of the Arts
---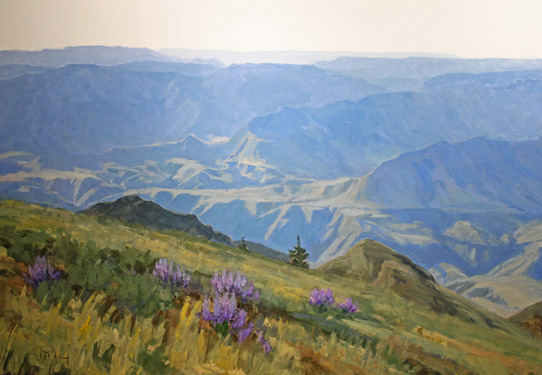 Please join us for an amazing week of art...
Since 1982, Joseph Oregon has been welcoming Artists and Art Lovers to the Annual Wallowa Valley Festival of Arts. Please join us for this special attraction featuring the best of local, regional and national fine artists working in a wide variety of media. This is our 36th year and we've made some changes to our festival -- venue, events and more. We've mixed it up a little and we think you are going to like what we are planning.
First, we're moving our festival to the Josephy Center for Arts and Culture (403 N. Main Street, Joseph, OR 97846) and our Quick Draw and En Plein Air events will take place at the Mt. Joseph Lodge (directly across the street from the Josephy Center – 404 N. Main Street). This year we are featuring over 65 artists and over 125 pieces of artwork in the Festival's Big Night. Over 15 artists will be participating in the En Plein Air and 17 artists will be creating special pieces of art in 90 minutes during the Quick Draw on Saturday afternoon at the Mt. Joseph Lodge's garden. There's a silent auction of the Quick Draw pieces during and until 4 pm. Please check our schedule for complete details (below).
Tickets for the Arts Festival Opening Reception are on sale at Beecrowbee, Bookloft and the Josephy Center. Advanced tickets are $20 and $25 at the door. Each attendee will receive a hand-painted wine glass to help celebrate the evening.
Our judge this year is Cory Peele - Cory W. Peeke received his BFA from Kendall College of Art and Design and his MFA from the University of Idaho. Cory is Professor of Art at Eastern Oregon University in La Grande, Oregon where he also serves as Chair of the Art Department and Director of the Nightingale Gallery. He is represented by Gallery I M A in Seattle, Washington.
https://corypeeke.com/home.html
Also featured in the Festival is a beautiful raffle piece by artist Tom Clevenger. Tom has graciously donated one of his amazing segmented wood turning pieces called Chocolate Adobe. It's made from 385 pieces of Peruvian Walnut, bubinga and maple, valued at $1900. Proceeds from the sales will benefit the Josephy Center's Youth Art Program and the OK Theatre's new film screen. Tickets are $5 or 5 tickets for $20.
The 36th Annual Wallowa Valley Festival of Arts at the Josephy Center and Mt. Joseph Lodge a Sept. 12-16, 2018, in Joseph, OR*
painting - "View from Buckhorn" by Malcolm Phinney (oil, 33"x48")
---
Festival of Arts Schedule
Events Include:
Thursday, Sept. 13
En Plein Air Competition & Reception
Location: Mt. Joseph Lodge – 404 N. Main St. (across from JCAC)
Time: 5-8p.m.
Cost: Free to the public – but all artwork for sale
Friday, Sept. 14
En Plein Air Show
Location: Mt. Joseph Lodge - regular hours from 10am-5pm
Time: Gallery viewing -10-5pm, free
Wallowa Valley Festival of Arts Opening Reception
En Plein Air Gallery open
Time: 7pm-10pm
Cost: $25 at door; $20 advanced tickets at Beecrowbee, Josephy Center & Bookloft
Reception: Location: 403 N. Main St., Joseph
Plein Air Location: Mt. Joseph Lodge
Saturday, Sept. 15
Time: Both galleries open 10am-7p.m.
Location: Afternoon of the Quick Draw & Homemade Jam – Mt. Joseph Lodge Garden
Afternoon of the Quick Draw
Time: 2-3:30pm
Homemade Jam Music
Time: 2 pm
Cost: Free
Sunday, Sept 16
Time: Both galleries open 10am-2 p.m.
Summer Arts Classic – Woodwinds in the Wallowas
Time: 4pm
Location: Josephy Center for Arts and Culture
Cost: $20 for adults, $15 seniors and youth under 18 free
---
Wallowa Valley Arts Festival - RAFFLE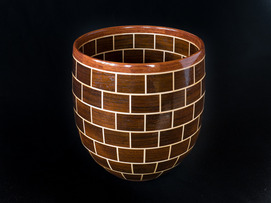 Wallowa Valley Festival of Arts, Josephy Center of Arts & Culture, and OK Theatre Present
A Very Special Raffle
Benefiting Josephy's Youth Art Program & A New Movie Screen at the OK Theatre
Title: Chocolate Adobe Medium: Segmented Wood Turning Bowl Artist: Tom Clevenger
Retail Value: $1900
Wood: Peruvian Walnut, Bubinga and Maple compose this intriguing 385 piece segmented wood turning.
Tickets: One for $5 or Five Tickets for $20. Available below! Raffle: Drawing takes place at our annual Christmas Concert or OK Theatre's in December.
About the Artist: Tom Clevenger's portfolio includes art pedestals, furniture, and custom work. In 2007, Tom began experimenting with segmented wood turning. This complicated process of creating art with a wood lathe, involves the assembly of various colored and textured local and imported hardwoods from around the world. Tom's design inspiration comes from the vibrant colors and designs found on current and historic Native American textiles, pottery and baskets, as well as the beauty he finds in the natural forms of mountains, rivers, sunsets, and even the spirals of tornadoes. Tom first introduced his new art form at the 2008 Wallowa Valley Festival of Arts where he won 1st Place for his turning titled "Diversity". Tom's work can be viewed at Kelly Wick's new gallery, in Joseph.
Purchase tickets online or come to the Josephy Center where the bowl is on display.
https://josephy.org/festival-of-arts-segmented-wooden-bowl-raffle/
---
LAST CHANCE TO SIGN UP - En Plein Air on the Zumwalt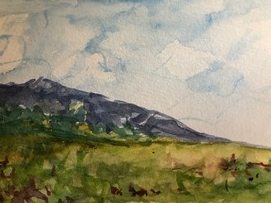 Paint w/Dawn Norman on the Zumwalt September 08, 2018 9am-1pm $45 – Bring a Lunch! Flowers are popping and summer is in the air! Local artist and JCAC instructor Dawn Norman brings her expertise in painting outdoors to both beginner and intermediate painters. Learn new techniques, as you capture Zumwalt prairie scenery during one of the most beautiful time of year. Small post card size watercolor sketches are the focus, and Dawn can help you capture either a realistic snapshot or an impression of your chosen subject – whatever style appeals to you! Dawn creates a fun and easy atmosphere where everyone can take something successful away. Supplies included, also available to purchase, or you may bring your own. Meet at the Josephy Center at 8 am to car pool, and head out together towards the Zumwalt Prairie! Bring a lunch, and be ready for a visual treat! Painting begins at 9am, and expect three hours painting and return drive time. Cost of the class is $45. Class size is limited to first come first serve. 5 minimum- 12 maximum. Please Pre-register online, via phone, or by stopping by the center.
---
Volunteers Needed on Monday at Cycle Oregon Finish Line
The Josephy Center is proud to be a part of the Cycle Oregon events on
Monday, September 10 from 12-8 p.m
. at the finish line up at the State Park on the Southside of the lake. We need enthusiastic volunteers to cheer for bikers at the Finish Line! All you have to do is show up and cheer bikers on! We will have music, snacks, chairs - and most important cowbell!
Just come or call if you have questions 541-432-0505. Cycle Oregon's donations go to support our Youth Art Program - so your support helps the Youth Art Program!
---
Josephy Center for Arts & Culture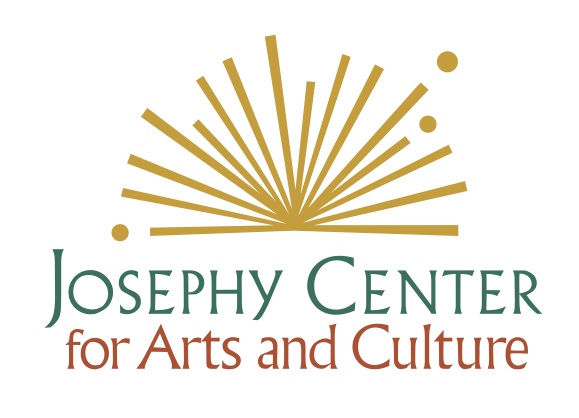 "A gathering place for the arts"
Help support the arts in the Wallowa Valley! Do it right here:
403 N. Main Street, PO Box 949, Joseph, OR. 97846. | 541-432-0505