---
West Travels East Exhibit opening Sept. 29th at 7PM!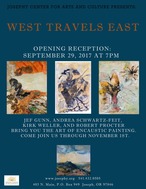 The Josephy Center for Arts and Culture is proud to present an encaustic art exhibit, West Travels East. Exhibit opens with a reception on Friday, September 29 at 7pm, doors open at 6:30 and runs through November 1st. The event is free but donations are welcome. There will be light appetizers and a no-host bar with beer and wine.
The exhibit features encaustic art by four Portland, OR based artists; Jef Gunn, Kirk Weller, Robert Procter, and Andrea Schwartz-Feit. Curator Robert Procter approached the Josephy Center with the idea of bringing Western Oregon artists to Eastern Oregon in hopes of giving Portland artists a chance to experience Eastern Oregon and a way for Eastern Oregon to appreciate Portland encaustic artists.
Encaustic painting is the technique of mixing pigments with heated wax, which is then applied to various, chosen surfaces. Invented by the Greeks, dating back over two millennia ago, the colors can end up to be quite luminous, and the possibility for translucency and layering of detail rather marvelous.
---
Intro to Encaustic Painting Class, Sept. 30th

On Saturday, September 30th Robert Procter will be teaching an Introduction to Encaustic Painting class at the Josephy Center for Arts and Culture from 9am to 5pm, with an hour for lunch. This intensive one day encaustic workshop is designed to cover the basic principles of encaustic techniques. This hands-on workshop will focus on a vast variety of encaustic techniques as well as Bob's own unique approach to the art of painting with beeswax. No painting or drawing experience is necessary. All materials are included. The class is $95 and you can register on-line or call the Center 541-432-0505. Spots can only be reserved with payment.
For more information or to register online, please follow the link below:
---
CALL TO ARTISTS!

The Josephy Center invites artists to submit artwork with the theme "Puppy Love". Please submit your canine themed artwork (one side at least 1900 pixels) via email to coordinator@josephy.org by Dec. 1st. All mediums of art are acceptable. Please limit submissions to 3 works.
Curator, René Fleming, will review all submissions and notify chosen artists by Dec. 5, 2017.
---
Brown Bag: Oct. 19th at NOON
"Perspectives on the environmental movement", with speaker Brock Evens.


---
Friday Youth Art Fall Session!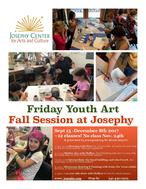 10 – 11 AM | Morning with Mary's | 5-8 Years Old | $75
11 – 12:15 | Midday Clay with Mellica | 7-11 Years Old | $100
12:30 – 2 PM | Intermediate Clay with Mellica | $110
2 – 4 PM | Drawing & Painting with Jenny | 13-Adult | $100
3 – 5 PM | Drawing with Mellica | 7-12 Years Old | $75
---
Magic Wand and Jewelry Designs class!
Laina Nedrow will teach you how to design and construct a Flower wand from the flowers in your life. She will take you on a journey of seeing flowers in a new light to see nature's creations gathered into a whole different composition. Laina will also explore jewelry making with rings and bracelets.
Oct. 14th from 12-3PM, $55



---
Come paint with Jenny Saturday, Oct. 21st!!!
---
Special Docent Lunch with Stacy Green
To all our great volunteers, please join us October 13th at noon for a lovely lunch and talk with Stacy Green. Stacy will be helping us hone our customer service skills!
Please RSVP by Oct. 5th so we know how much food to order!
coordinator@josephy.org or (541)432-0505
---
Classes and Clubs not to be missed!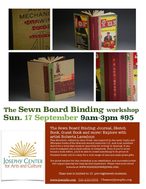 MONDAYS:
-Clay Class 9 AM-Noon with Mellica; $65 for 1st class; $20 every class after
TUESDAYS:
-Painting with Jennifer Klimza from 9-11AM; beginner to advanced; $12 per class.
-Weekly Still-Life Drawing with Sam Collett – 3-6PM; $12 per class
WEDNESDAYS:
-Clay with Mellica 3-6PM; $65 for 1st class; $20 every class after
-Live Model Drawing with Sam Collett: $12
THURSDAYS:
-Chess Club from 4-8PM – open to the public, free
FRIDAYS:
YOUTH ART CLASSES:
September 15 – December 8 | Every Friday
Drop-In's Welcome!
10 – 11 AM | Morning with Mary's | 5-8 Years Old | $7 or $75 full session
11 – 12:15 | Midday Clay with Mellica | 7-11 Years Old |$10 per class or $100 full session

12:30 – 2 PM | Intermediate Clay with Mellica |$10 per class or $100 full session
2 – 4 PM | Drawing & Painting with Jenny | 13-Adult | |$10 per class or $100 full session
3 – 5 PM | Drawing with Mellica | 7-12 Years Old | $7 or $75 full session $75
SPECIAL WORKSHOPS:
Intro to Encaustic Painting – Robert Procter – September 30 – 9am-5pm, with an hour for lunch- $95
Flower Wand Workshop- "Magic Wands and Jewelry" with Laina Nedrow- 12-3PM- Oct. 14th- $55