Free Greener Diet e-book & last call for our Worldwide Vegan Bake Sale!

View Online

|

AWFW Home

|

April 22, 2014
---
It's Earth Day!
Free e-Book (a $15 value)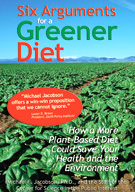 For Earth Day, we're thrilled to share Six Arguments for a Greener Diet.
From our friends at the Center for Science in the Public Interest, read "how a plant-based diet could save your health and the environment," with...
Less Chronic Disease and Better Overall Health

Less Foodborne Illness

Better Soil

More and Cleaner Water

Cleaner Air

Less Animal Suffering
Also, check out their interactive website. Assess the impact of food choices with their greener diet calculator and take a tour of the food supply chain.
EZ Activism...

Share our Top 12 Ways to Eat Green webpage on your social networks and with the people you care about.

The webpage is a friendly way to share our message, plus it provides a free Veg Starter Guide (print and PDF), the free Greener Diet e-book, and more!
---
Join Our Worldwide Vegan Bake Sale!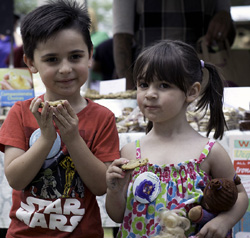 April 26th - May 4th
There's still time to join our Worldwide Vegan Bake Sale, starting next weekend and continuing through May 4th (or later).

It works like this: hold a vegan bake sale, raise money for your cause, and promote delicious, cruelty-free food.
So far, we have
125 bake sales
spanning
six continents
... and counting!
See the latest news and sign-up on the official site and Facebook.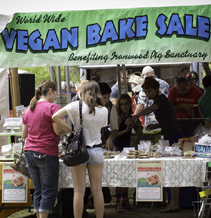 Congratulations to Kristie whose early bake sale on Saturday (pictured here) raised $1,200+ for Ironwood Pig Sanctuary.

Thanks to people like Kristie holding local events, and to the campaign's founder and director Gary Loewenthal,
an incredible
$250,000+
has been raised since the Worldwide Vegan Bake Sale's inception in 2009.
EZ Activism...
Make vegan treats for your friends, families, and co-workers to demonstrate how easy and delicious it is to bake without eggs and other animal products.

---
---
A Well-Fed World
815 Otis Place, NW
Washington, DC 20010
United States


Read the VerticalResponse marketing policy.