---
Animal Liberation Ontario
Animal Conference - 2/23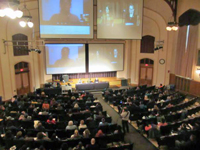 Moving beyond the typical boundaries of social justice activism, the Neither Man Nor Beast Conference advocates for intersectional liberation across species and social identities.

Organized by Animal Liberation Ontario, the conference examines how to best integrate advocacy for the rights of non-human and human animals alike. Recordings available.
Ultimately, the goal is to develop a more complete understanding of oppression and justice. Creating allies aware of the intersectionality of oppression affords more opportunities to collaborate in meaningful and mutually inspiring ways.
---
AVDA Cameroon
Food for Refugees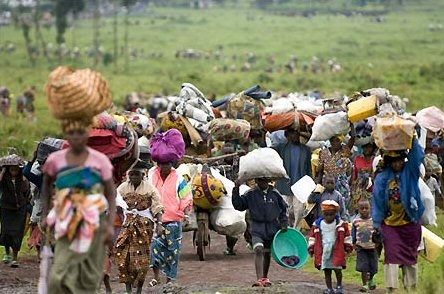 Tens of thousands of refugees from the Central African Republic have crossed into Cameroon. Previous grant awardees, the Association Végane pour les Droits de l'Animal, AVDA Cameroon, are working with volunteers to provide food and clothing.

They explain: "Food is the first need of refugees. Finding food is a real problem for them because they made long journeys, often on foot. In fear of violence, the majority of refugees have fled taking nothing with them, [not] even something to eat."

We were able to send an immediate grant that provided desperately needed funding for vegan food and other essentials. Special thanks to our Disaster Relief Donors, who help make these fast turn-around decisions easier.
---
Baltimore VegFest
Outdoor Festival - 5/3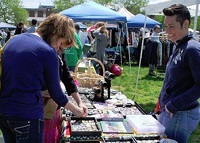 Organized by the University of Maryland Baltimore Vegetarians and
The Humane League, the Baltimore VegFest is a celebration of healthy, sustainable, and compassionate eating and it explores the endless benefits of vegan living.

This free event features a wide variety of vegan foods, live music, local veg restaurants, speakers, nutritional experts, cooking demos, a kids area, prizes, gift bags and more. The diverse gathering of non-profit and commercial exhibitors make the day even more educational and filled with pure shopper's joy.
---
Factory Farming Awareness Alliance
Animal Conference - 3/15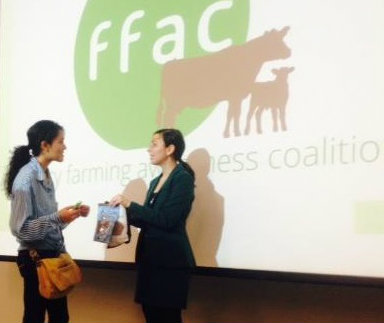 The Factory Farming Awareness Alliance at the University of California Berkeley organized the conference Activists at the Table to examine the intersections between social justice, food justice, and animal rights.

The conference provided thought-provoking lectures and conversations exploring the interconnections between food choices and activism.

Topics examined the impact of pesticides and GMOs on workers and farmers; the impact of industrial animal agriculture on the global community; environmental racism, food access issues, and worker conditions in the agriculture and chocolate industries; and how veganism can be used as a platform to discuss the intersections of structural oppression (i.e. racism, speciesism, normative whiteness, and ableism).
---
Federation of Indian Animal Protection Organisations
Animal Conference - 9/12-9/14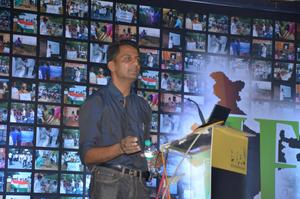 The Federation of Animal Protection Organisations (FIAPO) is India's first animal protection federation. They serve as an umbrella organization representing and advocating for NGOs and activists in the Indian animal protection sector. They also independently conduct research about and advocate for the rights of animals.
FIAPO organizes the India for Animals Conference. This year's conference is in Jaipur.

It brings organizations and activists together at a national level and is a celebration of animal protection across India. It gives animal protection organizations the chance to gather under a common banner and connect, build, and learn from each other.
---
Food Not Bombs - Washington, DC
Vegan Food Share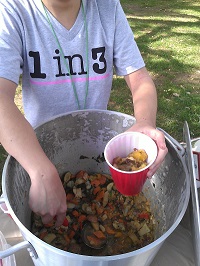 Food Not Bombs DC is an all-volunteer, consensus-based group that receives food donations from grocery stores and restaurants, then prepares vegan meals with and for the homeless every Saturday.

In addition to establishing a weekly presence for sharing food, they support allied causes as they occur and organize on issues related to homelessness, poverty, hunger, budget priorities, animal rights, food justice, and food waste.
They wrote: "Most pressing -- we need to dramatically increase our freezer space. Because nearly all of the food that we bring in is perishable goods nearing expiration dates, freezer space represents the most significant factor limiting how much food we can share."

Our grant enabled the volunteers to purchase their much needed freezer, with additional funds available for food and general support.
---
Institute for the Development of Earth Awareness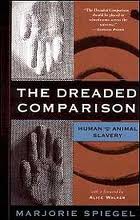 Book Printing & Donations to Libraries
The Dreaded Comparison, written by IDEA's Executive Director Marjorie Spiegel, is ground-breaking for its thesis which presents the first in-depth exploration of the similarities between the violence humans have wrought against other humans, and our culture's treatment of non-human animals.

The Dreaded Comparison has been used extensively as required reading in diverse curriculum in universities, colleges, and law schools. It has been credited with being a foundational book of the animal advocacy movement.

Our grant supports the next round of printing and donation of books to underserved libraries, primarily in low-income communities.
---
Michigan VegFest
Outdoor Festival - 4/13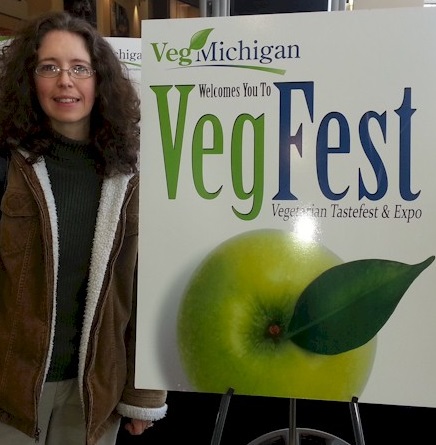 VegMichigan, the state's largest vegan organization, presents their annual vegan tastefest, health, and environmental expo.

VegFest 2014 features talks by some of the nation's foremost experts on plant-based nutrition, cooking demos, children's activities, and a food court featuring delicious options from local restaurants, bakeries, caterers, and food companies. Also included are national brand samples, eco-friendly products, cruelty-free fashion, literature, cookbooks, and more.

The exciting presenters line-up includes actress and environmental advocate Daryl Hannah, NBA champion John Salley, cardiologist and author Joel Kahn, MD, and many more.
---
NY Coalition for Healthy School Food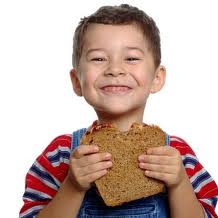 PB&J Project

The NY Coalition for Healthy School Food partners with businesses and organizations to develop and implement plant-based recipes for cafeterias.

The program seeks to introduce the recipes with promotional events and educational materials designed to make trying new foods and learning about their health benefits both fun and exciting.

Inspired in part by our PB&J Campaign, their PB&J project works with school decision-makers to make traditional PB&Js healthier. They explain differences between types of bread, peanut butters, and jellies. They further encourage the use of alternatives, such as using other types of nut butters, and replacing jelly with fresh fruits.
---
Open the Cages Alliance
Vegan Living Program - 3/15-4/19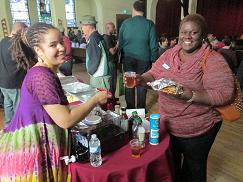 The Vegan Living Program is a series of educational events that cover the hows and whys of vegan living, including the ethical and environmental implications of vegan lifestyles, nutrition, cooking, meal planning, and living vegan in a not-yet-vegan world.

Vegan Pledges (there are more than 70 this year) pledge to live vegan for the 5-week program, with the help of volunteer Vegan Coaches.

Vegan Pledges receive a binder full of resources and recipes, and a goody bag of free vegan stuff to make the transition easier and more fun. Classes and cooking demos are free and open to the public.
---
Paramatma Farm Animal Shelter - Columbia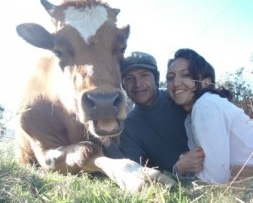 Farm Fencing
Paramatma Farm Animal Shelter is the only vegan sanctuary in Colombia, and the only shelter in all of South America that protects cows.

In addition to promoting adoption and care for animals, the shelter teaches people to respect all living beings. Paramatma is a Sanskrit word that means, "God within the heart."

Our grant helps with the building of a much needed fence and animal care.
---
Peace Advocacy Network
Vegan Pledge Program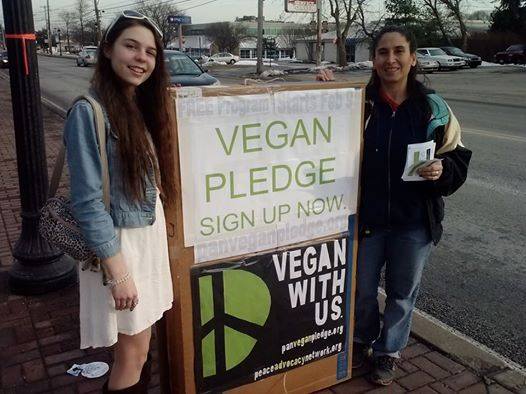 The Peace Advocacy Network

organizes 11 annual Vegan Pledge programs in 10 cities throughout the United States.





PAN's

Vegan Pledge

program has 30 non-vegans pledge to eat a vegan diet for 30 days. Each participant receives a

bag full of vegan food, a vegan mentor, and an online forum on which they can post questions or report anecdotes.

Events have included, supermarket tours, classes in nutrition and cooking, and various workshops assisting with the transition to veganism, whether it is finding vegan food while traveling or dealing with non-vegan friends, family, and co-workers.
---
Seattle VegFest
Indoor Festival - 3/29-3/30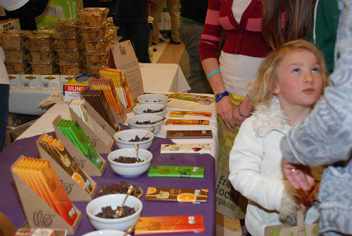 Seattle Vegfest is one of the largest vegetarian food festivals in the country. Visitors taste from more than 500 kinds of food, watch chefs give cooking demos, listen to medical doctors talk about health and nutrition, and choose from a huge selection of books. Plus, they learn more about the issues from the non-profit booths.

"This event is powered by 1,200 volunteers and produced by the non-profit Vegetarians of Washington -- for health, for the animals, for the environment, and for global hunger."
---
Students for Critical Animal Studies - Canada
Animal Conference - 3/28-3/30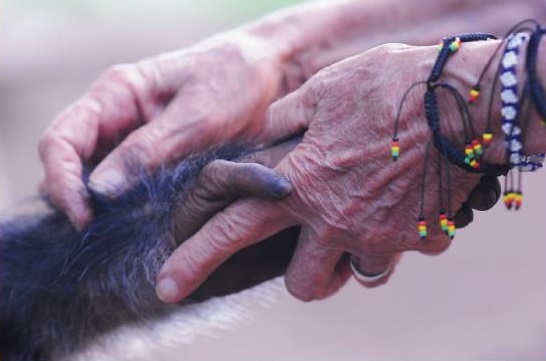 Students for Critical Animal Studies is an international association of students dedicated to the abolition of animal and ecological exploitation, oppression, and domination. SCAS challenges students to view social justice from a more inclusive and intersectional perspective, while providing a forum for the meeting of academia and activism.

SCAS organized an
international conference
in Montreal. The purpose of this free conference is to encourage the public and students from a variety of disciplines to challenge the way in which they think about animals and the way we treat them, as well as, to find new ways for animal advocacy.

The conference features a variety of presentations and workshops by students, professors, and activists on the topic of the oppression, liberation, and representation of nonhuman animals.
---
Sustainability Institute of Molloy College
Environmental Film Series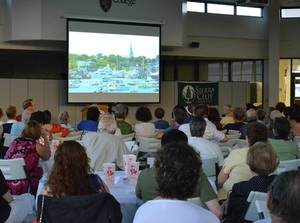 The Sustainable Living Film Series is a free documentary series with a focus on environmental protection and sustainability. In addition to free admission, free vegan cuisine and organic popcorn are also provided.

The Sustainable Living Film Series is organized to create a fun and inviting opportunity to network with social change organizations and to foster unity between the social change community and general public.

By providing only 100% vegan food, and making that choice front and center at every event, it is made explicit that our food choices matter, that vegan foods are delicious, and that attendees are encouraged to foster a sustainable, vegan diet in their daily life.
---
VSPCA India
Vegan Meals for the Poor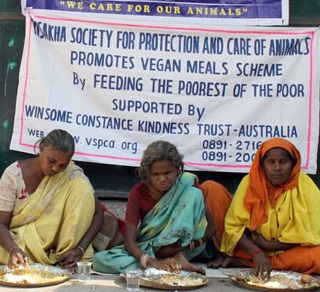 In addition to their incredible work for a wide variety of street and farm animals, the Visakha Society for the Protection and Care of Animals also helps people in dire need.

VSPCA's Vegan Meals for the Poor program provides
wholesome and nutritious vegan meals packed in palm leaves. The meals are delivered by autorickshaw transportation to the 'poorest of the poor' in their regions.

Meals are distributed on Wednesdays, Fridays, and Sundays, as these are the days not covered well by other charities. Most of the recipients are disabled, which requires the food to be delivered directly to them.​
---
Worcester VegFest
Indoor Festival - 4/6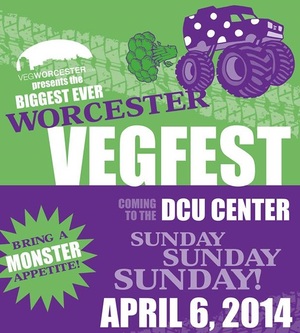 The Worcester VegFest is a free festival that brings the community together to celebrate veganism as an animal-friendly, environmentally sustainable, and healthy lifestyle. The event highlights socially responsible businesses, inspiring speakers, performers, and vegan food.

Now in its fifth year, the VegFest is organized by VegWorcester, a nonprofit, community organization that advocates veg living in Central Massachusetts.

Their other projects include: a restaurant outreach program, distribution of veg dining guides, outreach in high schools and colleges, free veg starter kit literature stands, a monthly social meet-up, and more.