A Well-Fed World - Gold Sponsor of AR2017!



Online Registration Ends This Friday!




+ save extra with discount code AWFW25
---
Join Us at AR2017




August 3rd-6th - VA/DC
We love the Animal Rights National Conference... attending every year since 2001.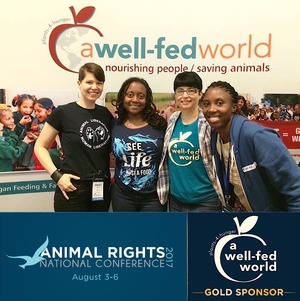 Stop by our exhibit table to meet:

Ashley Capps
AWFW Writer & Milk Hurts Founder

Melanie Hiller
AWFW Director of Grants and Giving

Dawn Moncrief
AWFW Founding Director

In addition to our merchandise and books, pick up our FREE literature on:

- Global Hunger
- Climate Change
- Humane Facts & Loopholes
- Let Live: Anti-DIY Slaughter
- Heifer International / Plants-4-Hunger
- Vegan Advocacy in Spanish

Bonus: We are thrilled to debut new materials for Milk Hurts & Mothers Against Dairy, both powerful campaigns created by Ashley Capps.

We are also featuring the debut of the African American Vegan Starter Guide by Tracye McQuirter, author/founder of By Any Greens Necessary.

Pictured L-R: Ashley Capps, Brenda Sanders, Dawn Moncrief, Jo'Vonna Johnson-Cooke

---
Save Money with our Discount Code




+ Free Exhibits for Everyone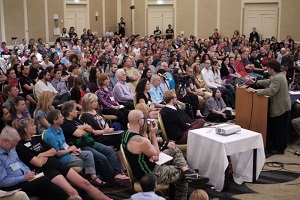 Here are some great ways to save, plus our discount code AWFW25 saves you $25.

Onsite registration also available, plus one FREE day session and exhibits for everyone.

Join the action to improve your advocacy skills, network, and recharge with...
---
Check Out AWFW Talk

s




AWFW's Dawn Moncrief Presents...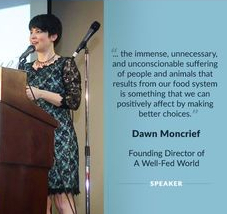 8/03 - Thursday - 7:30pm
Opening Plenary - Welcome
(AWFW & Our Movement as an Ecosystem)

8/04 - Friday - 12:30pm
AWFW Sponsored Lunch Session
(Dietary Racism with Dr. Milton Mills)

8/04 - Friday - 3:45pm
Power of Research & Numbers
(Understanding Accurately - Use & Misuse)

8/05 - Saturday - 6:30pm
Awards Banquet - Emcee
(with Anita Krajnc & Jane Velez-Mitchell)

8/06 - Sunday - 2:30pm
Human Abuse by Animal Agriculture
(Ag Industry as Global Hunger Magnifier)

8/06 - Sunday - 3:45pm
Assessing Our Impact
(Accounting for Intangibles)

8/06 - Sunday - 5:00pm
Closing Plenary - Moderator
(We're Winning with Erica Meier & Nathan Runkle)

---
FREE

Lunch Session with Dr. Milton Mills




Friday 8/4 - AWFW's Session on Dietary Racism