---
Most of the world is lactose intolerant...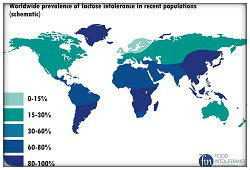 Increased dairy production is frequently touted as one of the greatest successes of animal gifting programs.

However, 75% of the world is lactose-intolerant, and 90% of Asian and African populations (toward whom dairy programs are aggressively targeted) are lactose intolerant.

As such, both small- and large-scale dairy programs can negatively affect the health, wellbeing, and productivity of people in lactose intolerant populations.

---
More animals does not mean less hunger...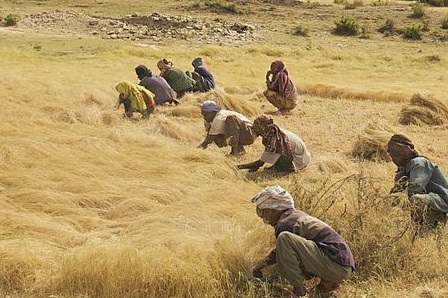 Pro-meat biases
mean that sustainable plant-based options--that actually provide better nutrition and more income--are often overlooked.
For example, teff is one of Ethiopia's oldest grains. Teff is packed with protein and calcium. Plus, it is drought and heat tolerant, does not need water irrigation, and has extremely high yields.
---
More animals means more mouths to feed...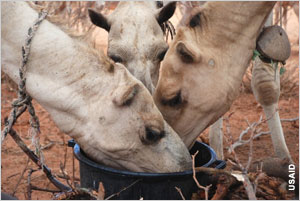 Many recipients of animal gifting programs struggle to provide even the most basic care to their animals.

Animals do not magically produce milk and meat or just "live off the land" by grazing (details below).

Having another mouth to feed can significantly add to a family's burden, and the animals frequently suffer from neglect, malnutrition, dehydration, lack of veterinary care, and lack of shelter from temperature extremes.
---
Farmed animals do not just "live off the land"...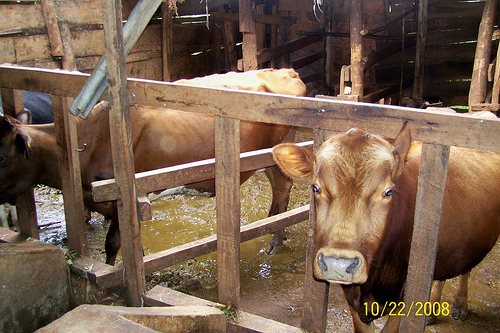 In response to criticism that promoting animal agriculture in regions already plagued by desertification and drought is irresponsible, many programs now have "zero-grazing" requirements.

Unfortunately, zero-grazing means that confined animals must have food and water actually brought to them. This food and water can be in direct competition with human consumption.

Zero-grazing is not only bad for the animals who are confined, it is also bad for the people (often times children) who must use their time, labor and resources to bring food and water to the animals. It is also a known precursor to factory farming.
---
Farmed animals require a great deal of water...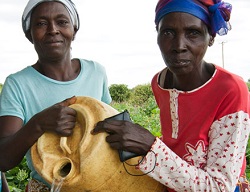 Raising animals to be used as food requires up to 10 times more water than growing crops for direct consumption.
Yet, animal gifting programs promote water-intensive animal farming, even in areas identified as water-scarce.
This means that already limited freshwater supplies are diverted to animals for their hydration, sanitation, and cultivation of extra forage to feed them.
---
Experts disapprove of animal gifting programs...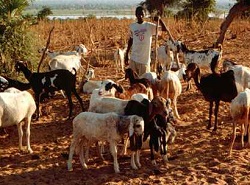 The
World Land Trust
calls animal gifting...
"madness... environmentally unsound and economically disastrous."

They conclude that "now that the grave consequences of introducing large numbers of goats and other domestic animals into fragile, arid environments is well documented, WLT considers it grossly irresponsible ... to continue with these schemes ... as a means of raising quick money for charities over the Christmas season."
---
Animal gifting programs are misleading...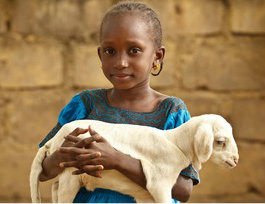 The most prominent feature of animal gift marketing is the use of cute children hugging and kissing happy, healthy animals (like this photo from Heifer International).

From glossy catalogs, donors choose which animals to send as their "gift."

But in reality, donations do not buy specific animals.

Donations may not purchase selected animals, or even go to other programs more generally. Quoting from Heifer International's website, "monies from any… animal fund can be used where needed most." They make it sound nice, but in the end animal-specific donations support all aspects of their operations.

Vegetarians and vegans beware: tree gift-donations can be used anywhere.
---
Animal gifting organizations have questionable spending...
​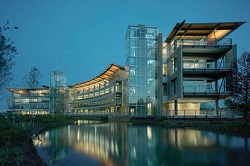 Concerns about the priorities and appropriate use of donations apply to all animal gifting programs, but
Heifer International's $100+ million
annual budget raises particular concerns.
Even worse, their fundraising exceeds $22 million in a year (more than $1 million in professional fundraiser fees alone).

Source:

tax record



It is especially egregious that they use donations to support lavish lifestyles, as illustrated here by their opulent headquarters.
---
Animal gifting programs raise concerns with charity-raters...
The GiveWell charity-rating organization deemed in their evaluation of Heifer International that the organization lacked sufficient transparency and priority programming to secure GiveWell recommendations or funding.

GiveWell expresses also these concerns about animal gifting in general:
"When examining organizations implementing livestock-distribution programs, we feel it is appropriate to ask the following questions. We have not found a livestock-distribution charity that has published either evidence of impact... or clear answers to these questions."
See the
long version
of our Top 10 list to read the full questions.
---
There are better gift programs to feed people in need...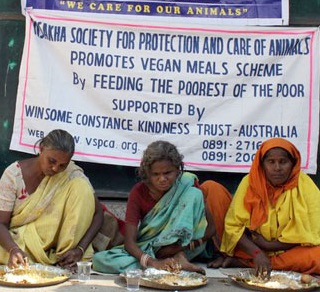 Due to popular demand, we created our special
Plants-4-Hunger
gift-giving program to provide a compassionate and highly-effective option.

We send 100% of your donation to four hand-picked groups with low-overheads and proven successes in high-need areas.

These hunger relief projects provide both immediate assistance and long-term community solutions that feed families without harming animals.

We make it easy to donate with one tax-letter and personalized gift card.

Or you may choose to give directly to these groups or choose from our Sustainable Keys Global Grants list. The most important thing is that your gift-donation makes a real difference helping people without harming animals.
~thank you for caring and happy holidays~