Making the Meat-Climate Connection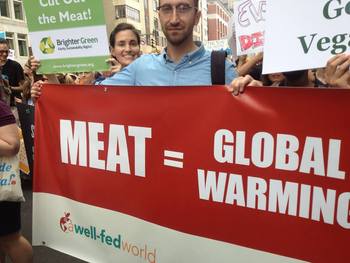 While best known for educating on the harmful impact of meat consumption on global hunger, we also have strong research and outreach programs demonstrating the harmful impact of meat consumption on the climate crisis.

Special thanks to Ross Miranti (pictured here) for giving A Well-Fed World such a visible presence in the food justice contingency at the People's Climate March in New York City.

See Ross's post on the pro-veg turnout at the Climate March, plus photos.

And special thanks to Ashley Capps for our Make the Connection climate meme (below).

The new Facebook meme has already received 1,700+ shares & 145,000+ views!

Please share & help others make the connection.
---
New Climate Research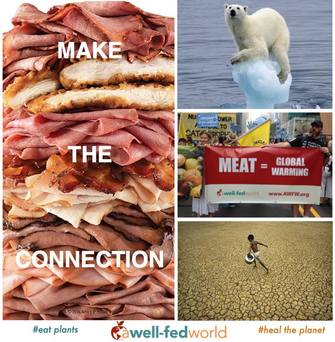 The most well-known meat-climate research is the 2006 UN report proclaiming that the "livestock sector" is responsible for more human-caused greenhouse gases (GHGs) than ALL transportation combined at 18%.

But in 2009, these numbers were critiqued as far too conservative by climate specialists Robert Goodland and Jeff Anhang who determined that the worldwide production and consumption of animal-based food is responsible for more than HALF of all human-caused greenhouse gases at 51%.

See our advanced climate page to better understand the details of their recalculation.

Part of the difference is that methane, an already extremely potent greenhouse gas, becomes significantly more potent when considered over 20 years, instead of the commonly used 100-year time-frame.

Given the urgent climate-related catastrophes we are already witnessing and the even more dire predictions, a 20-year time-frame is far more appropriate and accurate.

Now, new research by the Intergovernmental Panel on Climate Change (IPCC) concludes that methane (CH4) is an even stronger GHG than originally credited.

According to the IPCC, methane is an 84x stronger GHG than carbon dioxide over 20 years! That's up from 72x, and a drastic increase from the still commonly cited 20-25x figure.

(Fifth Assessment,

Ch. 8

,

p. 714.)



The point is that our case is stronger than ever because animals raised for food are the largest producers of human-caused methane emissions.

​

It's time to update our stats and our policies.



Methane's extremely high GHG potency coupled with its extremely short lifespan is a key reason why shifting to a plant-based diet is the most important thing we can do/advocate to reduce climate disruptions.
---
World Day for Farmed Animals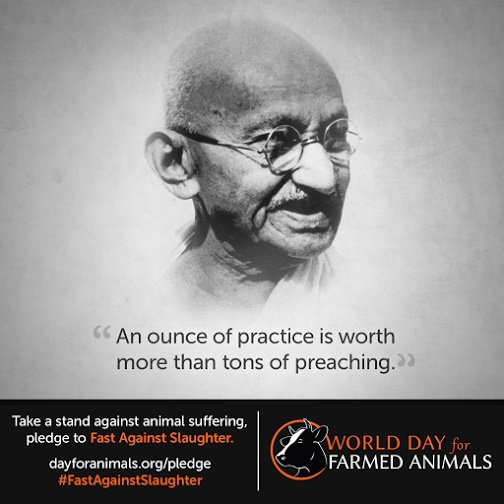 World Day for Farmed Animals (WDFA) is this Thursday, October 2nd (Gandhi's birthday).

We're thrilled to be a sponsor of this FARM campaign that has been strengthening the animal movement since 1983!

WDFA is a day dedicated to exposing the needless suffering and death of animals raised and slaughtered for food.

While connecting meat consumption to other social justice issues is critical, WDFA is special because it focuses on saving animals specifically for the sake of the animals.

Throughout his life, Gandhi undertook numerous fasts as social/political protest.

In remembrance and solidarity with the tremendous suffering endured by animals raised and killed for food, we invite you to pledge now to join about 10,000 activists from 84 countries in a Fast Against Slaughter.

Want more? Find an event in your area.

If you're in the DC area, join the action on Thursday at the Perdue chicken slaughterhouse protest (transportation provided), USDA demo, and/or Vegucated screening.
---
BTW, It's Our 5th Birthday!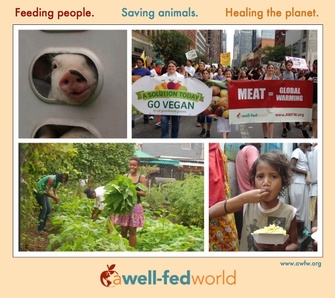 We turned five years old this month and want to say "THANK YOU" for sharing our mission to feed people, save animals, and heal the planet.

Together, we are working to eliminate the most immense, unnecessary, and unconscionable forms of suffering... the suffering of people hungry from lack of food... and the suffering of animals used and abused for food.

With your support, we've provided 200+ global grants to help individuals and small groups with limited resources do highly effective and much needed work in 20+ countries.

This is in addition to our in-house research, advocacy, and adopted programs like the PB&J Campaign & Worldwide Vegan Bake Sale.

Plus, stay tuned because we have some exciting new projects just around the corner.


---
Join Us at Upcoming Events...
World Day for Farmed Animals - FARM - (on & around) Oct. 2 - Global (Sponsor)

Vegan Soulfest - Oct. 25 - Baltimore, MD (Sponsor)

Food for Tomorrow Conference - New York Times - Nov. 11-12 - NY

Kim Stallwood Presenting GROWL - Busboys & Poets - Nov. 13 - DC (Grant Supporter)

Congress on Food Production & Climate - Renewable Natural Resources Foundation - Dec. 9-10 - DC

More events...