E-Z Activism to Help People & Animals in 2016
In 2015, our facebook page reached more than one million users with touching and thought-provoking memes like the ones below.

This tremendous growth resulted from supporters like you leveraging our increased focus on educational outreach through the creation and distribution of powerful memes.

Our most popular memes (see several below) cover topics including helping animals, global hunger, climate change, and plant-based nutrition.

Click the images below to view full-size and share on Facebook now.

---
Helping Animals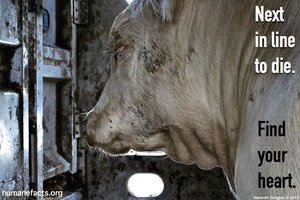 Eating meat and animal products may be a personal choice, but it is not a victimless choice.

Please help others learn the truth behind standard (factory) farming practices and the misleading humane marketing of meat, dairy, and eggs.
"If we are fortunate enough to be able to live without causing violence and suffering to others, shouldn't we do so...and do so with gratitude?" - Jo Tyler

Read about why we love dogs, eat pigs, and wear cows:
Understanding Carnism
---
Real Cost of Dairy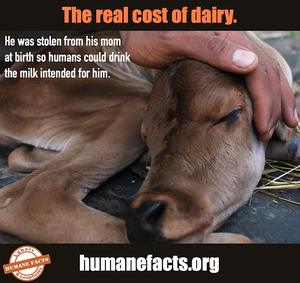 According to the USDA, 97% of newborn dairy calves are
permanently removed from their mothers
within the first 12 hours of birth.

The rest are taken within the first few days.
On humane label dairy farms, calves are often taken within the first hour, based on the idea that separation is less traumatic if the mother and calf do not have as much time to bond.
Cruel separation of cows and their newborn calves is the standard practice.
Share the facts on dairy cruelty:
HumaneFacts: Dairy
---
Plants-4-Hunger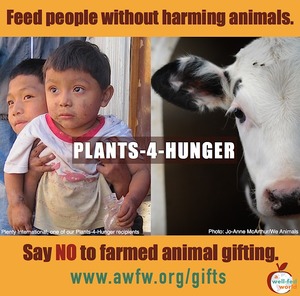 Popular holiday gifts include donations to hunger relief programs that are meat-centric and/or send live farm animals to be used/abused for food.
These programs not only harm animals, but often the communities they are intended to help.
Our year-round Plants-4-Hunger program offers a more nutritious and compassionate gift-giving alternative.
These programs provide immediate assistance and long-term solutions to improve food security and nutrition.
---
Climate Catastrophes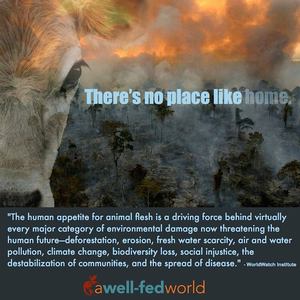 Published in conjunction with the UN Conference on Climate Change, our Climate Change & Food Insecurity page explores the disastrous consequences of leaving animal agriculture out of policy discussions.

Animal agriculture undermines global food security because of its highly inefficient and inequitable use of global resources, and because it creates immense amounts of climate-disrupting greenhouse gases.

Climate change is a hunger risk multiplier that disproportionately harms low-income countries, and exacerbates food and resource inequities.

See our recent climate-hunger post:
Why We Need Plant-Based Approaches to Global Hunger


---
Humane Labels & Loopholes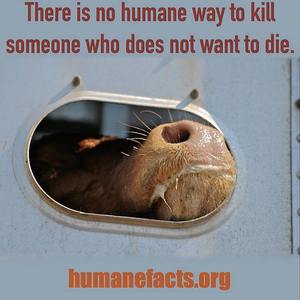 We re-launched our
Humane Facts
campaign as a comprehensive, stand-alone website geared at non-vegan food consumers who care about animals.
Humane Facts promotes veganism in a user-friendly way, focusing on people who are interested in learning about humane food labels and loopholes.

This powerful resource details the few protections included under humane food labels, and (more importantly) details which cruelties are still permitted.

The site combines easy-to-read facts, photos, video footage, and summaries with links to detailed research.

The harm of dairy and eggs is also extensively highlighted.

For tips, recipes and free vegan how-to guides:
HumaneFacts: Better Choices
---
Plant-Based Nutrition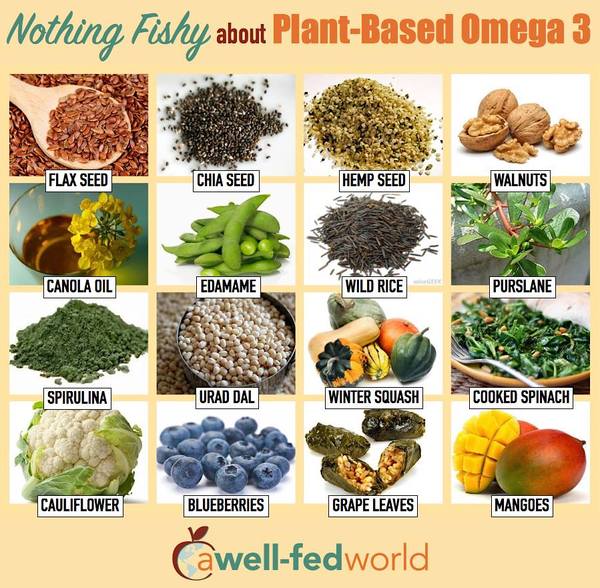 A new study in the Journal of the American Medical Association reports that Omega 3 supplements do not help slow cognitive decline.

However, Omega 3 itself is crucial to the normal functioning of body tissues.

According to PCRM, Omega 3 is best obtained directly through a plant-based diet, not via fish or fish oil supplements.

Learn about some of the best and most optimally balanced plant-based sources of Omega 3: here and here.

Learn about fish used for food at:
Fish Suffer Like Mammals and Birds
---
Share Our Message
If you support our mission to help people and animals, please consider sharing our memes, issue pages, blog posts, and handouts that help people make the connections between animal agriculture, global hunger, climate change, and animal suffering.

Want to do more? Email care@awfw.org to find out how you can get involved.


~thank you for caring and happy 2016!~