View Online
|
AWFW Home
|

March 30, 2016
It's Almost PB&J Day
April 2nd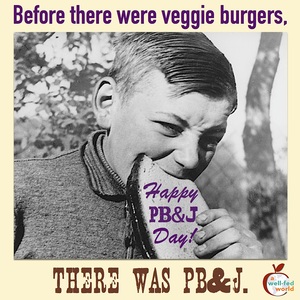 Mark Hawthorne (author of Bleating Hearts, Striking at the Roots, and A Vegan Ethic on pre-order) blogs about National PB&J Day, including
A Well-Fed World's annual PB&J Campaign.

Read Mark's PB&J Day blog post here.

In addition to school and community events (like the students in Peru pictured here), you can help spread the word by sharing our Facebook meme (also pictured here).
Fun... friendly... powerful...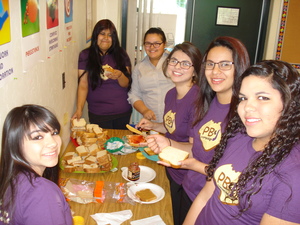 If one meat meal a day is replaced, that's 7 meals a week (more than twice as many as day-based campaigns). Combine with Meatout Mondays, and that's almost 50% vegan meals.
Vegan dietician, Ginny Messina, RD, calls the peanut butter sandwich "a great tool for helping new vegans make the transition. It's an easy answer to travel challenges and a quick option for meeting protein needs, especially for those whose palates aren't especially adventurous."
---
NEW - Worldwide Vegan Bake Sale Website




April 15-30th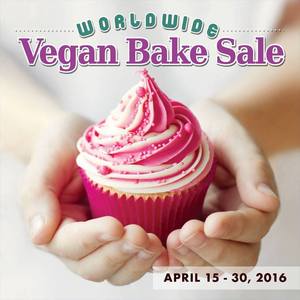 We are excited to launch the new website for the Worldwide Vegan Bake Sale!

In addition to the main event, we encourage people to hold vegan bakes sales year-round to raise funds and awareness for their favorite cause.

There's still time to organize a bake sale during this year's official event. Please register online or email us, so we can count you in.

We also encourage the easy option of simply baking vegan treats to give away for free at work, school, or in a community group. For best results, pair with vegan literature.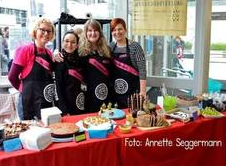 Visit our new website for bake sale tips, recipes, tips for non-bakers, free literature, t-shirts & checklist.

Keep current with us and help spread the word on Facebook and Twitter.

Special thanks to VEBU in Germany for making this year the best yet in Europe! Pictured here is a group in Bremen that raised 1200 Euros for the oceans.

---
Sustainable Keys Global Grants - MATCHED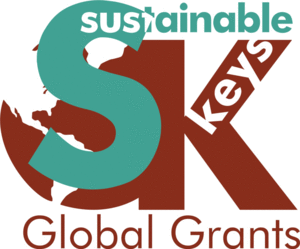 We continue to empower vegan advocacy and direct care for people and animals through our Global Grants program.

In the first quarter of 2016 alone, we've distributed more than 65 grants. See more details, including how to apply.

Want to help?

Donate to your favorite group and we will MATCH it! Restrictions apply - email for details.