7 Ways Plant-Based Foods & Farming Reduce Hunger
In honor of World Food Day, Food Day, and World Day for Farmed Animals, we bring you seven powerful examples of feeding people without using/abusing animals. Plus, a bonus overview of the meat-hunger-climate connections (all below).
In addition to reducing hunger and improving nutrition around the world, increasing access to plant-based foods and farming saves animals and protects the environment by decreasing consumption of animal-based foods. It's a win-win-win-win.

These programs also set a great example and demonstrate first-hand the possibilities and benefits of plant-centric food solutions that maximize well-being and minimize harm:

| | |
| --- | --- |
| 1. | Community Food Gardens |
| 2. | Food Forests (Food-Bearing Trees) |
| 3. | Global Seed Sharing |
| 4. | Climate-Resilient Indigenous Crops |
| 5. | Floating Gardens |
| 6. | Mobile Farmer's Markets |
| 7. | Gleaning (Food Rescue) |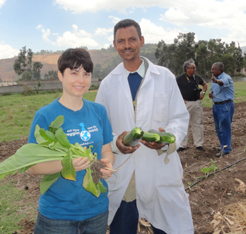 ---
Community Food Gardens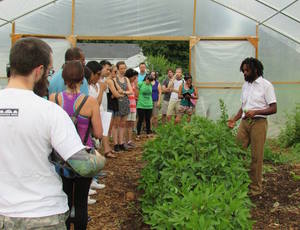 Our partners at Grow Where You Are and MaituFoods are veganic farmers and food justice activists in Atlanta. They specialize in empowering people in urban food deserts to plant home and community food gardens.

They also partner with land-owning churches to install and manage organic vegetable micro-farms in underserved neighborhoods.

This work in the U.S. and our sponsorship of Kitchen Gardeners International provides fresh, nutritious produce to people in need.

---
Food Forests (Food-Bearing Trees)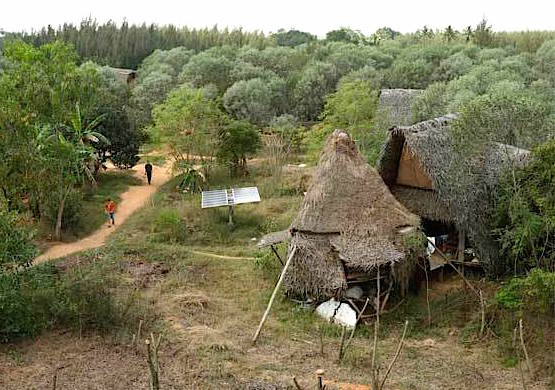 We are thrilled to support the innovative work of Sadhana Forest in planting food forests in arid communities in Haiti, India, and Kenya.

The indigenous food-bearing trees they plant are more climate-resilient than regular crops, plus they reforest degraded areas.

These fruit and nut trees maximize food output, minimize land and resource inputs, restore ecological balance, sequester carbon dioxide, and create animal habitats.

---
Global Seed Sharing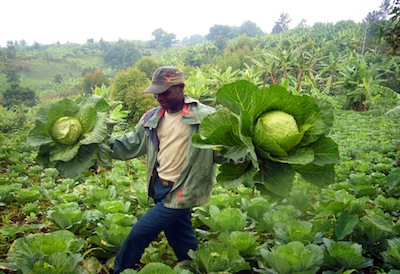 Seed Programs International provides quality seeds, along with training in optimal growing techniques, to low-income countries.

A Well-Fed World facilitated shipments of SPI seeds to Liberia, where the spread of Ebola spurred price hikes and food shortages.

One household set of 14 vegetable seed packets costs less than $5 shipped, and can grow more than 100 pounds of food to greatly improve food security, nutrition, and income.

---
Climate-Resilient Indigenous Crops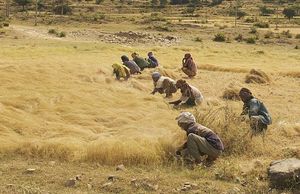 Since the 1960s, cultivation of staple food crops such as rice, wheat, and maize has been prioritized to the neglect of native foods.

Increasingly, though, agricultural researchers and nutritional experts are promoting the value of indigenous plants as they are often richer in nutrients and better able to endure climate disruptions. Indigenous plants can also be more viable and sustainable than raising animals for food. (photo: teff in Ethiopia)

---
Floating Gardens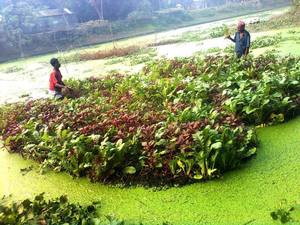 Floating gardens are a sustainable, low-cost way to expand growing areas in wetland communities, where land can be fragile and/or scarce. Dating back hundreds of years, this is practiced in Bangladesh, Burma, and Mexico.

During times of flooding, floating gardens safely rise with the water level. In addition to increased yields that provide nutritious food for the grower's family, floating gardens also empower the community and provide income through sale of surplus vegetables. (video)

---
Mobile Farmer's Markets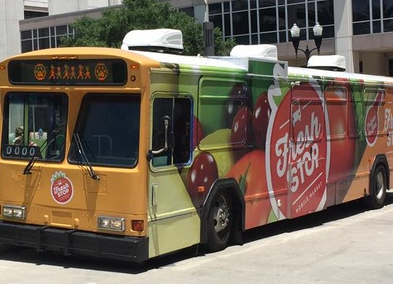 More than 23 million people in the United States live in food deserts (urban and rural communities without ready access to fresh produce and other healthy foods).

In low-income communities, transportation can be especially difficult. Mobile farmer's markets, like The Fresh Stop in Central Florida, improve nutrition by travelling to underserved neighborhoods to provide fresh fruits and vegetables at affordable prices.

---
Gleaning (Food Rescue)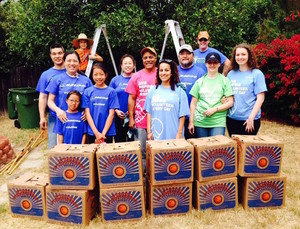 Gleaning (aka "food rescue") reduces food waste by gathering surplus food from farms, grocers, restaurants, and others to "rescue" food that would otherwise be thrown out.

Food Forward started out as a fruit tree gleaning initiative in Los Angeles, but now includes wholesale, farmer's market, and backyard produce recovery programs that rescue millions of pounds of fruits and vegetables to donate to hunger relief agencies.

---
---
Overview - How Animal Agriculture Hurts the World's Hungry
With population expected to exceed nine billion by 2050, and global meat consumption drastically increasing, it is estimated that we would need two-thirds more land than the earth actually has if we were to meet projected demand of animal-based foods.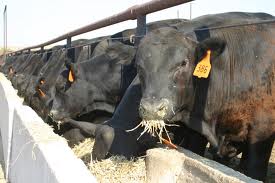 The key reason is that farming animals is immensely inefficient and wasteful.

Animal agriculture is also responsible for more greenhouse gases than all transportation combined, and it exacerbates world hunger and food insecurity.

Finally, climate change is a dangerous hunger risk multiplier, and the world's most food insecure regions are often those most harmed by climate intensified droughts, hurricanes, tsunamis, and flooding.

For these reasons and more, our research and advocacy focus on the urgent need to shift away from the world's reliance on animal agriculture, and our global grants support plant-based feeding and farming projects.

---
---
Want More?
Check out our full hunger post, on which this newsletter is based, at our new blog!

If you want a jumpstart on the holiday season, here's our Say NO to Animal "Gifts" info page and our Plants-4-Hunger gift-giving campaign.

We are able to support these life-saving projects thanks to our compassionate donors. If you would like to expand our reach, please visit Plants-4-Hunger or donate now.

To support our matching grant to feed victims of Hurricane Patricia, just leave a note in the comment field when you donate & we will send 200% to Food Not Bombs.

~thank you for caring~