Our Powerful New Graphics Messaging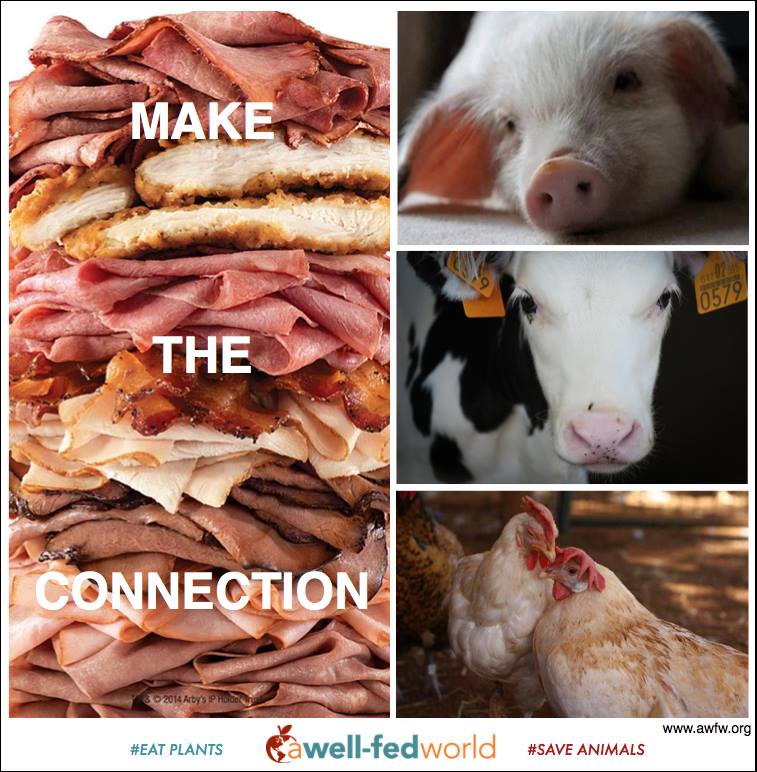 Part of our mission at A Well-Fed World is to help people make connections between consuming animal products and the impact on global hunger, environmental destruction, and animal suffering.
As part of our expanded social media outreach, we've launched a new "Make the Connection" meme series that employs powerful imagery and juxtapositions to help people visualize these important relationships.

Our first graphic (pictured here), received more than 1,500 shares and more than 135,000 views in less than 48 hours.

We're enthusiastic about the results, and by the potential to reach so many people with such important messages.

Here's the full size post and text on Facebook.

Please Like & Share it to expand its reach.


---
Vote for Us for Favorite Nonprofit Vegan Organization

We're honored to be nominated once again for
Favorite Nonprofit Vegan Organization by VegNews Magazine.

To help support our work, please vote for us by midnight tonight. We are question #31.

By voting, you help determine some of 2014's best vegan products, places, people, and food. Results will be revealed in the Nov/Dec VN issue.

Voting in the survey qualifies you for fabulous prizes, including a 5-night stay at an eco-resort in Mendocino, CA; a 12-day vegan voyage to India; and five $100 gift certificates for delicious artisan vegan cheese!


---

We Partied for the Animals at Evolve
W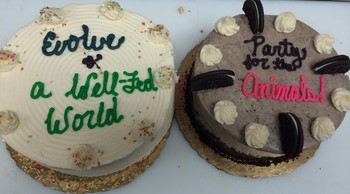 e organized a Party for the Animals at the new all-vegan Evolve Restaurant in Washington, DC.

Our party increased awareness about Evolve and about the community benefits of an all-vegan restaurant with great food and a vibrant atmosphere.

Additionally, 10% of the proceeds benefited: Compassion Over Killing, Farm Animal Rights Movement, and the Vegetarian Society of DC.

Photo: vegan cakes from Sticky Fingers Bakery.


---

Join Us at Upcoming Events...

Pre-DCVF Festival Kick-Off - Compassion Over Killing & Sticky Fingers Bakery - 9/19 - DC

DC VegFest - Compassion Over Killing - 9/20 - DC (Sponsor)

Yoga & Lunch with Sharon Gannon, Founder of Jivamukti - Buddha B Yoga - 9/27 - DC (Ambassador of Joy)

World Day for Farmed Animals - FARM - (get active on or around) 10/2 - Global (Sponsor)

Food for Tomorrow Conference - New York Times - 11/10-11 - NY

Kim Stallwood Presenting GROWL - Busboys & Poets - 11/13 - DC (Grant Supporter)

Congress on Food Production and Climate - Renewable Natural Resources Foundation - 12/9-10 - DC