We couldn't wait until the new year!

Sneak Peek at our Not-to-Miss Vegan Powered Race Car Campaign




watch the video

---
Campaign Basics
Professional race car driver and animal activist sensation Leilani Münter and A Well-Fed World have partnered to bring powerful vegan messaging and resources to millions of race fans and the general public.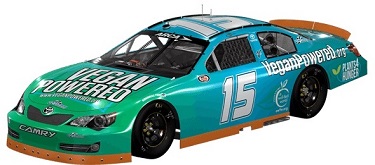 When... Daytona Speedweek: Feb. 18-26. Leilani's ARCA race (the 18th) launches the event, which culminates with the Daytona 500 (the 26th). Outreach before, during, and after.

Where... Daytona International Speedway in Daytona Beach, Florida (plus TV & online).

Why... to mainstream veganism & bring resources to new audiences. With 75 million fans, auto racing is a top U.S. spectator sport.

The "novelty factor" will bring additional attention from the media and the "cool factor" will bring additional attention from the general public. It doesn't get much more mainstream than a race car.

How... this long-term, multi-prong campaign includes media, online and print resources, and (with your help) personalized onsite outreach that includes thousands of vegan food samples (details below).

our pre-launch starter website & video

---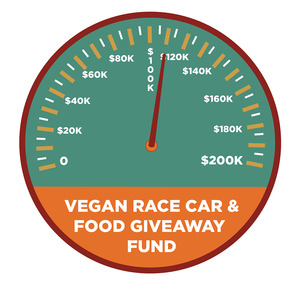 Join Our Vegan Race Car Team
This campaign is donor-driven, so please help us rev up contributions and kick our next round of funding into overdrive.

We have the car, cameras, and matching grant, but our timeline is tight and we need to raise funds for food and onsite outreach.

Let's take veganism directly to the fans... one on one!

We're more than halfway to our goal. With your help, we can add a large display tent to provide free vegan food samples, vegan starter guides, recipe booklets, personalized outreach, and more.

Please donate if you can and/or drive traffic to our powerful new campaign by sharing online.

---
Thank You Gifts & Donations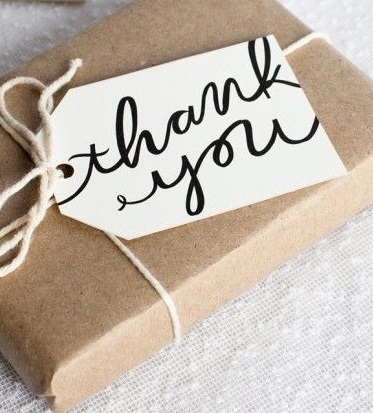 We will soon be announcing the thank you gifts for different donation levels, including sponsorship opportunities. As always, donations are tax-deductible.

We will also be sending special pre-launch gifts for all early donations, plus the opportunity to win pit passes for Leilani's race (travel not included).

**************************
Important note: While there will be volunteers and donated food, this is a multi-day event and the cost of the space, tent, insurance, and other logistics is expensive. If we don't reach our food drive and onsite funding goal, donations will expand the other outreach and media aspects of the Vegan Powered campaign.

---
Campaign Details
Racing in February's Daytona Speedweek ARCA Series with 100,000+ fans at the live event
One of only a few in-car cameras for additional vegan messaging and live TV exposure
Driving footage and interviews before and after the race
Leilani signing personalized race cards with Vegan Powered messages and URL
Vegan Powered car on display and available for photos
Mainstream media and social network outreach to race fans and beyond
Messaging gear such as t-shirts, hats, mugs, and more
Cross-promotion with Leilani's earlier projects with Racing Extinction and The Cove
Cross-promotion with other vegan organizations to increase access to resources
Free onsite vegan food samples for thousands of race fans (as funding permits - see above)

Vegan Powered pre-launch education website & video for long-term access to resources