Presenting at Central Florida Earth Day
Join our founding director, Dawn Moncrief, at the Central Florida Earth Day festival on Saturday, April 21st at Lake Eola Park in Orlando.

Dawn will be presenting on the climate destruction inherent in animal-inclusive diets, with a focus on the harm caused by meat and dairy from "eco-friendly" grass-fed production methods.

A Well-Fed World is a proud and long-time sponsor of this family-friendly annual event, organized by the Vegetarians of Central Florida. In addition to a day full of informative presentations, this vegan festival brings together more than 250 vendors, live music, food demos, a kids zone, and much more. Hope to see you there!
---
Free Earth Day Handouts
There's still time to order our free 4x6" global warming and other vegan handouts for your Earth Day event. E-mail quantity and address to handouts@awfw.org.
---
Hunger Research & New Campaign
A new peer-reviewed study confirms that "The Opportunity Cost of Animal-Based Diets Exceeds All Food Losses," noting that a shift to plant-based foods would do more to reduce food waste and food loss than all other efforts.

As the Los Angeles Times summarizes, "If U.S. farmers took all the land currently devoted to raising cattle, pigs and chickens and used it to grow plants [for direct human consumption] instead, they could sustain more than twice as many people."

The United Nations agrees...
The United Nations Environmental Programme similarly concluded that reallocating
croplands to feed people directly could feed 3.5 billion more people (almost half the world's current population) by increasing available global food calories up to 70%.

Greenpeace agrees too...
Environmental organizations such as Greenpeace are finally stepping up to the plate to publicly acknowledge the detrimental impact of animal-based food production on the global food supply, ecosystems, and wildlife.

Greenpeace International launched a new campaign calling for a 50% reduction of global meat and dairy consumption by 2050 (especially in high consuming countries).

Greenpeace's new Less is More Campaign highlights the devastating impact the "livestock industry" to climate change, wildlife habitat loss, natural resource depletion, biodiversity loss, deforestation, ocean dead zones, pollution, waste, and the degradation of freshwater supplies.

---
Easy Activism - VegPledge
We are proud to join our friends at Compassion Over Killing as a Gold Sponsor of their highly popular VegWeek and 7-day VegPledge (April 16-22).

Sign up now (and share) to receive free recipes, tips, motivation, and discounts. Everyone who pledges is entered to win exciting prizes, so don't miss out.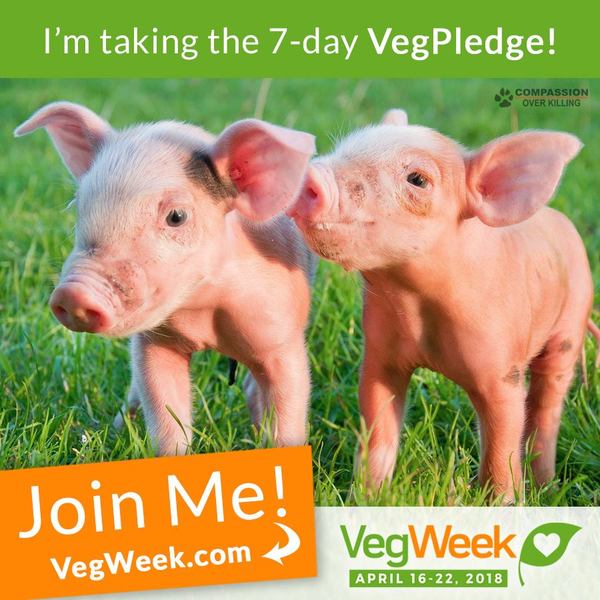 ---
Easy Activism - Share Our Posts
Join the online action and share our educational social media posts. We have a wide variety of images and targeted messaging on Facebook, Twitter and Instagram.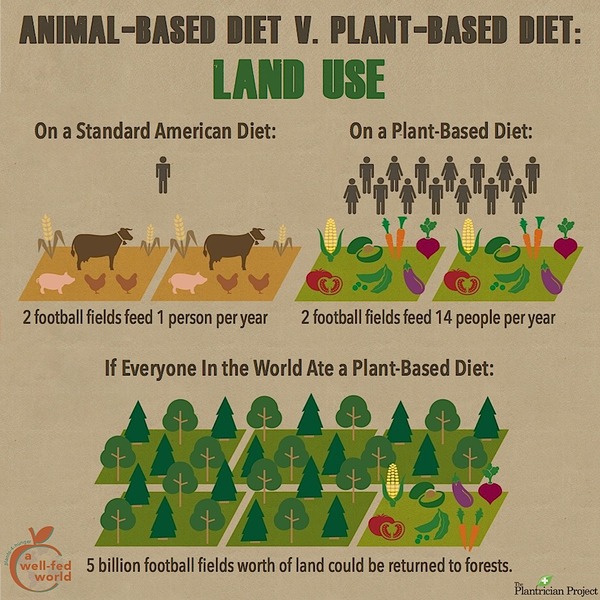 ---
Bonus Reading
We've been advocating the global hunger and food security benefits of plant-based diets for nearly 20 years. Visit our website to read about how animal-sourced foods represent an extreme form of waste, overconsumption, and redistribution.

Read also about how animal agribusiness is driving habitat loss, species extinction, and a war on wildlife from our friends at Free from Harm.