So much packed in this issue:
Earth Day e-Book - Worldwide Vegan Bake Sale - US VegWeek - Food Revolution Summit
Sistah Vegan Conference - PlantPure Nation Documentary & White House Rally!
---
Earth Day
April 22 - Free e-Book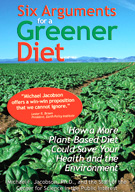 We're thrilled to share the e-book from Six Arguments for a Greener Diet.

From our friends at the Center for Science in the Public Interest, read and share "how a plant-based diet could save your health and the environment" with...
Less Chronic Disease and Better Overall Health

Less Foodborne Illness

Better Soil

More and Cleaner Water

Cleaner Air

Less Animal Suffering
Also, check out their interactive website. Assess the impact of food choices with their greener diet calculator and take a tour of the food supply chain.

EZ Activism...
Share our Facebook post offering the documentary Cowspiracy for only $1 all week and/or our Facebook Make the Connection environmental meme.
"In a time of universal deceit, telling the truth is a revolutionary act." - George Orwell
---
Worldwide Vegan Bake Sale
April 25 - May 3 - Join the Fun!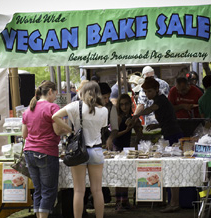 There's still time to join our Worldwide Vegan Bake Sale, starting this weekend and continuing through May 3rd (or later).

It works like this: hold a vegan bake sale, raise money for your favorite cause, and promote delicious, vegan food.

So far, we have about 150 registered events in five continents.
Latest news and sign-up on the official site & Facebook.
Thanks to local activists and the campaign's founder/director, Gary Loewenthal,
an incredible
$300,000+
has been raised since the event's inception in 2009.
EZ Activism...
Make vegan treats for your friends, families, and/or co-workers to demonstrate how easy and delicious it is to bake without eggs and other animal products.
---
US VegWeek
April 20-26 - Take the Pledge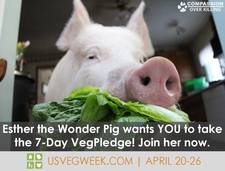 US VegWeek is THIS week... and we are proud partners!

Organized by Compassion Over Killing, this 7-day pledge encourages people to explore the many benefits of vegan eating to save the environment and protect farmed animals.

Already vegan? Still take the pledge to show your support and get free recipes, list of food substitutions, and more.
EZ Activism...

Share their kick-off Facebook meme and take the pledge.
---
Food Revolution Summit
April 25 - May 3 - Free Online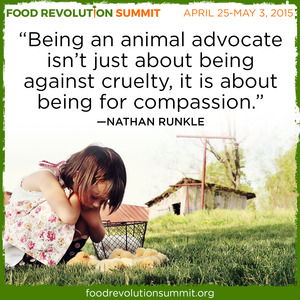 Renowned activists John Robbins and Ocean Robbins host the FREE online Food Revolution Summit.

Starting Saturday,

April 25th

, this extraordinary event features 25 of the world's top food leaders, including Paul McCartney, Vandana Shiva, Raj Patel, Frances Moore Lappe, and vegan experts, including Dr. Neal Barnard, Dr. Michael Greger, and Nathan Runkle.

This vegan-friendly event will also share information about GMOs, pharmaceuticals, and other aspects of our current food, health, and environmental crisis.
EZ Activism...
Register now for free and share.
---
Sistah Vegan Conference
April 24-25 - Open Online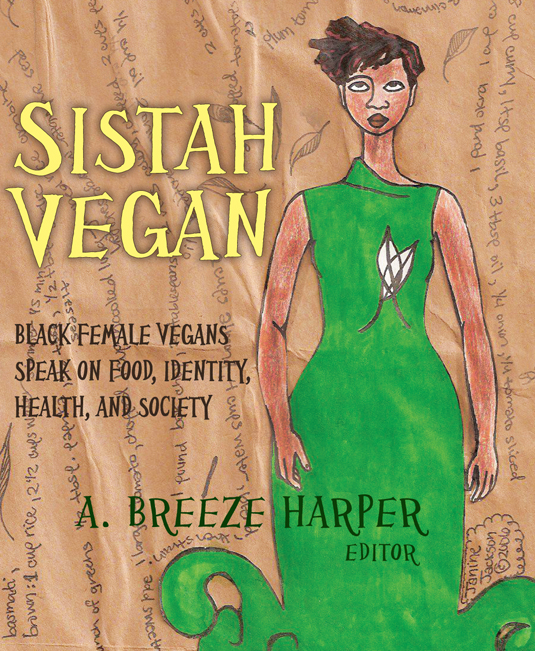 We are proud to once again sponsor the Sistah Vegan Conference.

It's easy to participate in this interactive web conference on April 24-25, or register now and listen to the recordings at your convenience.

Short on funds? A Well-Fed World is offering scholarships to low-income activists. Just e-mail Dr. Breeze Harper with some details about your situation and interest in the conference.

Speakers include:

Victoria Crump, Paul Gorski, Breeze Harper, Alissa Hauser, Hnin W. Hnin, Pattrice Jones, Candace Laughinghouse, Christopher Sebastian McJetters, Lauren Ornelas, Nevline Nnaji, Dallas Rising, Liz Ross, Martin Rowe, Jessica Rowshandel, Toi Scott, Bryant Terry, Kevin Tillman, Harlan Eugene Weaver, and Sarah Woodcock.


EZ Activism...

Share our Facebook meme and highlight our scholarship offer.
---

PlantPure Nation
May 9 - White House Rally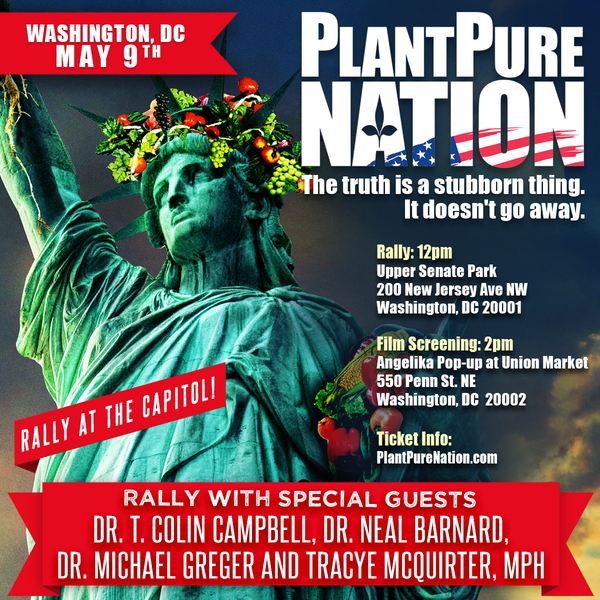 Join the
White House Rally on Saturday, May 9th
with emcee Tracye McQuirter, MPH, hosting powerhouse presentations by doctors T. Colin Campbell, Neal Barnard, and Michael Greger.
Highlighting renowned China Study author, Dr. T. Colin Campbell, and directed by his son, Nelson Campbell, PlantPure Nation is a documentary that explores the history, economics, and politics surrounding the plant-based diet.

In addition to the film, PlantPure Nation has a strong non-profit component that will organize and support community groups throughout the United States.

EZ Activism...

Share and/or support their Kickstarter campaign, which has already raised $93,000+ of their $150,000 goal.
---