Join Our Online Vegan Food Drive for Chilis on Wheels!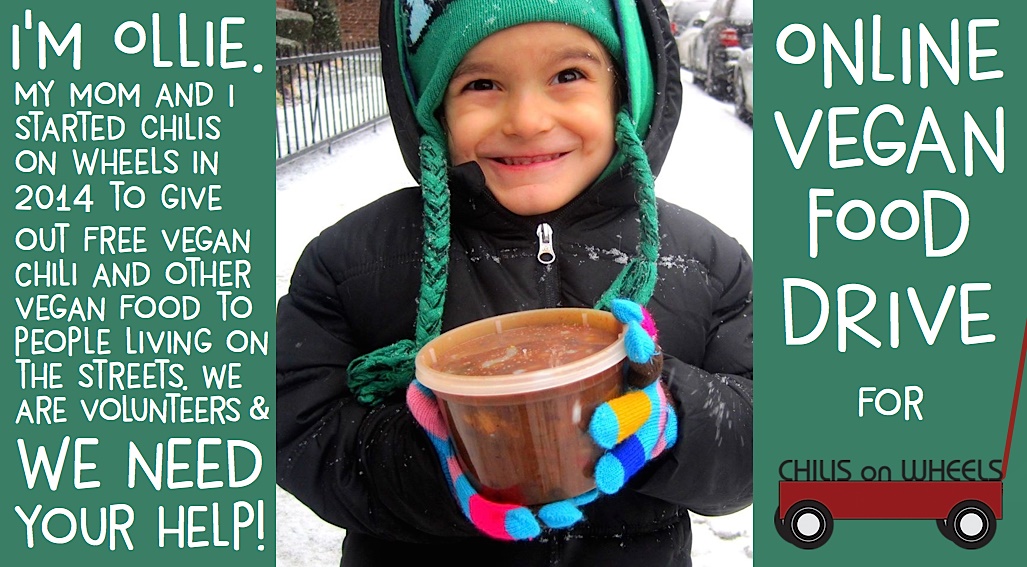 click here for ollie's heartfelt video

---
About the Food Drive
A Well-Fed World and VegFund have partnered with Amp Your Good to organize the first of its kind online Vegan Food Drive.

This "crowd-feeding" fundraiser delivers fresh produce and protein-rich staples to people in need, while also being a powerful outreach tool sharing the many benefits of vegan foods with supporters of the Food Recovery Network and others concerned about food justice.

---
Food Drive Dates
The Very Vegan Food Drive runs throughout October. It begins on World Vegetarian Day (October 1) and continues until World Vegan Day (November 1). It includes World Day for Farmed Animals (Oct. 2), World Food Day (Oct. 16), and Food Day USA (Oct. 24).

---
Chilis on Wheels Hunger Relief
Your support benefits the all vegan, volunteer-run Chilis on Wheels, which gives out 800 warm meals a month in their New York City chapter alone. Many soup kitchens are closed over the weekends, creating a vacuum in services. Chilis on Wheels helps cover that need and acts as a bridge when other help is unavailable.

---
It's Easy to Donate
Help us reach our goal of delivering 2,000 pounds of vegan food!

Simply click the donate button on the Chilis page and choose the foods you want to send. When the drive is over, your order will be delivered and you'll receive a tax receipt by e-mail.

---
Spread the Word
Be an ambassador! Please spread the word, encourage your friends to join, or e-mail us to sponsor your own vegan food drive. Here's our Facebook post for an easy share.

---
~thank you for caring~

click here for ollie's video