Extraordinary Vegan School Lunch Partnership in Ethiopia!




with the International Fund for Africa (IFA)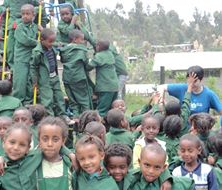 Dear Friends,
We have a unique and powerful opportunity to make a profound, life-changing difference for hungry school children in Ethiopia.
We have launched our first ever crowdfunding campaign
with MATCHING grant!
Please HELP by sharing and/or donating as you are able. Details below.

Thank you for caring,
Dawn Moncrief (AWFW Founding Director)
---
Ongoing Fresh Food for Hungry Children
We're thrilled to expand our partnership with the International Fund for Africa to implement a long-term daily vegan meal plan and health services in Ethiopian schools.

In addition to providing nourishing daily meals, IFA is planting school vegetable gardens and building campus bakeries.

These unique features increase on-site food availability and generate income for long-term self-sustainability.

Humane education is also in the works.
There are currently programs established in two schools. With additional funding, we will add more children who are in dire need in each school, and expand the program to new schools.
---
Matching Grant DOUBLES Your Impact!
We are extraordinarily fortunate to have a matching grant to double your gift.

We're striving to raise $75,000-$100,000 (that will then be doubled).
Through a combination of large and small donations, we already have $40,000+.

It's easy to donate on our main website OR the crowdfunding website.
---
Empower Our New $10 Campaign!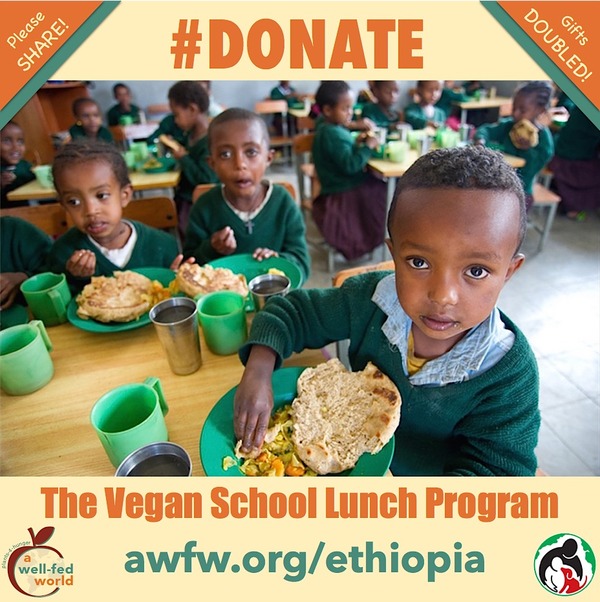 Amazingly, with our matching grant:
$10 = 10 weeks of vegan school meals!
We are launching a $10 campaign... to encourage many one-time small donations that combine to build a large mass of support from current and new members.
For those able to sign up for automatic monthly donations, all of 2015 will count toward the matching grant.

For those able to give more, we have nice thank you gifts on the crowdfunding site.

For everyone... please SHARE this OR our new Facebook post.
---
Why This Matters
In many Ethiopian schools, food access is extremely scarce. Many children regularly go without food at school and at home.
The negative effects of hunger on learning are well-documented and generational in impact.

Chronic hunger impairs children's attention spans, memory, and energy levels, affecting their ability to retain information and perform tasks.

In addition to concentration problems, hunger and m
alnutrition cause other
serious obstacles to learning
by negatively affecting sleeping patterns and specifically causing fatigue, anxiety, and depression.

Because animal products comprise a marginally small proportion of the traditional Ethiopian diet, schools can easily serve plant-based meals without special permissions.
Our
additional funds will empower
the
International Fund for Africa
to expand their program to include more students per school, and more schools.
~~thank you for caring about people AND animals~~