We know this is a busy time, but we have exciting updates to share!

Huge news in this issue:
United Nations Climate Presentations by AWFW

Change Food Fest Hunger Presentations by AWFW

Vegan Food Drive by AWFW & VegFund Exceeds 3,000 Pounds

Standing Rock Fundraiser Provides $30K to Food Not Bombs

Helping Haiti with our Food Tree Partners Sadhana Forest

Last Minute Gifts - Plants-4-Hunger Gift-Donations to Print or Email

Stay Tuned --> New "Not-To-Miss" Campaign Launches Next Week
---
United Nations Presentations


Geneva, Switzerland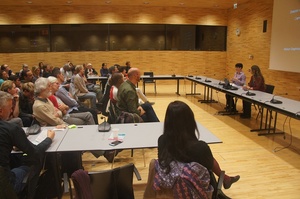 Yes, THE United Nations Headquarters! We brought a powerful vegan message to some of the world's most influential policy analysts and decisionmakers.

Special thanks to Wendy Werneth, the UN Green Group Champion, for organizing two screenings of Cowspiracy.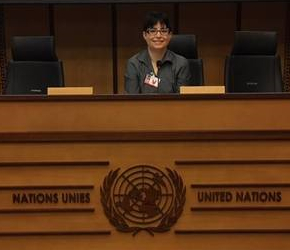 While en route to London for VegFestUK's Pro-Intersectional Conference, AWFW's founding director Dawn Moncrief detoured to Geneva to present at the Cowspiracy screenings to a combined audience of 200.

The presentations expanded on and reinforced the negative consequences of animal agriculture on climate change and the environment, while also providing an opportunity for questions and discussion.

A Well-Fed World also sponsored the two receptions to demonstrate the great taste of vegan food. Thanks to the vegan caterers at Andonia for all your help.
---
Change Food Fest




New York City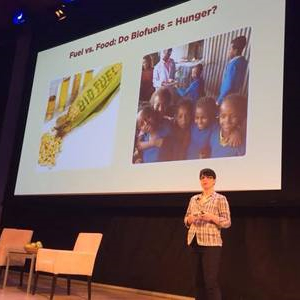 Last month, AWFW's Dawn Moncrief provided a vegan perspective to the mainstream food movement at the NYC Change Food Fest.

Dawn's Global Hunger: What's Meat Got To Do With It "TED-style" talk is now online.

The talk addresses the problem of using animals for food from a global hunger perspective, with a focus on inefficiencies, food prices, deforestation & climate change.

Check out the 9-minute video and Q&A.

**********************************************

EXCERPT FROM DAWN'S Q&A:
"If we are concerned about the impact of food waste or biofuels, then we should also be concerned about the massive amount of crops diverted from poor communities for livestock feed. All sources of crop demand pull from the global food supply.
Climate disruptions also disproportionately harm people who are poor and hungry. Plant-based diets create fewer greenhouse gases and cause less deforestation than animal-inclusive diets, so choosing plant-based foods is another way that U.S. consumers can reduce global warming and increase global food security."
---
Very Vegan Online Food Drive
National / Online
A Well-Fed World proudly partnered with VegFund and Amp Your Good for the first ever Very Vegan Online Food Drive.

With your generous support, we passed our original 1,000 pound goal, then surpassed our 2,500 pound stretch goal.

Together, we raised 2,672 pounds of fresh produce, beans, and rice for the volunteer-run nonprofit Chilis on Wheels.

Combined with Food Recovery Network, and other groups we invited to join, our total is 3,164 pounds of vegan food.

The good doesn't stop there. This was also an outreach & goodwill campaign that brought awareness about the benefits of a plant-based diet to the general public and food justice groups.
---
Standing Rock Vegan Food Share




North Dakota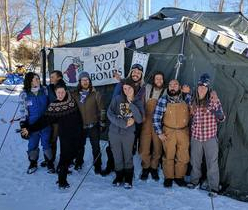 In partnership with Food Not Bombs, we ran a matching grant fundraiser to assist the Standing Rock Sioux tribe and volunteers.

The outpouring of support was immense. We quickly raised almost $15,000, which we doubled and rounded to $30,000.

These funds were all sent directly to Food Not Bombs to provide vegan food, cooking gear, and travel funds. Volunteers are remaining as the circumstances are still dire and the final outcome still unknown.
**********************************************
December 4th report to AWFW from FNB co-founder Keith McHenry:
"We can't thank you enough. It is going really well. Many things came together this week. Our first military tent is up with its lining and all. We have a very complete kitchen with two wood stoves and two propane stoves, large pots, and lots of other equipment. We have a large solar power charging system. A tarpi to house our volunteers and so much more.

Our 300 watt FM radio station is on its way this morning along with another 1,200 pounds of rice, beans, lentils, walnuts and pasta which we collected here in Santa Cruz. They will pick up a second 18 by 38 foot tent on their way.

Many other Food Not Bombs groups have arrived with food and supplies or are on their way. I have been posting the progress on my facebook feed. We are sharing three full vegan meals a day which is amazing under the conditions.

When Abbi and I were there people would ask during the orientations about there being vegan meals and we would be so proud that they could get them at the Food Not Bombs Kitchen at Rosebud Camp. Abbi and I were blown away!"

---
Disaster Relief with Food Trees




J

é

r

é

mie

, Haiti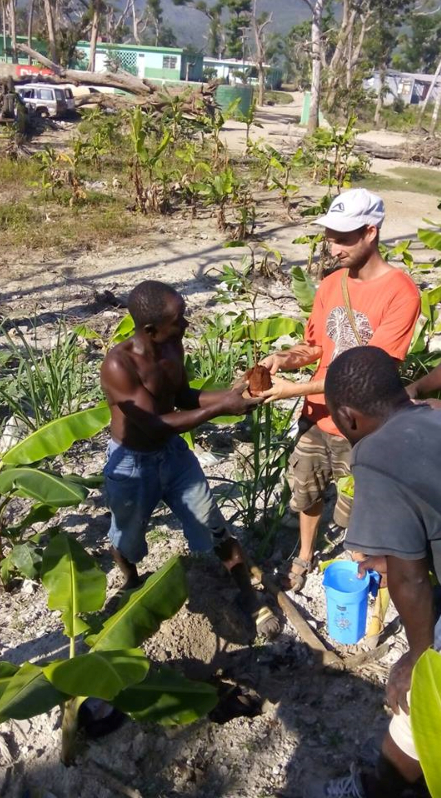 We continue to be extremely grateful to our supporters who empower us to act fast when disasters strike.

Assisted by funding from A Well-Fed World contributors, our extraordinary partners at Sadhana Forest went to Jérémie, Haiti to provide immediate disaster and hunger relief to communities devastated by Hurricane Matthew.

Sadhana Forest is a veganic farming and teaching nonprofit that specializes in food forests in India, Kenya, and Haiti.

Since their Haitian team has been on location for six years, they were able to quickly and efficiently mobilize not only for immediate assistance, but also in ways to increase long-term sustainability.

Sadhana states...

"The team planted trees with local people amidst the fallen homes and trees, and severe soil erosion. These trees will provide hope and plant based food security for survivors. Our deep gratitude to A Well-Fed World for their love and support!"

The AWFW team sends back our deepest gratitude for Sadhana's life-saving work in some of the world's most impoverished countries.

Special thanks also to Seed Programs International -- one of our Leverage Award Grantees -- for their work with Haitian farmers to restore 1,000 vegetable gardens.

---
Last Minute Gifts




Donate to Plants-4-Hunger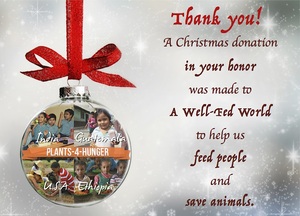 We created new specialized web pages that make AWFW tribute donations easy and colorful last minute holiday gifts.

For our Plants-4-Hunger (P4H) feeding program, we have Christmas, Hanukkah, and Holiday (non-specific) web pages.

We also have a printable P4H info sheet that can be added to your own card.

Send an email with our specialized link and/or print our P4H page now, then we will follow up by mailing our personalized gift cards and our information booklet.

Quick reminder that we are doubling December donations to our Plants-4-Hunger gift program that feeds children in Ethiopia, India, Guatemala, and the United States.

---

Stay tuned --> next week we have a surprise launch that you don't want to miss!