What's Special About Humane Facts?
Humane Facts is a comprehensive, stand-alone vegan website designed for non-vegan conscious food consumers who care about animals.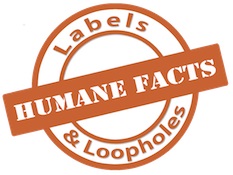 Humane Facts is a user-friendly place to direct people interested in learning more about humane labels (and loopholes).

This powerful, research-backed resource details which animal protections are included under specific animal welfare food labels, and (more importantly) which cruelties are still permitted.

Our approach is a gentle yet direct reality check.

The site combines easy-to-read facts, photos, video footage, and summaries with links to detailed research.

Our Better Choices page closes by providing tips, recipes, and free vegan guides.
---
Join our Outreach Campaign!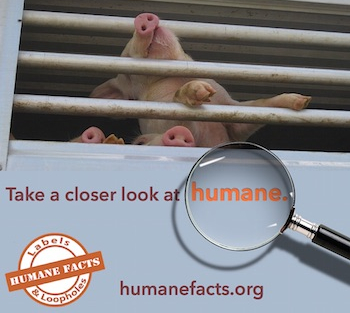 While most of the Humane Facts website is for non-activists, it does include Phase One of our multi-pronged advocacy campaign.

Visit our Outreach page to share memes and tweets, plus order free handouts (see below).

Our recent anti-dairy meme highlighting
The Myth of Happy Dairy Cows received
10,000+ SHARES in just over a week.

Phase Two - We're expanding the blog and creating online ads to increase web traffic.



Phase Three

- We're designing full-color booklets for free distribution at events.
---
What's on the Humane Facts Website?

Overview - provides a broad look at the routine practices involved in the production of humane-label meat, dairy, and eggs.

Labels - provides specific definitions for various animal welfare-related labels, specifying what protections they provide… and (more importantly) what they don't (the loopholes).

Practices - explains specific harmful procedures common on conventional/factory farms AND humane-label farms, such as: severe confinement, debeaking, castration, branding, ear notching, tail docking, dehorning, nose ringing, and artificial insemination.

Blog - provides opinion pieces and research on a wide variety of current topics related to the use of animals for food to draw new people to the website.

Better Choices - provides free vegan materials, tips, and recipes to assist in making healthier and more compassionate food decisions.

We also provide specialty pages with details about Eggs, Dairy, Local Farming, Humane Slaughter, "Sustainable" Meat, and Environmental Impacts.


---
Inspiration & Additional Resources

Humane Facts was inspired by Tribe of Heart's Humane Myth, the first and only other stand-alone website addressing the realities of humane labels from a vegan perspective. Check out their advanced resources designed for animal activists.

See also the new Humane Hoax Video and the book The Ultimate Betrayal: Is There Happy Meat? by Hope Bohanec (who also happens to be an AWFW Board Advisor).

Find out more in person as we present and exhibit in July at the Vegetarian Summerfest and Animal Rights National Conference.

Special thanks to FARM for their support in our adoption & expansion of this campaign.

---
Pre-Order Our New Handouts