AWFW Co-Sponsors UN Climate Event
Happening now is the annual United Nations Convention on Climate Change.

We are thrilled to once again join the Brighter Green delegation in co-sponsoring the March 5th side event -- Eating for the Planet -- and the accompanying two week exhibit as part of the Talanoa Dialogue in Bonn, Germany (April 30th - May 10th).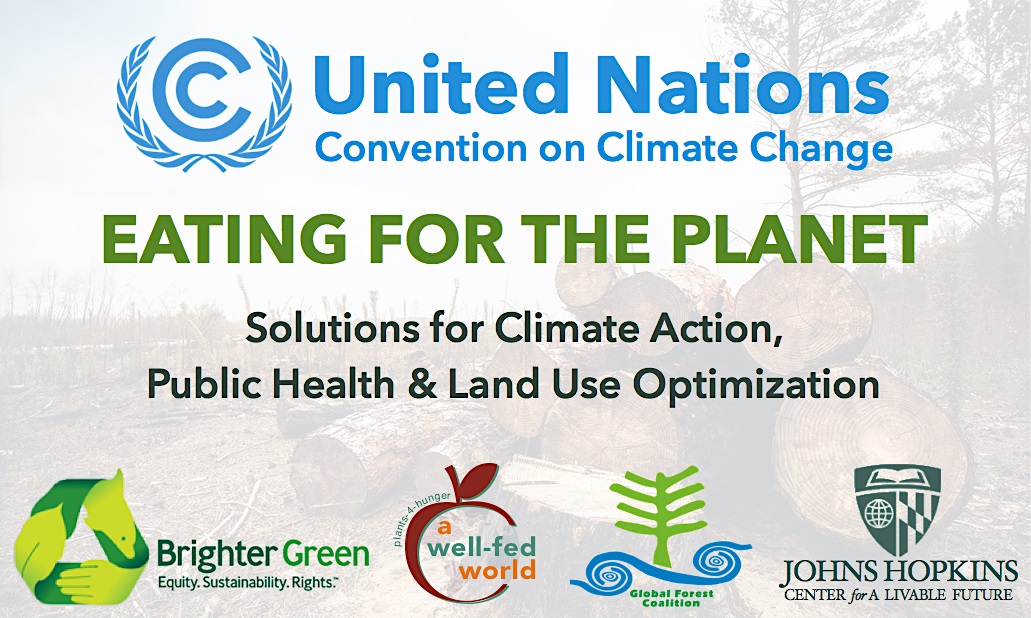 The event, exhibit, and delegation are educating global leaders about the climate destruction inherent in the consumption of animal-sourced foods and why demand-side reduction policies are a critical part of broader climate change mitigation efforts.
The partnership includes researchers and advocates from the Global Forest Coalition and the Johns Hopkins Center for a Livable Future. Today's special event focuses on the livestock-related drivers of deforestation -- cattle grazing and feed crop production.

---
The Climate Harms of Grazing
Excerpt from A Well-Fed World's Animal Agriculture and Climate web page:

Tired of people claiming that beef and dairy from grass-fed cattle are eco-friendly? Well, in terms of climate impact, they are actually worse.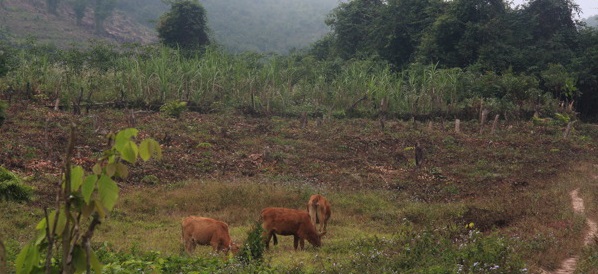 The digestive processes in ruminant animals (such as cows, sheep, and goats) triple their methane production when grass, hay, and forage are consumed.

Compounding this, because animals gain weight more slowly when consuming grass instead of grain, pastured cattle take significantly longer than their feedlot counterparts to reach slaughter weight. Increased lifespans and processes lead to greater emissions.

The negative impact of pasture-raised, grass-fed cattle is furthered even more by the decrease in photosynthesis as trees are cleared for grazing land. While its role is often underappreciated, photosynthesis is a powerful natural force for proactively reducing GHGs already in the atmosphere -- not just reducing the amount of new GHGs emitted.

---
Recent Report: Grazed and Confused
Meat proponents point to the carbon sequestration benefits of grazing, but given that methane is 84x more potent of a greenhouse gas than carbon dioxide (as measured over a 20-year time frame), the relatively small amount of carbon sequestration from grazing pales in comparison to the immense negative impact of methane.

Researchers at the Food Climate Research Network recently performed a meta analysis of decades of published studies on the claimed eco-benefits of different grazing systems, including the euphemistically named "regenerative" and "holistic" methods.

Citing more than 300 sources, FCRN's Grazed and Confused report concluded that no form of grazing results in a net reduction of greenhouse gases.

As our research similary shows, humane loopholes are also industry greenwashing.

---
Easy Advocacy
Share our meme (includes an excellent overview of the Grazed and Confused report).