2014 Camp in Review
The eternal sounds of passionate concerto performances, repetition of scales in the Practicubes, and energetic chamber music being rehearsed in every corner of Santa Teresita's campus are still ringing throughout the town of Three Rivers, even after all the students and faculty have packed their bags and headed back home. Camp has just come to a close, and I say this with a sense of both pride and nostalgia.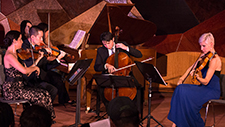 The first three days of camp felt long (and hot!) as kids were still figuring out their daily schedules and preparing for their first lessons. It seemed like the three weeks of camp might, in fact, be an eternity. However, here we are now, reflecting after our exhilarating final weekend of concerts and master classes, and everyone is talking about how fast time flew, wishing we had yet another week together.
If you were to stop by the campus anytime during this season, you would agree that Center Stage Strings truly feels like a full fledged summer camp. With the addition of the extra week, more students, a fantastic counselor staff and an impressive lineup of guest artists performers and teachers, Three Rivers is home to an experience that is truly complete and inspiring.
During Week One, our students had the opportunity to watch their CSS teachers perform solo and chamber works together in our new air-conditioned performance hall at St. Anthony Chapel! Later that week, World class cellist, and Three Rivers favorite, David Requiro gave an amazing cello master class and performance with our faculty on Saturday night.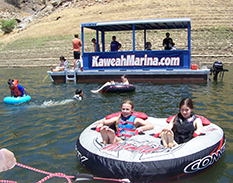 Week Two opened with our annual houseboat trip on Lake Kaweah! Stan Johnson volunteered to take the students on high speed tubing trips - they had an absolute blast.

That evening we made pottery at the Brown's home on South Fork and played music out on their beautiful field under the trees. Tuesday was back to work for the students and we welcomed the arrival of guest faculty violist Stephanie Fong. Stephanie graced us with her artistry throughout the week, culminating in an exhilarating Mendelssohn String Quintet with our core faculty on the second Saturday night.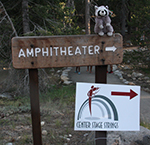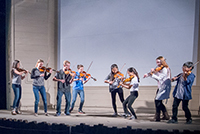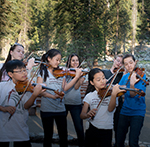 Also in week 2, we debuted our first performance in Sequoia National park at the Lodgepole Amphitheatre to a great crowd!
Week 3 opened with a trip to Crystal Cave and the arrival of two amazing guest artists. Stephen Shipps, Violin Professor at the University of Michigan in Ann Arbor, joined us for all of week 3, working closely with many of the students in private lessons and chamber music coachings. He also gave an incredibly enlightening historical talk about the history of violin pedagogy and our musical family trees!
On Tuesday evening we all watched in amazement at the recital of violin superstar Stefan Jackiw, particularly his Lutoslawski Partita with our own Jennie Jung. Stefan and Stephen both gave incredibly inspiring master classes to our students.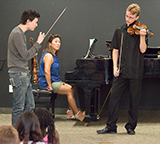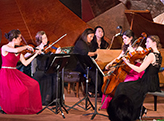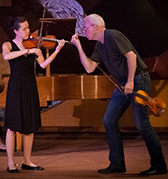 All of these events led to a memorable evening on our final Saturday night, with the debut of our first Honors Recital. There was really a sense of pride amongst every single person in the audience that night as each performance, one after the next, clearly confirmed the majesty of what is happening here in Three Rivers.

Lauren Chipman and Kay Crask led our Complete Musician Classes this year with much success. Students gained confidence in public speaking, music theory, and our Center Stage Strings Choir sang a fantastic version of "Royals" in four part harmony. Congrats to our complete musicians!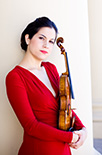 Tears were shed by some and laughs were shared by others on the last day of camp, but all of us left with an excitement that we get to do this again in 2015!
Musically yours,

Founder and Artistic Director
Center Stage Strings
---
Thank you to Three Rivers Volunteers!
Special thanks to all of the volunteers who helped make the CSS 2014 Music Camp & Festival a success by providing your time and efforts:
PractiCube moving and assembly;
piano moving to performance venues; host family lodging for faculty and guest artists; host family dinners for students; post concert receptions; and special events and activities for the students. Also many thanks to the wonderful folks who provided videography, photography, and stage lighting services throughout the entire festival.
---
Make a Tax Exempt Donation for 2014
Center Stage Strings Music Camp & Festival depend heavily on donations for student scholarships. We are a 501(c)(3) non-profit charitable organization and your donation is tax deductible.

---
2014 CSS Video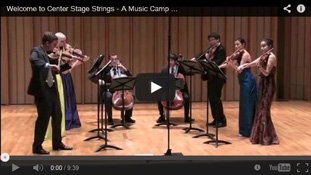 Our new 2014 CSS video premiered at our April Benefit Concert. It can now be viewed on YouTube by clicking the image above. Share this with your friends.
---
"Sponsor a Student" Campaign
Help Us Build Our Scholarship Fund
Tuition includes private lessons, room and board, recreational activities, chamber music, concerts, and more.
| | | |
| --- | --- | --- |
| | | $2,850 - Send a student to camp this summer. |
| | | $950 - Send a student to camp for 1-week. |
| | | $500 - Cover lessons for a student for 3-weeks. |
---
Video Performances




Enjoy some of the highlight performances from this year's camp and check out all of our videos on our

Youtube channel.

Brahms Piano Quartet - CSS Faculty
Ravel Solo for Violin & Cello - Danielle Belen and Jacob Braun
Vieuxtemps Violin Concerto No. 5 in a minor - Naeun Kim, violin
Schumann Adagio and Allegro - Iona Batchelder, cello
Czardas for Three Violins -

Sena Cho, Kevin Miura, Ray Ushikubo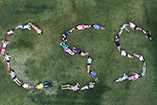 2015 SUMMER CAMP
---
Mark Your Calendar
June 21 - July 12
VIDEO PERFORMANCES
---
View Performance Videos from our YouTube Channel
See article below.
CAMP PHOTOS
---
View photos from the 2014 Summer Camp on the Website