---
Quarter's Review
Spring is finally here! The last quarter of 2014 was extremely productive to our Foundation and Center, as we brought a number of well-known and respected artists such as Maryla Rodowicz, Chris Norman, DeFranco and Anna Maria Jopek to our theater.
On November 25th, we proudly hosted President Barack Obama who came to his hometown to talk about his immigration reform. The President's speech brought hundreds of people from various community groups to our center and we are extremely happy that we were chosen to host the President of the United States.
---
Wielka Majówka - Mega Koncert Gwiazd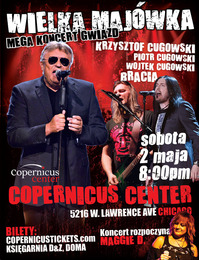 Publiczność chicagowska będzie świadkiem niezwykłego koncertu, podczas którego usłyszy kilka utworów Budki Suflera oraz największe przeboje zespołu Bracia,Krzysztof Cugowski to najbardziej znany polski wokalista rockowy, który w 1969 roku założył zespół Budka Suflera. W ubiegłym roku Budka Suflera zakończyła swoją działalność po 40- u latach istnienia, zamykając ważny rozdział w historii polskiego rocka. Krzysztof Cugowski kontynuuje swoją muzyczną przygodę, m.in. koncertując ze swoimi synami Piotrem i Wojtkiem, którzy od 1997 roku tworzą zespół Bracia.
Zespół BRACIA oceniany jest przez krytyków i publiczność jako najlepsza grupa rockowa w Polsce. Fanów Braci przybywa i także nie brakuje ich w Chicago. Kiedy Bracia trzy lata temu wystąpili w Copernicus Center w koncercie dedykowanym Czesławowi Niemenowi sala wypełniona była po brzegi. Tego niezwykłego, sentymentalnego koncertu nie wolno przegapić.
BILETY -
http://www.copernicustickets.com
---
Upcoming Events at the Copernicus Center
March 15 - Chicago Music Awards
March 20 - The Road to Sonic Bloom
March 24 - Medical Careers Information by PAA
March 25 - Seminar for Early Child Care & Education Providers
March 28 - Teatr od Kulis - Free Theater event for children
March 29 - Miss Illinois United States 2015
April 4 - I - Vice Ganda Mo Ko Sa Amerika
April 10 - Composer Alive: Poland
April 12 - Tributosaurus becomes THE BEATLES
April 17 - Third Day - Soul on Fire Tour
April 18 - Golo i Wesoło - spektakl komediowy
April 25 - Turquoise Language and Art Contest
April 25 - Koncert Kombii
April 26 - Solid Fusion Temptation 2015
May 2 - Wielka Majówka - Mega Koncert Gwiazd
NEW Quick Link for Polish Events:
---
Taste of Polonia 2015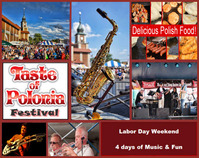 Sept. 4, Friday: 5-10:30 PM
Sept. 5, Saturday: 12-10:30 M
Sept. 6, Sunday: 12-10:30 M
Sept. 7, Monday: 12-10 PM
The Taste of Polonia Festival fills the Copernicus Center and grounds with non-stop LIVE MUSIC, food, and activities for all ages yearly over Labor Day Weekend! The Taste of Polonia has been a festival in Jefferson Park since 1980.
http://www.topchicago.org
---
---
Did You Know?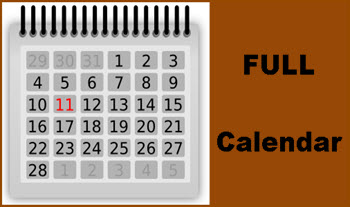 Our website Calendar shows all "unofficial" & solid booking information. Before you request a wedding or meeting date, please check the calendar.
Early event notice: Do you like to know before your friends do? Our Calendar is the secret weapon. OFTEN, event producers do not submit information for our website until WEEKS after it's been listed on the calendar. It's the "Scoopers" paradise.
---
---
---
Thursday BINGO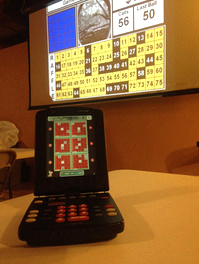 On Thursday nights, we proudly host our BINGO NIGHT & RAFFLE. The games begin at 7:00pm, but doors open at 5:00pm.
$5,200 in cash prizes is given away each week in addition to Pull-Tabs and other opportunities to win. We offer free parking for anyone who is interested in participating and playing!
Bingo takes play in our Annex – a beautiful place to play and relax with friends. Our Annex is located on the main level and it is handicap accessible.
BINGO NIGHT
is hosted by the Chicago Coalition To Save Our Mental Health Centers, a non-profit organization that has worked for 25 years to expand mental health services for Chicago residents who need them and can least afford them, so please stop by, play and support this great cause!
---
---
Ticket Buyer Beware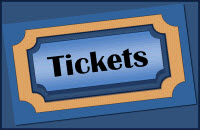 GUARANTEE your legitamate seat assignmnet.
Dont be conned by the GROWING ticket "resellers." Be SAFE, only click through our website to ticketing links listed on our site by the event's Producers.
The occurance of DUPLICATE tickets is a growing concern we cannot control.
---
---
From the Director

It's been quite some time since I last wrote something for a newsletter. So many changes and ever increasing popularity of the Center really kept all of the staff running. Toward the end of the year our long time Event Coordinator Patricia Fuchs decided to leave us to further her educational career. At the same time another young member of our staff decided to pursue opportunities outside Chicago.
It was a huge challenge to continue to keep things running smoothly while we sought to train new staff BUT...the remaining staff were up to the challenge. I apologize that we were unable to keep all of you more informed through newsletters but it was "all hands on deck ".
Continue Reading
---
Follow us on Facebook
We post daily on our Copernicus Center Page: Event updates, Neighborhood news, Items of interest and more.

Visit us on Facebook