February 2016 Newsletter
The last two months were very productive for us, as we hosted many interesting events in our Center.
On December 4th of last year, we hosted and sponsored a spectacular concert with Grazyna Auguscik & Michał Urbaniak - a living legend of Polish jazz.
On the following day, Gloria Trevi had an amazing performance with a thousand plus of her dedicated fans.
December 11th was a blast as we hosted a Gigantic Blind Date that gathered hundreds of people. The atmosphere was great and friendly - with attractions, games and contests!
Two Christmas-themed events that we hosted reminded the people about everything that we love about the holidays. "The Love and Peace of Christmas" by AKO Orchestra drew the audience into classical and Christmas music while our Magic of Christmas showed the beauty of Polish cultural traditions. We're glad that both events went well and we're proud to sponsor them again!
January of 2016 was also filled with a variety of popular shows:
"Trzech Tenorów" & PaSO Symphony Orchestra Jan. 16

Tributosaurus becomes Queen Jan. 29th

Kabaret pod Wyrwigroszem Jan. 31st
Copernican mural unveiled during the 25th Finale of WOŚP!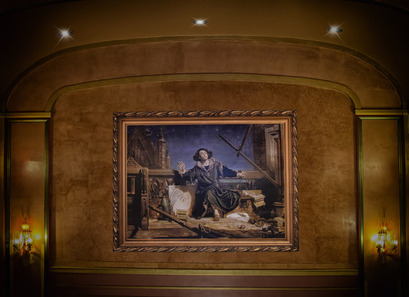 The 3 story wall in the lobby of the Copernicus Center has finally been properly adorned. A loyal Copernicus Foundation member, Mr. Andrzej Trzos, is responsible for the idea and help in its execution.
Rights to the famous painting of Copernicus by Matejko title "A conversation with God" were purchased from the Jagiellonian University and reproduced on an 18' x 14' canvas. The canvas now hangs on the wall which stood waiting for it since it was constructed in 1975 when three floors were added to the Center creating the classrooms on the second floor and the King's hall on the third.
The painting stands as a symbol of our proud Polish heritage for Poles and non-Poles alike and reminds all Copernicus Center visitors what only Chicago's Polonia has been able to accomplish.
More information about Nicholaus Copernicus can be found on our website.
An evening with
Sophia Loren
3/24/16, Thursday 7:30PM

A true legend, live, on stage! A once-in-a-lifetime experience with the Queen of international cinema, SOPHIA LOREN! The Oscar-winning beauty will travel from Rome to share her lifetime of incredible experiences with rare video footage, her own storytelling (all in English) and a question and answer session with the audience! Thursday, March 24 7:30 PM at The Copernicus Center in Chicago. Tickets start at only $75.
Tickets can be purchased here.

We post daily on our Copernicus Center Page: Event updates, Neighborhood news, Items of interest and more.
Note: People who "join" an event also receive automatic updates for that event. :)
Subscribe HERE
.