October Newsletter
Last month was very productive for us, as we hosted many interesting events in our Center.
On Saturday, Sept. 26th we hosted Ani Mru Mru, a comedy cabaret group from Poland, that gathered thousands of their fans in our theater. The audience enjoyed a number of classic sketches, responding with doses of honest laughter!
October was filled with popular events & sold out shows!
Bulgarian play, "The Marriage Illusion," Oct. 2nd.
YouTube sensations event "Girls Night In," Oct. 3rd.
Lech Makowiecki & Grupa Zayazd's concert,.

Oct 4.

C.C. Catch & Bad Boys Blue concert, Oct. 17th
Jubileuszowa Gala Piosenki Biesiadnej Zbigniewa Górnego, October 24th & 25th.
---
You Can Be My Angel's Radioton Raises Over $100,000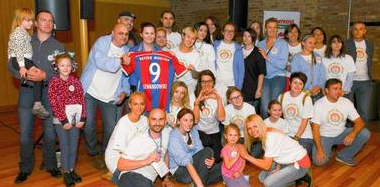 photo courtesy of You Can Be My Angel Foundation.
The Radioton, organized by You Can Be My Angel Foundation on Oct. 10th was a huge success! Over $100,000 was raised in order to help sick children from Poland. We'd like to thank those who donated and helped organize this event. Your continuous kindness supports great causes! Thank you Polski.FM radio for helping with making YCBMA Radioton possible!
The Copernicus Foundation was proud to sponsor this event by donating our facilities at no charge.
More information about the Foundation can be found on their website.
---
Polish American Chamber of Commerce Business Awards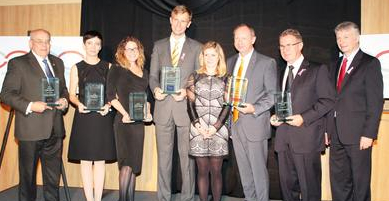 Copernicus Foundation proudly hosted the Annual PACC Business Awards on October 16th. Congratulations to all winners of the PACC 2015 Business Awards.
You make our community in Chicago and beyond more
vibrant and dynamic, serving as an example on how tenacity and vision can create success!
More pictures from this year's PACC Business Awards can be found
here.
---
---
Member Appreciation
The very special classical music concert on October 23rd provided us with an opportunity to reward our members.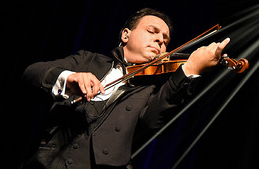 All Copernicus
Foundation members were offered free tickets.
Zoltan Maga is a violin virtuoso who is ranked 3rd in the world. The show included soprano opera singer named Elizabeth Norman, dancers, and a fashion show during intermission.
---
Golf Outing - Fundraiser for the Arts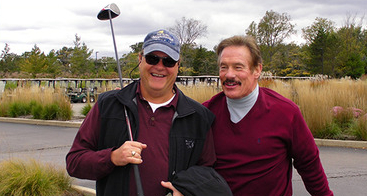 Gregg Kobelinski, Managing Director with guest Mark Leverone.
Our second annual golf tournament, held at Deerfield Golf Club Oct. 9th, brought over 30 golfers. Everyone had a good time and great camaraderie, enjoying a nice dinner and spirits afterwards.
All of the proceeds from our golf outing will be used to support the performing arts groups involved in our annual Magic of Christmas Festival on December 13th.
More pictures from this year's Golf Outing can be found here.
---
Saturday BINGO & Raffle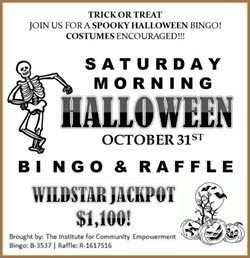 Join us for a SPOOKTACULAR Bingo & Raffle this Saturday in the Annex at 11 am.
NEW → WILDSTAR Jackpot has begun!
In addition, we will be giving away pumpkins, mums and more! Link to Saturday BINGO
---
PACBA Construction & Safety Expo 2015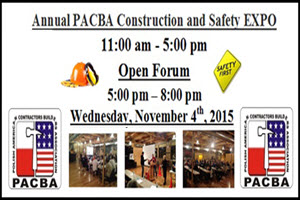 We invite you to the first PACBA Annual Construction & Safety Expo. The Expo is followed by a Forum with OSHA representatives. Join us in our Annex on Wednesday, Nov. 4, 2015.: The Expo begins at 11 am and the Forum begins at 5 pm.
More information can be found on our
website
.
---
A One-of-a-kind BLUES & JAZZ Concert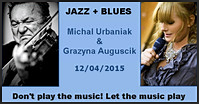 Michal Urbaniak & Grazyna Auguscik
Don't play the music! Let the music play!
December 4th at 8 pm
Michał Ukrabniak, the co-founder of fusion music, will join forces with contemporary jazz vocalist Grażyna Auguścik. This FIRST TIME pairing will perform only one concert in Chicago, and we're delighted to be their host!
---
---
The Magic of Christmas 2015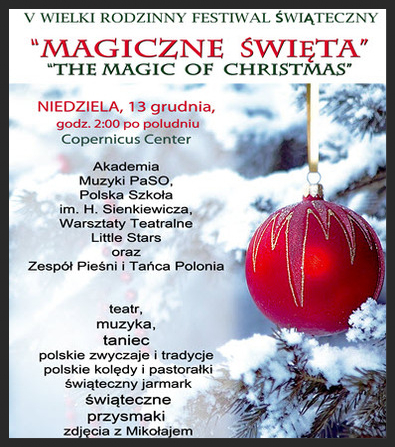 This year's fifth annual Magic of Christmas [Magiczne Swieta] will be Sunday, December 13th.
→ Purchase Tickets and learn more HERE
.
This event celebrates Polish Christmas traditions! Pictures with Santa, savory treats, and a Christmas Market will be available in the Lobby & Annex. The theater will host performances by:
Akademia Muzyki PaSO
Warsztaty Teatralne Little Stars
Henryka Sienkiewicza Polish School
Polonia Ensemble
Christmas Market Vendors Wanted
---
Upcoming Events at the Copernicus Center
Nov. 14 - Zenon Laskowik z Kabareciarnią
Nov. 21 – Yuri En Concierto "Invencible Tour"
Nov. 28 – Andrius Mamontovas
Nov. 29 – Happy End Concert
Dec. 4 – Grażyna Auguscik & Michał Urbaniak
Dec. 4 – Gigantyczna Randka w ciemno (in the Annex)
Dec. 5 – Gloria Trevi
Dec. 12 – AKO 'The Love and Peace of Christmas'
Dec. 13 – Magic of Christmas 2015
Tickets: CopernicusTICKETS.com
---
Planning has begun for WOSP
We're preparing for the annual fundraiser which benefits children's health - WOSP. Meetings began last week and upcoming meetings are posted at
THIS LINK.
More volunteers are needed.
To volunteer, please attend a meeting or contact Kamil:
events@copernicuscenter.org or 773.313.9157
For sponsorship options please contact:
- Karolina Pelc: knpelc@yahoo.com or 224-578-3342
- Urszula Baginska-Narewska:
urszula1902@sbcglobal.net or 708-204-6499
About the WOSP Foundation:
The Foundation's aim is to save the lives of sick people, especially children & seniors. This annual fundraiser at the Copernicus Center enables the organization to buy medical equipment for hospitals all over Poland and to carrying out five nation-wide medical programs and an educational one. More info can be found
here
.
---
Follow us on Facebook

We post daily on our Copernicus Center Page: Event updates, Neighborhood news, Items of interest and more.
Note: People who "join" an event also receive automatic updates for that event. :)
Subscribe HERE
.