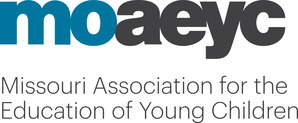 AFFILIATE UPDATE

January 24, 2018
---
Join Your State Team for the 2018 NAEYC Public Policy Forum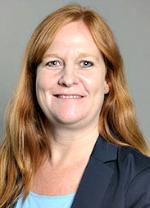 Dear MOAEYC Members,
Are you ready to be heard? It's time to raise your voice and join the movement for high-quality early childhood education by registering to participate in NAEYC's 2018 Public Policy Forum today!
As your state team leader, I am proud to coordinate a group from Missouri to bring our expertise and commitment to Washington, DC. Whether you are an experienced advocate or a brand-new educator, we welcome all of your voices and hope you will join us from March 4-6, 2018 in our nation's capital.
BENEFITS OF ATTENDING
As a 2018 Public Policy Forum participant, you will have the opportunity to:
· Be part of a powerful team working to advance federal and state early childhood policy
· Hear from and network with national and state policy leaders and fellow advocates
· Share your perspective and insight by engaging with Power to the Profession
· Get the resources and experiences you need to sharpen your advocacy skills
· Learn about new tools, strategies, and tactics to try in your own state and community
· Build critical relationships on Capitol Hill with members of Congress and their staff
SCHEDULE
The 2018 Public Policy Forum will begin on Sunday, March 4 at 1:00 pm with an Electoral Advocacy Bootcamp. On Monday, March 5, NAEYC will host expert policy briefings, guest speakers, and skill-building breakout sessions for all state team members, providing many opportunities for networking and learning. On Tuesday, March 6, you will have the opportunity to experience an exciting and energizing Hill Day, building important relationships with your Representatives, Senators, and their staff. Additional information about the cost and accommodations can be found on the homepage of the MOAEYC website.
REGISTRATION
As State Team Leader, I am responsible for coordinating our state team. Please contact me directly at Michelle.C.Mathews@gmail.com to receive an online registration link. While the registration deadline is Feb 7, 2018, I encourage you to reach out and reserve your spot early!
Every day, you work to prepare our next generation of leaders, supporting children, families, educators and communities. We know exactly why an investment in early childhood education matters - and why early childhood educators are the key to success. And it is our job to make sure our candidates and elected officials know it too.
I look forward to working together as we head to Washington DC in March!
Sincerely,
Michelle Mathews,
President, MOAEYC
MO State Team Lead
---
MOAEYC 2016-2017 Annual Report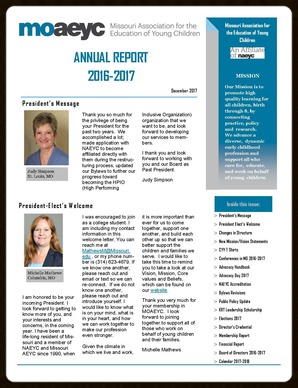 The annual report for MOAEYC is now available on the home page of the
website
as well as under the Resources/Newsletter link. This report highlights all the many changes that have occurred during the restructuring process, and celebrates the unity it has brought to our organization.
Take a minutes to see what your Governing Board has been doing this past year, as well as an overview calendar of upcoming events for 2017-2018.
---
Missouri Child Advocacy Day 2018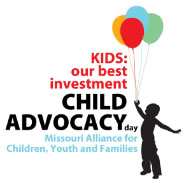 The 36th annual

Missouri Child Advocacy Day will be held on April 3, 2018 in Jefferson City, MO. Sponsored by the Missouri Alliance for Children, Youth and Families, this event brings supporters from across the state who are interested in being an advocate for children and families. Here you can attended a rally, gather insights in how to be a powerful and effective advocate, and meet with your legislatures to reiterate the importance of supporting our children in Missouri.
More information is available on the Child

Advocacy Day website
or "like" the Child

Advocacy Face Book page for ongoing updates.
---
Two Chapter to Hold Local Conferences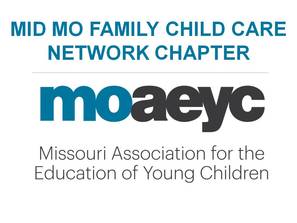 The Mid Missouri Family Child Care Chapter of MOAEYC will host their first conference entitled, "Growing a School Ready Child" on Feb 3, 2018 in Columbia, MO. Registration ends Feb 1, 2018. Additional information can be found on their
web page
The Rivers Bend Chapter of MOAEYC will hold their annual two day event on April 13-14, 2018 in St. Charles , MO. The "Stepping Up to Leadership" event on Friday, will provide sessions for Directors and Administrators. Then over
forty breakout sessions on Saturday will make up the"Children's Opportunities,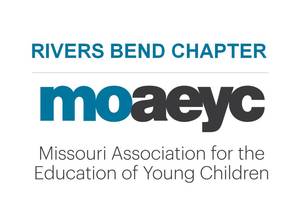 Our Responsibilities" portion of the conference, with a focus on the more traditional early childhood classroom teachers and family child care providers. Additional information and the registration form will be available on their
web page
this next week.
Mark you calendars now, and make your plans, to attend one or both of these great professional development opportunities. We hope to see you there!
---
New Chapters Forming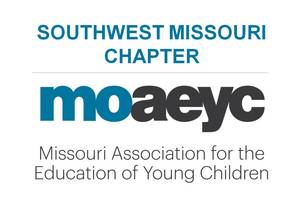 Congratulations to the Southwest Missouri Chapter of MOAEYC, the newest chapter in Missouri, located in the Joplin area. Having just received their official approval for start-up this past Saturday during the MOAEYC Governing Board meeting, they now join the other four operating chapters with their own web page and Face Book presence. Their goals include professional development opportunities for members and potential members in the local community.

As stated in the last e-news, new chapters are forming across Missouri to offer more membership services directly to local communities. It only takes three current NAEYC members as a leadership team to start a Chapter, which is created and supported under the MOAEYC Chapter Guidelines and Policies.

Each Chapter determines how they will serve members in alignment with the Chapter agreement with MOAEYC. A Chapter may offer networking opportunities, training's and resources, book clubs or reviews, or a conference. Perhaps they will offer an event in conjunction with other community resources, or Week of the Young Child Activities, or a family focused event. These are all possibilities!

We would love to talk with you about ways to bring awareness and resources to your area by starting a Chapter in your community. Please contact us by email or phone so we can help you get started today!
---
Explore the NEW Membership Categories and Rates

Whether you are new to the field, a seasoned veteran, a student, PhD, or somewhere in between, there is a place for YOU at NAEYC and MOAEYC!
Join NAEYC and MOAEYC, and together we will go far!
Visit moaeyc.org OR naeyc.org/membership to learn more.
---
NAEYC Membership Campaign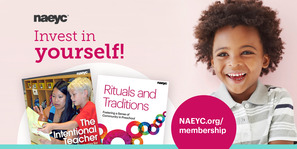 MOAEYC is excited to help you make an investment in yourself in 2018!
Join NAEYC
before January 31, and receive a discount code to purchase either
The Intentional Teacher
or
Rituals and Traditions
at 50% off!.
---
Dates to Remember:

Feb 3, 2018 - Mid MO Chapter Conference, Columbia, MO
Feb 7, 2018 -Deadline to register for the Public Policy Forum
Mar 4-6, 2018 - Public Policy Forum, Washington, D.C
Apr 3, 2018 - Child Advocacy Day, Jefferson City, MO
Apr 13-14, 2018 - Rivers Bend Chapter Conference, St. Charles, MO
Apr 16-20, 2018 - Week of the Young Child
Jun 10-13, 2018 - Professional Learning Institute, Austin, TX
Dec 14-17, 2018 - NAEYC Conference, Washington, D.C.

---




http://www.moaeyc.org
moaeyc@moaeyc.org 877-296-2852