---
AFFILIATE UPDATE
---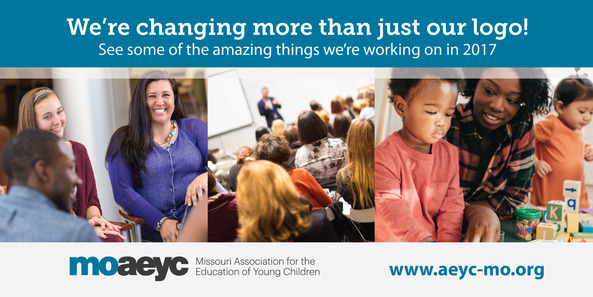 ---
Yes, We are Changing!!
AEYC Missouri is changing its name to MOAEYC. We have a new name and new logo, and we will have a new website, and a new structure.
MOAEYC has been accepted to re-affiliate with NAEYC. Our structure will change from the current four affiliate chapters to many chapters across the state all working under the state affiliate, MOAEYC. We are looking forward to being able to offer more membership services directly to you through a Chapter system. It only takes 3 current NAEYC members and a leadership team to set up a Chapter. Each Chapter can offer many different services, trainings and events to your local community.
Each Chapter will determine how they will serve members in alignment with the Chapter agreement. Perhaps your Chapter will offer trainings and resources or book reviews or annual or bi-annual conferences. Perhaps they will offer a night at the Magic House or the Science Museum or Trainings in the Park. How about some Week of the Young Child Activities, or a family focused event?
We would love to talk with you about ways to start a Chapter in your Community. There are multiple ways to bring awareness and resources to the early childhood community where you live. Please email or call us and leave your name, email address and phone number, and a board member will contact you.
All changes will be effective September 1, 2017. Have a great summer – and think about what you would like to see brought to your community.
Judy Simpson,
President, MOAEYC


---
MOAEYC Seeks Nominations for Governing Board

The MOAEYC Board is seeking nominations for three positions on their Governing Board that will become vacant in the summer of 2017.

The three positions are:
President

Vice President

Secretary
The Vice President and Secretary positions are two year terms, the President will be for a three year term (2 as President and one as Past President). All board members make a commitment to a monthly one hour conference call, and four face-to-face board meetings per year in Columbia, MO.
Current Governing Board job descriptions can be found on the MOAEYC website with the nomination form on the homepage, or under the volunteer link.
If you would like to nominate someone from your local Chapter, or if you are interested in one of these positions yourself, please fill out the nomination form found on the MOAEYC website and submit it as detailed there. Nominations will be accepted until June 30, 2017.
---
Kathy R. Thornburg Leadership Scholarship Application
In 2004, AEYC-MO established the Dr. Kathy R. Thornburg Leadership Fund to recognize Dr.Thornburg's contributions to the early childhood field, AEYC-MO, and specifically her dedication to supporting and developing new leaders.
This $500.00 Scholarship is awarded each year to an applicant who works with a mentor of their choice for the following year, while looking at growth and leadership opportunities. Part of the process is using the funds to attend a conference or training that supports leadership development. More info and the application form are on the AEYC-MO website. The deadline for this years application has been extended to July 31, 2017.
---
NAEYC Membership

As the foremost professional association for the early childhood field, NAEYC is uniquely positioned to share the latest research and resources to prepare individuals to successfully work with young children and their families. This includes an extensive line of books, videos, brochures, and posters, as well as Young Children, a professional journal, and Teaching Young Children, a magazine for preschool teachers.
One of the latest Member Benefits is an Educators Dental Plan from MetLife, with an affordable plan starting at just $24.40 per month. In addition, the Savers Guide offers 360,000+ coupons at retailers, restaurants, etc. which you can sort specific to your area and interests. This guide and many more informational pieces to your membership can be found inside the Members area on the NAEYC website.
For additional membership information and explanations of all of the benefits, visit the membership area of the NAEYC website
---